Saudi Arabia's First Female Moviemaker Debuts At Venice Film Festival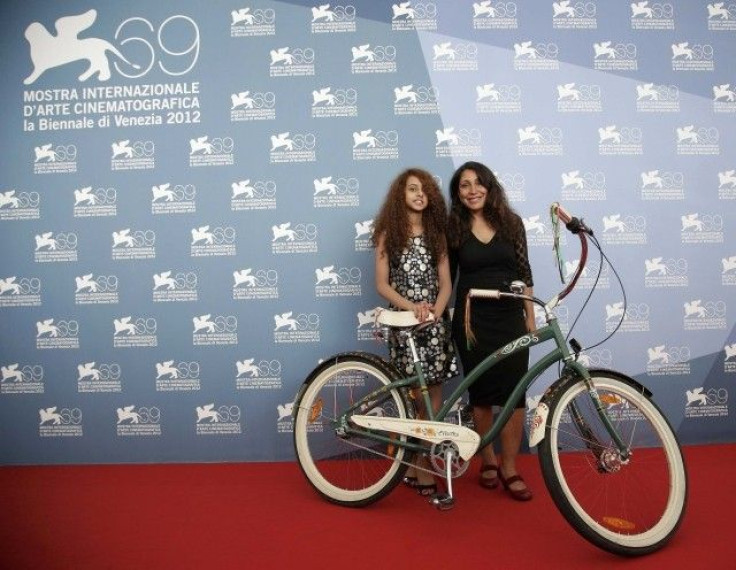 The story behind Saudi Arabia's first female feature film director, who made her debut at the Venice film festival, includes instances of her hiding in the production van and giving directions to male crew members over a walkie-talkie, to avoid the kingdom's notoriously patriarchal society's fury.
The movie "Wadjda" narrates the life of an intelligent and rebellious 10-year-old girl living in Riyadh while exploring restrictions placed on women in the conservative nation.
"It's easy to say it's a difficult, conservative place for a woman and do nothing about it, but we need to push forward and hope we can help make it a more relaxed and tolerant society," director Haifaa Al Mansour said after her film premiered at the ongoing Venice film festival, Reuters reported.
Young protagonist Wadjda, who is constantly reprimanded for not wearing a veil and for listening to pop music, attempts to enter a Koran competition to win enough cash to buy a bicycle.
The movie, which the director says is the first Saudi movie to have been entirely shot in the country, was produced by Roman Paul and Gerhard Meixner of Berlin-based Razor Film.
Talking about the conservative Saudi society, where women are not allowed to drive and require a male guardian's permission to work, Mansour said: "Men and women cannot be on the streets together, particularly if the woman is seen to be directing the men. People would come and tell us to stop filming. It was a challenging experience, to say the least," the Guardian reported.
Mansour said the movie was partly inspired by her own childhood, adding: "I was fortunate enough to be raised by liberal parents who gave me and my siblings plenty of space to be creative."
She said that Saudi society has been gradually changing with the government taking up initiatives for women to pursue better education and work opportunities.
Saudi Arabia ended its dubious status as the only participating nation that did not send women athletes to the Olympic Games at the recently concluded London games, when the administration agreed to field two women on the condition that they adhere to the kingdom's conservative traditions, including wearing a headscarf.
© Copyright IBTimes 2023. All rights reserved.