'Scorpion' Season 4 Spoilers: Happy, Toby To Have A Baby Before Paige, Walter Tie The Knot?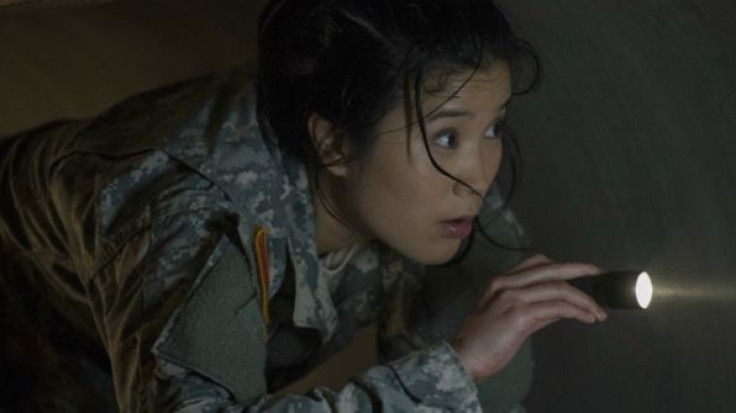 "Scorpion" Season 4 could see new milestones in the lives of Happy (Jadyn Wong) and Toby (Eddie Kaye Thomas) and Walter (Elyes Gabel) and Paige (Katharine McPhee).
In the previous season, Happy and Toby tied the knot after several months of being in a relationship. In addition, Walter and Paige finally confessed their feelings for each other. In the upcoming fourth season of the hit CBS series, Happy and Toby's arc could center on the former getting pregnant. But whether or not Happy will actually give birth in Season 4 is something the writers and producers haven't decided on.
Read: "Scorpion" Season 4 renewed; How many episodes will the CBS series have?
While speaking with TV Line, showrunner Nick Santora hinted on the possibility of Happy getting pregnant, saying: "Like all things, the answers can be found in elementary school: First comes love, then comes marriage, then comes something in a baby carriage."
Santora added Happy and Toby wouldn't be in a rush to have a baby, but the former getting pregnant is a natural progression for the two characters' storylines. "One of my favorite speeches of the season was when Happy said she always wanted to wait outside the school for her kid. She still wants that, and Toby wants that," he concluded.
Unfortunately, Santora didn't share any information regarding Walter and Paige's fates. But the two characters confessing their feelings for each other is a good sign that they are headed towards the right direction. In the final two episodes, Walter finally gathered up the courage to tell Paige that he is still in love with her. The latter also reciprocated after first getting into a fight with Walter when the latter accused Paige of lying to him.
Meanwhile, "Scorpion" was renewed for Season 4 by CBS in March alongside several other shows such as "NCIS: Los Angeles," "Mom," "Hawaii Five-0," "NCIS: New Orleans" and more, according to TV Line. However, CBS did not announce how many episodes the upcoming fourth season will have.
In Season 1, "Scorpion" released a total of 22 episodes, and two more installments were added to Season 2, making its total number of episodes 24. In Season 3, "Scorpion" had 25 episodes.
"Scorpion" Season 3 aired its final episode on May 15.
© Copyright IBTimes 2023. All rights reserved.