'Scorpion' Season 4 Spoilers: Will Paige, Walter Break Up In Episode 2?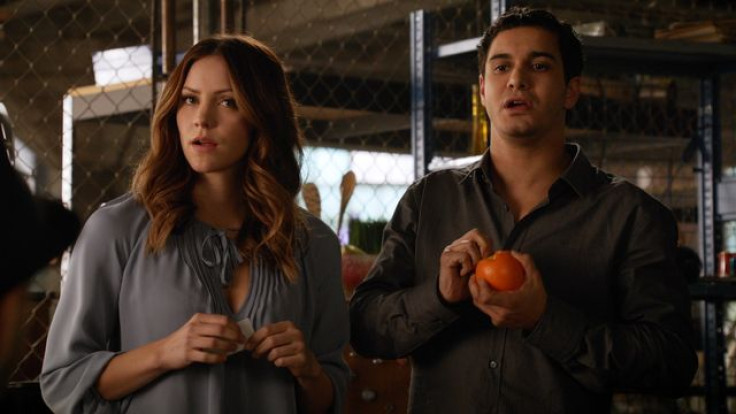 "Scorpion" Season 4 was off to a good start! The hit CBS TV series opens with Paige (Katharine McPhee) and Walter (Elyes Gabel) coming to terms with their new relationship status.
It's the morning after for the couple, finally getting the chance to be alone together and away from Team Scorpion. Paige asks Walter how he feels now that things are becoming more serious between them, and Walter has the perfect response to his girlfriend's question.
Since the founder of Team Scorpion is very happy to be in a relationship with Paige, he suddenly imagines a world where he, Paige, Toby (Eddie Kaye Thomas), Happy (Jadyn Wong), Sylvester (Ari Stidham) and Cabe (Robert Patrick) are in a musical number. But his dream suddenly ends when he receives a call from Mark Collins (Joshua Leonard).
Mark asks Walter to visit him in his jail cell and tells him that he needs Team Scorpion's help. Walter agrees to help the same man who almost killed Toby not very long ago. Upon meeting the group, Mark reveals to Team Scorpion that the apocalypse is looming in the horizon. Walter immediately gets on board with helping him out without consulting Paige first.
Later on in episode 1, titled "Extinction," Paige asks Walter why she wasn't consulted about helping Mark. She is also upset over the fact that Walter finished her job for her. Paige is worried that a romantic relationship with Walter is not what's best for the two of them as members of Team Scorpion. Surprisingly, Walter tells his girlfriend that if they can stop mass attacks from taking place, they could make their relationship work.
Unfortunately, Paige isn't convinced, and she indirectly suggested that they should just focus on their professional relationship. But before Walter could respond, Mark tells Team Scorpion that they weren't able to successfully complete their latest mission so a mass extinction could take place.
Next week's episode of "Scorpion" Season 4 will serve as a continuation of episode 1. It will air on CBS on Monday at 10 p.m. EDT.
© Copyright IBTimes 2023. All rights reserved.