Second Stimulus Check: Democrats Prepare New Coronavirus Relief Bill, Aims To Restart Negotiations
KEY POINTS
House Speaker Sen. Nancy Pelosi has asked Democrat leaders to craft a new coronavirus relief bill with a $2.4 trillion price tag
The House is expected to vote on this new bill next week
The bill will serve as a basis for renewed talks with Republicans
House Democrats are crafting a smaller $2.4 trillion coronavirus relief package, which will include a second stimulus check, in hopes this will goad Republicans into reopening negotiations stalled since May.
The Democrats' new bill will include enhanced unemployment insurance, direct payments to Americans (stimulus checks), funding for the popular Paycheck Protection Program small-business loan program and aid to airlines.
House Speaker Nancy Pelosi, D-CA, has directed Democratic committee chairs to draft the new scaled-back legislation intended to serve as a basis for new talks with the White House. The House might vote on the new bill as early as next week, according to Politico. Pelosi and House Democratic leaders met Thursday to decide on their course of action.
"We are still striving for an agreement," Pelosi told House leaders, according to Politico. "If necessary, we can formalize the request by voting on it on the House floor."
The plan to put together a new bill was later confirmed by House Ways and Means Committee Chairman Richard Neal, D-MA. He said a vote, if there is to be one, will occur next week before the House leaves for recess.
"I think the contours are already there," said Neal about the smaller package. "I think it's now about time frame and things like that."
The new bill is a huge come down from the $3.4 trillion proposed by House Democrats in their HEROES Act passed on May 15.
Republicans, however, remain opposed to the massive spending and have proposed much smaller packages amounting from Sen. Mitch McConnell's "skinny" $500 billion proposal to the $1.3 trillion proposed by a bipartisan group of legislators. Negotiations between both parties collapsed in August and have languished since.
Pelosi's latest move will allow her to push Treasury Secretary Steven Mnuchin and White House Chief of Staff Mark Meadows into boosting the administration's $1.3 trillion offer by $1 trillion, which is much closer to the new number.
Pelosi and Senate Minority Leader Chuck Schumer, D-NY, held talks with Mnuchin and Meadows from late July to early August. The talks proved fruitless as both sides insisted on their core demands.
"I've probably spoken to Speaker Pelosi 15 or 20 times in the last few days on the CR and we agreed to continue to have discussions on the CARES Act," said Mnuchin Thursday.
He also revealed "right now we're stuck" because Democrats want a $2.2 trillion plan.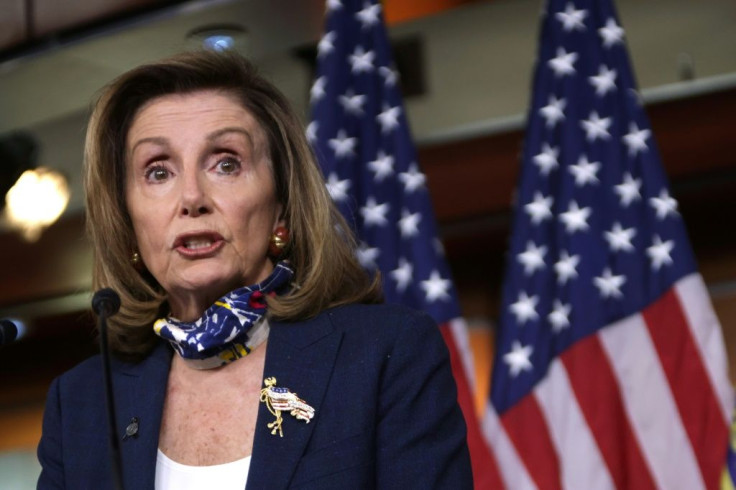 © Copyright IBTimes 2022. All rights reserved.
FOLLOW MORE IBT NEWS ON THE BELOW CHANNELS