Second Stimulus Check: Who Will Qualify For The Next $1,200 Payments?
KEY POINTS
Senate Republicans finally rolled out their $1 trillion HEALS Act on Monday
Their HEALS Act calls for second round of stimulus checks but cuts the unemployment benefit
Plan faces opposition from Democrats over hazard pay, food stamps, evictions
Everyone who received a $1,200 stimulus check earlier this year as part of the CARES Act are likely to get another under the HEALS Act proposal rolled out Monday.
Senate Republicans revealed their long-delayed fourth coronavirus stimulus package Monday, calling for another round of $1,200 stimulus checks for individuals but slashing the additional weekly unemployment benefit from $600 to $200.
Key provisions of the GOP's $1 trillion HEALS Act (Health, Economic Assistance, Liability Protection and Schools Act) were announced by Senate Majority Leader Mitch McConnell, R-Ky. The proposal faces scrutiny from Senate Democrats, but key components include:
* A second $1,200 economic impact payment (EIP). This direct payment adheres to the same eligibility criteria as in the $2.2 trillion CARES Act (Coronavirus Aid, Relief, and Economic Security Act) crafted by House Democrats in March.
* Individuals will receive $500 for each dependent, similar to the amount in the CARES Act. In HEALS, however, there is no age cap on the extra payment. CARES capped the dependent payment at age 17, which led to the exclusion of many college students and other adult dependents.
* The second EIP will be available to qualified individuals earning a gross adjusted income up to $75,000 per year in 2019. Couples filing jointly that earn up to $150,000 will receive the full $2,400. EIP will be reduced by $5 for every $100 in income, phasing out completely at $99,000 for individuals and $198,000 for couples.
* Individuals with no income and those whose income comes from programs such as Supplemental Security Income (SSI) benefits remain eligible for the full rebate amount.
House Democrats passed their version of HEALS, the $3 trillion HEROES Act (Health and Economic Recovery Omnibus Emergency Solutions Act), on May 15 and have been waiting for more than two months for the GOP to come out with its proposed package.
Democrats already are finding fault with HEALS. Senate Minority Leader Chuck Schumer, D-N.Y., and Speaker of the House Nancy Pelosi, D-Calif., said HEALS falls short of what needs to be done to help get families through the coronavirus recession.
They note HEALS does not include hazard pay for essential workers, nor does the GOP bill adequately provide additional funding for food stamps. The bill also remains silent on the ongoing eviction crisis.
It is unlikely the HEALS can win approval from Senate Democrats before July 31, the date the $600 unemployment benefit expires. Political pundits say it could take weeks before Senate Republicans and Democrats can agree on a compromise bill sometime in August.
Now that HEALS has been unveiled, it will go before the House for debate. Congress has until Aug. 7 to pass another stimulus bill before its month-long recess.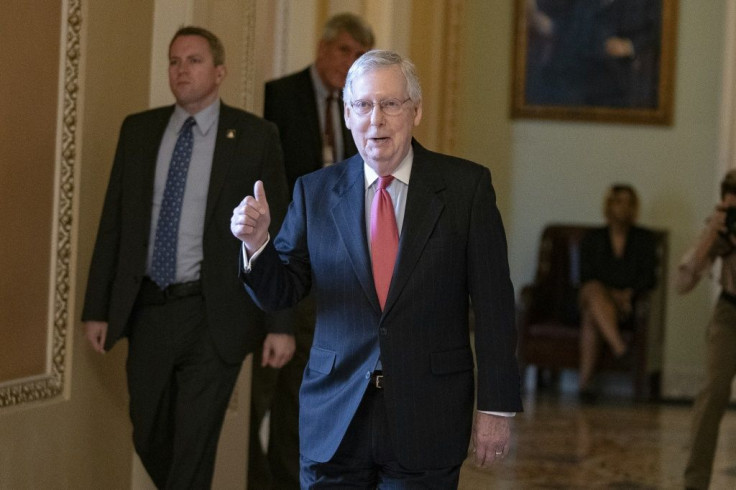 © Copyright IBTimes 2023. All rights reserved.
FOLLOW MORE IBT NEWS ON THE BELOW CHANNELS