See What Joseline Hernandez Wore To The 'Love & Hip Hop: Atlanta' Season 5 Reunion [PHOTOS]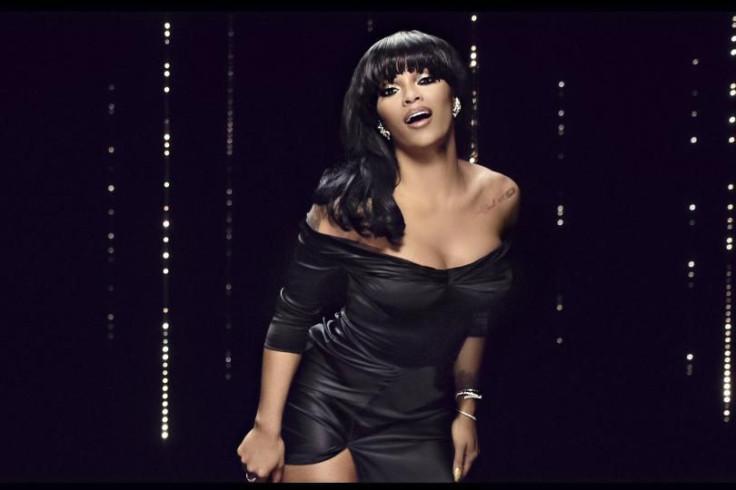 Joseline Hernandez looked absolutely flawless while filming the "Love & Hip Hop: Atlanta" Season 5 reunion. The self-proclaimed Puerto Rican Princess has been sharing behind-the-scenes photos and videos from reunion, which taped this week and airs next month.
In the pictures, Joseline is seen wearing tiny embellished shorts with a matching crop tight and loose jacket with a train that drags the floor. The rapper and reality star paired the look with a pair of shiny heels. In another photo Joseline is seen sitting next to her friend-turned enemy-turned BFF Dawn. "Team us!" Joseline captioned the photo. The VH1 star didn't share any photos of her with her estranged "husband" Stevie J backstage at the reunion.
According to reports, the cast was broken up into pairs to film the reunion to avoid fights breaking out. Based on Joseline's cryptic tweets towards Stevie, keeping everyone separated may have be a good idea. Ever since the music producer announced on Twitter in May that he was single and no longer with Joseline, she's been bashing him on social media. Joseline has also been alleging that Stevie is gay and she was going to present proof at the reunion. "Lie detector test about your true liking will be out n---- holla at Jesus for this 1. Why y'all think he gossip so much? He a straight girl," she tweeted last month. "You ain't got no car, no money, no house, boy you gotta b stopped. BISH [sic] I think I'm dropping the bomb today f--- it."
She also posted an Instagram video of a transgender woman threatening Stevie. "See you f---ing with the Puerto Rican princess … so you know what that means now, right? Now everybody's gonna know about you boo boo," the woman said. Joseline captioned the video: "#lahhatlreunion #stevie #liedetector I'm going in. when the boy likes what he likes."
In another tweet a few weeks ago, Joseline posted the results of her polygraph test which stated she was "being truthful" during the test. The test also revealed that Joseline allegedly caught Stevie watching "gay porn" and she broke up with him because of his supposed porn addiction. "F--- A REUNION #Lahhatl TO MY DEAREST HUSBAND IM READY WHEN YOU WANT A LIL FUN UNDER THE SUN," she captioned the photo.
To see how Joseline and Stevie's drama will play out during the reunion, fans will have to tune in when it airs on VH1 next month.
© Copyright IBTimes 2023. All rights reserved.