Self-Flying Taxis To Debut In Dubai Later This Year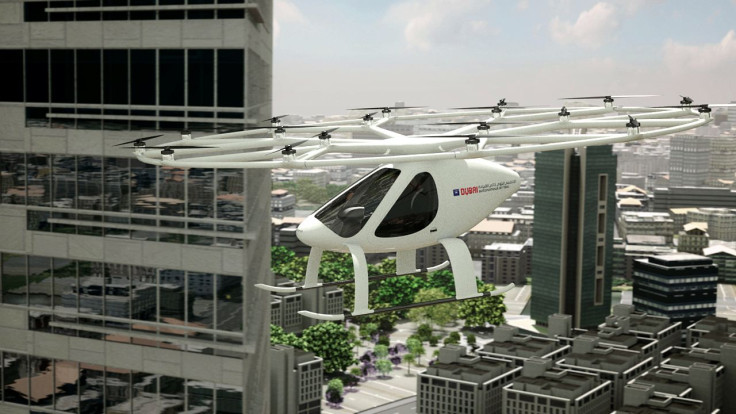 Dubai, also called the Future City, will start testing aerial taxi transportation later this year.
Dubai's Roads and Transport Authority announced the flying drones at the 2017 World Government Summit in February. The agency revealed plans Monday to start trials of its Autonomous Aerial Taxis during this year's fourth quarter.
Read: High-Speed Autonomous Trains Will Carry Passengers By 2023, Testing Will Start In 2019
The agency also announced an agreement with the German company Volocopter to operate the autonomous passenger drones. When the project was first announced, the agency was working with drone company EHang for single-passenger autonomous flying vehicles. EHang was then replaced with Volocopter.
The drones will be able to carry two passengers. The airborne taxis will be capable of flying for 30 minutes, or about 30 miles, at a speed of 62 mph.
"The AAT is powered by electricity and has high safety features, thanks to its design, comprising 18 rotors to ensure safe cruising and landing of the taxi in case of any rotor failure," agency Chairman Al Tayer said in a press release. "The air taxi is characterized by its autopilot or autonomous flying, thus enabling the movement of people from one place to another without human intervention or a need for a flight license holder."
The flying taxis will be equipped with a full aircraft emergency parachute, nine independent battery systems and a charging time of 40 minutes. The vehicles also will have "luxurious interiors and leather seating" for passengers. The agency said the flying taxis are powered by clean electricity and produce low noise levels.
Tests of the flying taxis previously had been scheduled for July. The agency said the schedule had been switched to meet all the operational requirements of safety and security for the passenger drone. The project is expected to run for five years. The trials will run as laws governing operations are adopted, the agency said.
Read: Google Waymo Self-Driving Cars Project Now Includes Testing Driverless Truck Technology
Transportation officials are working with the Dubai Civil Aviation Authority to develop laws, operational guidelines and to define specifications and standards applicable to operators before the "commercial and official operation of the autonomous air vehicles," Tayer said. The taxi drones will have predetermined routes, as well as take-off and landing points.
The move comes as the Dubai Smart Autonomous Mobility Strategy seeks to turn a quarter of Dubai's transportation system into autonomous transport by 2030.
Flying Cars: Uber, Google, Airbus
While Dubai gets ready to test its autonomous flying taxis, other companies have been looking into flying cars. In April, Kitty Hawk Corp., the flying car project backed by Alphabet CEO and Google co-founder Larry Page, unveiled the first prototype of the Flyer. The company released a video of test flights last month. The Flyer, which can only be flown over water, is expected to launch at the end of this year, its site says. Meanwhile, Uber announced in April it plans to develop and test cars that take off and land vertically by 2020.
In March, Airbus and Italdesign revealed a concept that includes a car which connects to a drone and flies up to avoid traffic. Munich startup Lilium tested its all-electric flying car, Lilium Jet earlier this year. The company is now working on a five-seat version of the aerial vehicle for on-demand air taxi and ride-hailing services. Meanwhile, Toyota recently backed a flying car project, Skydrive, which hopes to light the 2020 Olympic torch with the airborne vehicle.
© Copyright IBTimes 2023. All rights reserved.