Sen. Tammy Duckworth Wants Answers On National Guard Treatment In D.C.
Sen. Tammy Duckworth, a combat veteran who earned a Purple Heart, is demanding answers about the treatment of National Guard troops tasked with securing the Capitol building in Washington D.C.
Politico on Thursday reported that members of the National Guard were told to take breaks in a parking garage that lacked internet access, had only one bathroom and only one electrical outlet.
"(Wednesday) dozens of senators and congressmen walked down our lines taking photos, shaking our hands and thanking us for our service," a guardsman told the news outlet on condition of anonymity. "Within 24 hours, they had no further use for us and banished us to the corner of a parking garage. We feel incredibly betrayed."
Duckworth, a combat-wounded veteran representing Illinois as a Democrat, said from her Twitter account that members of the guard were welcome to use her office for breaks.
"I can't believe that the same brave servicemembers we've been asking to protect our Capitol and our Constitution these last two weeks would be unceremoniously ordered to vacate the building," she said. "I am demanding answers ASAP."
From across the aisle, Sen. Tom Cotton, R-Ark., echoed the concern, saying that with most federal office buildings closed to the public, there should be plenty of space for the troops to rest.
"And with the inaugural over, we should start getting the guardsmen back to their families, jobs, and communities anyway," he added. "The extreme security measures of the last couple weeks can be substantially reduced."
Unrest at the Capitol building in Washington D.C. on Jan. 6 prompted an unprecedented security response in the nation's capital ahead of the swearing-in ceremony for President Joe Biden. Before Wednesday's inauguration, Acting Attorney General Jeffrey Rosen enacted a zero-tolerance policy on violence.
Fences laced with concertina wire surrounded many federal buildings in the nation's capital and an estimated 25,000 National Guard troops were already deployed to keep the peace before the inauguration. Politico put the remaining troop presence at around 5,000.
CBS News on Friday reported that the commander of the task force in place to secure the inauguration, Brig. Gen. Janeen Birckhead, said the troops still on duty could take their breaks inside the Capitol building again.
It's not immediately clear why the guardsmen were asked to move elsewhere, though one suggested to Politico it was due to some of the restrictions in place to contain the spread of the coronavirus.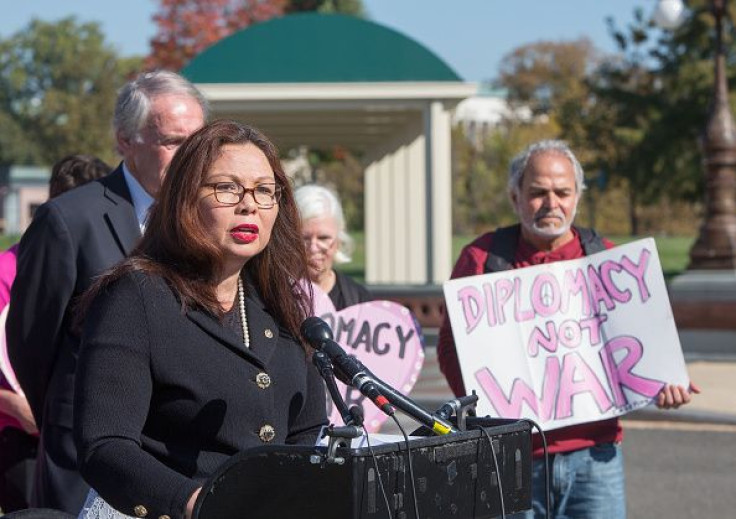 © Copyright IBTimes 2023. All rights reserved.