Seth Meyers Tests Positive For COVID-19, Cancels His Show For A Week
Seth Meyers has some "bad news" for his fans. The late-night host revealed that his show will be canceled for the week as he has contracted the COVID-19 virus.
"The bad news is, I tested positive for COVID (thanks, 2022!) the good news is, I feel fine (thanks vaccines and booster!)," the 48-year-old host of "Late Night With Seth Meyers" wrote on his Twitter page Tuesday.
Meyers said he will continue the show from a different location from next Monday. "We are canceling the rest of the shows this week, so tune in next Monday to see what cool location we will try and pass off as a studio!!!" he added.
Many social media users took to the comments section asking the host to take care of himself.
"Oh Seth, COVID's sooo 2021! Everybody's had it. Seriously, take care of yourself and those around you!" one person wrote. "Betty White's already wrecked the new year. Don't you jump on that wagon."
Another user noted that people should stop putting entertainment ahead of public health and instead do shows from home like they used to do during the nationwide lockdown.
Meyers is not the only talk show host who has contracted the COVID-19 virus. His announcement came a day after Jimmy Fallon, who is popularly known for hosting the late-night show "The Tonight Show Starring Jimmy Fallon," revealed he tested positive during his holiday break.
"On the first day of our holiday break I tested positive for Covid," Fallon wrote on his Instagram page Monday. "I was vaccinated and boostered which made me lucky enough to only have mild symptoms."
Celebrities who attended the "Late Night With Seth Meyers" show in person in the last two weeks include Priyanka Chopra, Matthew McConaughey and Marisa Tomei. Sterling K. Brown, Justin Hartley and Chrissy Metz took part in the show virtually Tuesday.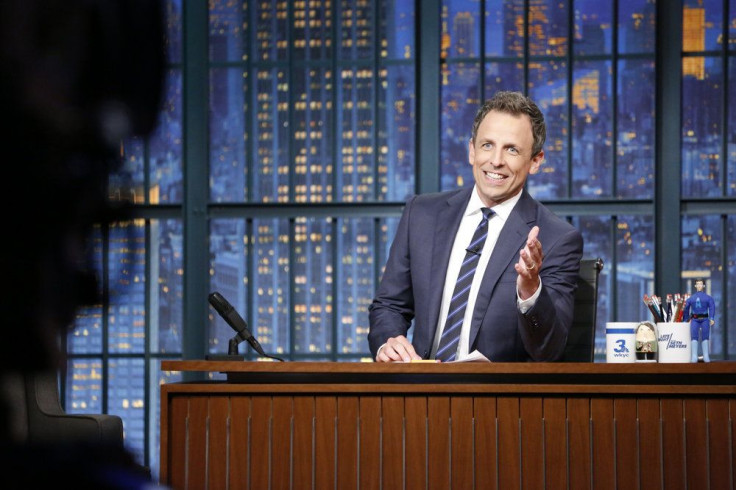 © Copyright IBTimes 2023. All rights reserved.