Sexual Assault At Army, Navy College Campuses On The Rise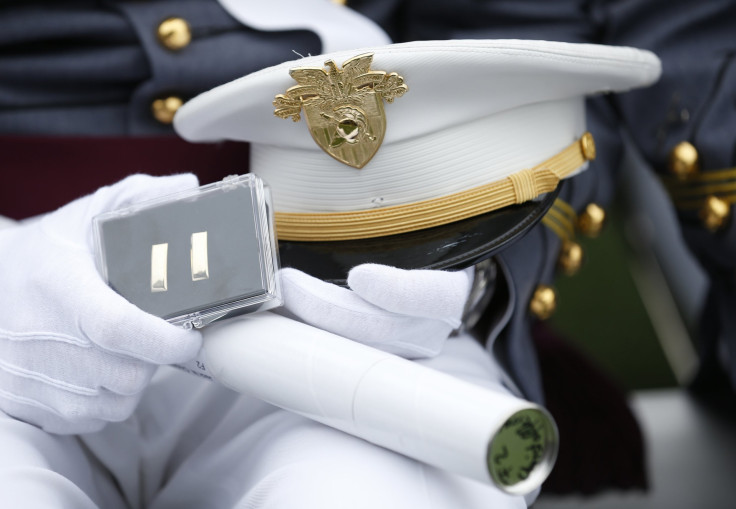 Reports of sexual assault at the Army and Navy's academies increased last year, and an anonymous survey also showed a jump in "sexual misconduct," the Associated Press reported Wednesday.
The U.S. Naval Academy in Annapolis, Maryland, and the U.S. Military Academy at West Point, New York, each saw reports of sexual assault increase in 2016 when compared to 2015's statistics. The latter saw 26 reports last year, up from 17 in 2015. The Naval Academy didn't see as large of an increase, but the number of cases did go from 25 to 28, according to the New York Times.
Read: What To Know About The Nude Marine Photo Scandal
That said, the U.S. Air Force Academy in Colorado experienced a decline in reports, from 49 in 2015 to 32 last year. And overall, reported instances of assault declined from 86 to 91 year over year.
The AP's survey, though, found that more than 12 percent of women and almost 2 percent of men said they were the recipient of "unwanted sexual contact," and most were at the Army and Navy schools. These percentages were up from two years ago when 8 percent of women and 1 percent of men cited unwanted contact.
The military's findings, however, still put the academies' statistics lower than those from college campuses across the country. More than 11 percent of all students — graduate and undergraduate combined — have experienced rape or sexual assault by violence, including 8.8 percent of all female and 2.2 percent of all male students, according to the Rape, Abuse and Incest National Network. Furthermore, only 20 percent of female students between ages of 18 to 24 reported their cases to law enforcement.
While some military officials said the increased reporting at their schools could be credited to their recent attempts to encourage more victims to come forward, others pointed to the short amount of time students are at the schools as a reason to why it was difficult to track.
Read: Who Is Angela Chen?
"This is almost a new population of folks every four years, and that makes it a little bit more difficult for the messages to build up and gather momentum," deputy director of the Department of Defense's Sexual Assault Prevention and Response office Nate Galbreath said to the AP.
The report comes as the military has been engulfed in a scandal involving the sharing and posting of nude pictures and sexually explicit videos featuring female service members in the Marine Corps and Navy on social media sites and message boards. The Naval Criminal Investigation Service launched a probe that could result in jail time for the alleged perpetrators.
© Copyright IBTimes 2023. All rights reserved.
FOLLOW MORE IBT NEWS ON THE BELOW CHANNELS