Shanna Moakler Reacts To Ex Travis Barker, Kourtney Kardashian Having A Baby
KEY POINTS
Shanna Moakler shared a sexy photo of her in a one-piece swimsuit via Instagram
One fan asked the model about her thoughts on Kourtney Kardashian and Travis Barker's pregnancy news
Moakler said she's very "excited" and hopes they have a "great experience bringing in a new life to the world"
Travis Barker's ex-wife Shanna Moakler has reacted to the news that he is expecting his first child with his now-wife Kourtney Kardashian.
Moakler revealed on Instagram that she is thrilled that her ex-husband is expanding his family with the "Kardashians" star.
Commenting on a sexy photo of the model rocking a one-piece swimsuit, one follower asked, "Thoughts on the new baby?"
"Very excited for them, hope they have a great experience bringing in a new life to the world," Moakler responded.
Despite Moakler's positive response, some social media users felt that it was rude to ask the model about her ex-husband's new relationship.
"Bruh, why ask that? Good Lord," one person commented. "Travis is not even her recent ex so why ask this?" another person wrote.
"@shannamoakler is a human being, and this is an account followed by her fans. Would you ask your neighbor that question point blank about her ex and his new wife? One day after she found out about it? Not everything that passes between your ears has to exit through your thumbs," a third user opined.
"Why even ask this?! Trying to stir up drama?!" a fourth netizen asked.
Others praised Moakler for her "classy" response to the question.
"[Shanna], that's a very classy comment," one wrote. Another added, "Classy response [two red heart emojis]. You're beautiful inside and out."
"Shanna is always going to be classy in her response and is happy for her kids that they will get a new baby sister or brother!" a third user commented.
"Class act," Danielle Alvarez-Woolley wrote.
Kardashian announced her pregnancy during a Blink-182 concert in Los Angeles Friday, more than a year after she tied the knot with the 47-year-old drummer.
In a video shared to her Instagram account, the 44-year-old reality star wore an all-black ensemble and held a sign that read, "Travis I'm Pregnant," in a nod to the band's 1999 "All The Small Things" music video, in which a fan can be seen holding a sign with the same words.
The announcement received mixed responses on Twitter. While many expressed their joy over Kardashian getting pregnant following her difficult in vitro fertilization (IVF) journey, some users speculated that announcing the pregnancy during the concert was a "PR stunt" and that Barker had already known that his wife was pregnant.
"Looks like a PR stunt to me, albeit true. Look how big she is when he is done kissing her. He had to have already known! I could tell she was when talking to Kendall about Kim when she had the white sweatshirt on," one person claimed.
Moakler was married to Barker from 2004 to 2008 and shares son Landon, 19, and daughter Alabama, 17, with him.
Kardashian shares sons Reign, 8, and Mason, 13, and daughter Penelope, 10, with her ex Scott Disick.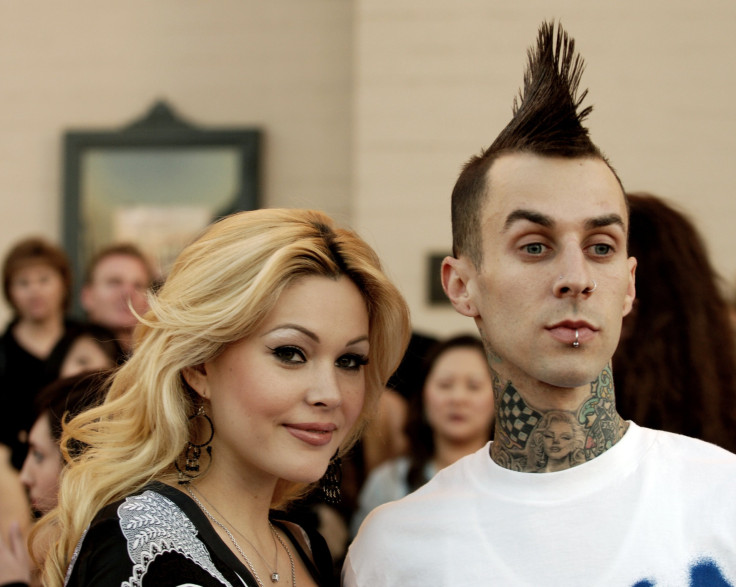 © Copyright IBTimes 2023. All rights reserved.