'Sherlock' Season 4 Spoilers: First Photo Released; Everything We Know About The New Episodes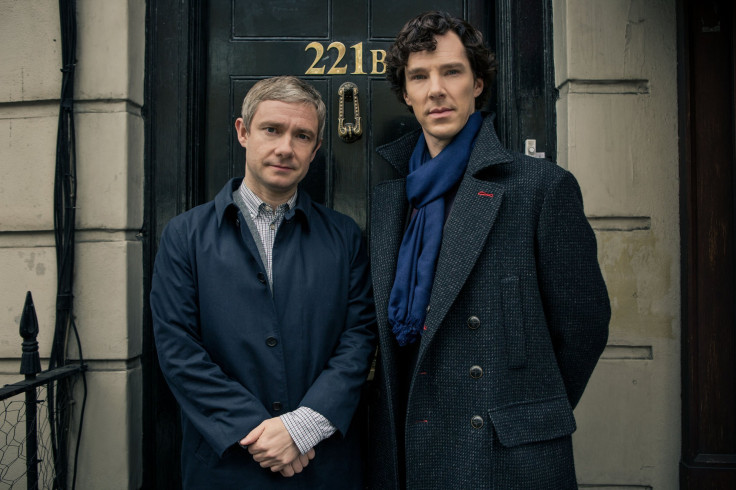 "Sherlock" Season 4 is getting closer! PBS even released the first photo of the detective duo. Though it's been nearly a year since viewers last saw Sherlock Holmes and John Watson, it's clear that nothing has changed.
The picture is just a dark background with the two men standing in front of it. On the left, Holmes (Benedict Cumberbatch) appears rather inquisitive while Watson (Martin Freeman) looks annoyed.
Unfortunately, the photo doesn't hint at what's ahead for Holmes and Watson. Not even a release date was revealed. The caption simply says the drama will premiere "soon." Luckily, this photo isn't the only information we have from "Sherlock" Season 4.
In the trailer above, it's stated that Season 4 is going to premiere in 2017 (and is rumored to debut in winter as it usually does). It's also clear that Moriarty (Andrew Scott) is going to play a big role. Despite being dead, he might still be a threat. At the very least, he's someone Holmes can't forget.
"I think it's the first time he really meets his match, and it's scarred him," Cumberbatch told Collider. "It's a nemesis, and nemeses play large in your psychology. They're not just physical entities who are actually present. It's about the fear of them. And I think that's why Moriarty really succeeds. He's terrorized Sherlock's mind. It's fear that lives on."
Holmes and Watson will also have a new enemy. As previously reported, "Captain America: The First Avenger" actor Toby Jones will play a new villain. His identity is being kept secret, but fans of Arthur Conan Doyle's "Sherlock Holmes" novels will recognize him.
Executive producer Mark Gatiss also revealed that Holmes and Watson's lives will be different after this series. "I think it's the best one we've done, it's very big chewy stuff, meaty," he told "BBC Breakfast" (via the Mirror). "Lots of big life-changing things happen in it and all kinds of non-specific things like that I can say about it."
Of course, fans don't know what exactly will be changing lives, but they have theories. Mary (Amanda Abbington) is rumored to die. The character bites the dust in the original novels, so it would make sense. "At some point, yeah, I think she should go out the way she does in the books," Abbington told Nerdist in July.
Any big events will happen rather quickly. "Sherlock" Season 4 will only consist of three 90-minute episodes. Of course, fans are happy to be seeing any new episodes at all. They previously waited nearly two years between the end of Season 3 and the one-off special, "The Abominable Bride."
"Sherlock" Season 4 will premiere on PBS in 2017.
© Copyright IBTimes 2023. All rights reserved.