'Sherlock' Special Gets Theatrical Release; When Do Ticket Presales Start For 'The Abominable Bride'?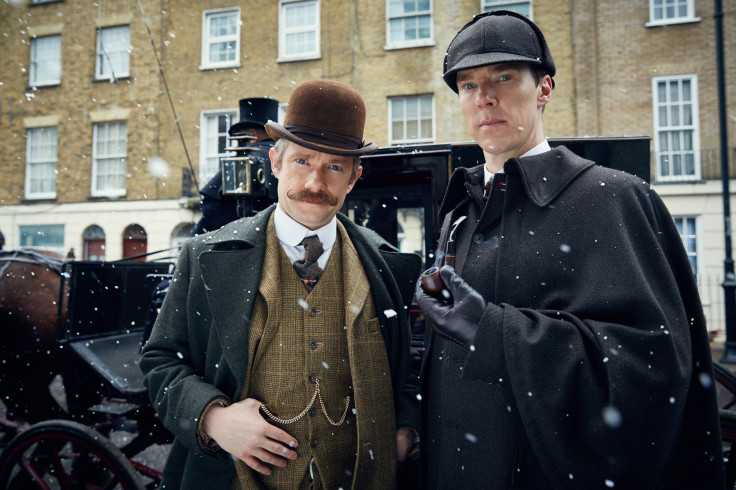 Fans are already planning their second viewing of the "Sherlock" special. The PBS mystery series will return to TV on Jan. 1, but fans will have a chance to watch it a second time on the big screen. The special, titled "Sherlock: The Abominable Bride," will be released in movie theaters for two days.
The Victorian-era episode will have a limited release in theaters on Tuesday, Jan. 5 and Wednesday, Jan. 6, Entertainment Weekly exclusively revealed. Just as the U.S. and U.K. can watch the premiere episode on television the same day, they'll also have the chance to go to theaters and buy tickets at the same time.
After nearly two years on hiatus, fans are itching to see Benedict Cumberbatch and Martin Freeman reprise their roles as Sherlock Holmes and John Watson, respectively. Though the special will be in cinemas for two days, there will only be one screening each day at 7:30 p.m. local time, so diehard Sherlockians will want to buy their tickets in advance. Tickets presales start on Nov. 6, and fans can either preorder them through their local theater or Fathom Events.
BBC Worldwide teamed up with Fathom Events to make the event happen at over 500 theaters, and they're even throwing in some special bonus features just for moviegoers. Fathom's website notes that along with the "Sherlock" episode, fans can watch "a guided set tour of 221B Baker Street hosted by co-writer Steven Moffat and a 'making of' short feature starring Benedict Cumberbatch, Martin Freeman, and the makers of 'Sherlock'!"
The news of a theatrical release isn't very surprising. At San Diego Comic-Con in July, executive producer Steven Moffat revealed that a run in movie theaters was being planned, but he didn't know many details at the time. It was at SDCC that he also explained that "Sherlock: The Abominable Bride" is not the Season 4 premiere, but a standalone episode. The special will take Holmes and Watson back to the 1890s London, the era in which Arthur Conan Doyle originally set his novels.
Watch the extended trailer for "Sherlock: The Abominable Bride" below:
For those who don't want to leave the comfort of their couch, "Sherlock: The Abominable Bride" will premiere Friday, Jan. 1, at 9 p.m. EST on PBS.
© Copyright IBTimes 2023. All rights reserved.