Shia LaBeouf Will Remain Sober On Set Following Arrest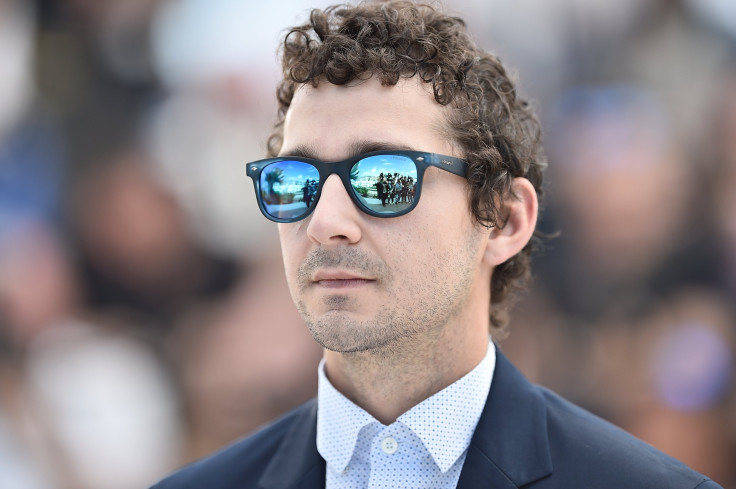 Shia LaBeouf will reportedly abstain from alcohol while shooting his upcoming movie, "The Peanut Butter Falcon," his attorney Doug Andrews told TMZ Friday. The Savannah, Georgia-based lawyer claimed LaBeouf "doesn't have an uncontrollable urge to drink," but he finds himself in trouble when he consumes alcohol.
LaBeouf returned to the work Monday. Before his arrest, the actor had reportedly been "professional" and "well-prepared" on set, despite the cast and crews initial concerns that his public antics would be a distraction at the shoot.
Read: Shia LaBeouf Arrested At Anti-Trump Protest 'He Will Not Divide Us'
LaBeouf's return to "The Peanut Butter Falcon" followed the actor's Saturday arrest for disorderly conduct in Savannah, Georgia, among other charges. According to The Hollywood Reporter, the 31-year-old actor was reportedly released from the Savannah-Chatham Metropolitan Police Department (SCMPD) on a $7,000 bond.
LaBeouf was intoxicated and lost control of himself in public prior to his arrest, which stemmed from an outburst he made after approaching a bystander and police officer for a cigarette.
LaBeouf was taken in by the SCMPD at 4 a.m. EDT on disorderly conduct, public drunkenness and obstruction. The SCMPD tweeted about the arrest, saying: "Metro Arrests LaBeouf after Disorderly Behavior Downtown." Local law enforcement later released a statement on LaBeouf's arrest to their website, clarifying the reason behind the incident.
"When LaBeouf wasn't given a cigarette, he became disorderly, using profanities and vulgar language in front of the women and children present," SCMPD wrote in a statement on their website. "He was told to leave the area and refused, becoming aggressive toward the officer. When the officer attempted to place LaBeouf under arrest, LaBeouf ran to a nearby hotel."
LaBeouf was found by the local authorities in the hotel lobby, who arrested him on the scene. The "Transformers" star reportedly continued to behave in a disorderly manner upon being charged.
Read: 'Indiana Jones 5' To Be Released In July 2019; Unclear If Shia LaBeouf Will Be Returning Alongside Harrison Ford
This isn't LaBeouf's first brush with the law. He was arrested by the New York Police Department in January at an Anti-Trump rally on a misdemeanor assault and harassment charge after getting into a physical altercation.
LaBeouf's legal troubles, however, stretch back to 2008. He injured his hand in a 2008 car accident, with the police suspecting him of being intoxicated. He's also reportedly been accused of multiple counts of plagiarism and has found himself in several bar fights.
The Los Angeles native was open about his arrest history when he wrote the essay "Error Breeds Sense" in 2015 for the book "Prison Ramen." He revealed his first brush with the law happened when he was 9 years old.
"I have been incarcerated five times," LaBeouf wrote. "The first time I was only nine years old. It was in Pacoima, California. I was arrested for stealing a pair of Nike Cortezes from a local shop and held for six hours."
He shared details of his second arrest, adding: "The second time I was eleven, in the city of Tujunga, California. I was arrested for stealing a Gameboy Pokémon from Kmart. That time, too, I was in a substation for about six hours."
Follow me on Twitter @dory_jackson
© Copyright IBTimes 2023. All rights reserved.