A Show By Any Other Name: How We Sell 'Girls' Up the River
Opinion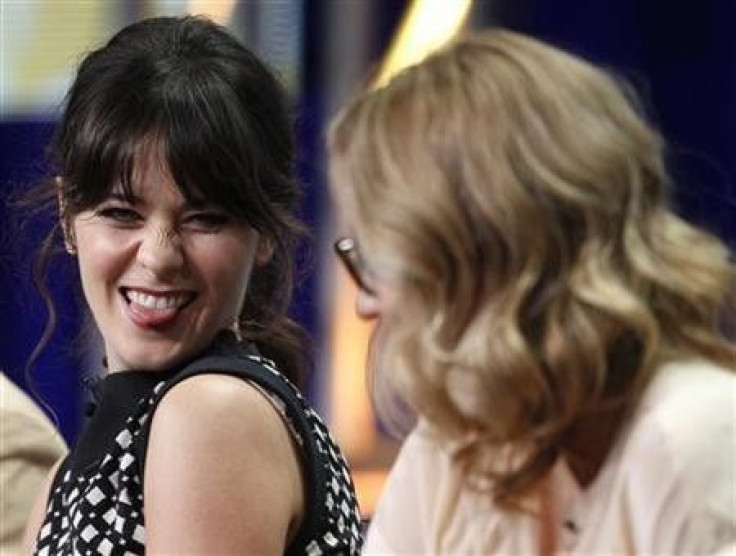 Saying the word vagina might get you in hot water if you're a Michigan congresswoman, but the word is used a bit more liberally on television these days. In fact, Lee Aronsohn, creator of comedy show Two and a Half Men, recently said, Enough, ladies. I get it. You have periods.
He added, We're approaching peak vagina on television, the point of labia saturation. And, you know, as sexist and offensive as his point may be, it is pointing to a trend -- more television shows are being anchored by women. Still, the number of shows led by women pales in comparison to those anchored by men, and also -- shut up, Mr. Aronsohn.
Aronsohn was obviously commenting on a current trend in television that embraces female protagonists. He was just being rude, tactless, and sexist in the process. Aronsohn can't seem to understand that women can and do -- gasp! -- speak about their own bodies, and have the right to do so, even on a forum as public as television, a medium that connects almost every American household.
With the way the current television landscape is, it may prove very easy for people to avoid shows with too much labia saturation. As it stands, several television programs featuring female protagonists make it almost harshly too apparent to the consumer that they are watching a show about women. With titles out there like Girls, 2 Broke Girls, Push Girls, The New Girl, and ad campaigns for already-canceled television show Best Friends Forever touting its two female stars front and center on the ads, the message is clear. YOU'RE WATCHING A SHOW ABOUT WOMEN -- SOME OF THESE WOMEN ARE FRIENDS, AND THEY MAY TALK ABOUT THEIR BODIES. MALES BE WARNED!!
Of course, a title may seem insignificant, but it is important to understand what it represents. A title is often a portal through which someone enters into the world of a television show. Many shows are famous for having repelling titles that have hurt their viewership. Though critically acclaimed, Cougar Town never recovered after viewers refused to turn in to what they thought was a comedy about forty-something women sleeping with twenty-something men. In reality, the show is just about a group of friends and their antics -- they live in a Florida town named Cougar Town. Unfortunately, television shows starring women are often given titles that advertise their female main characters -- leading to a stigma that the television show may be primarily geared toward women only.
Defining television shows solely on their female protagonists is diminutive to both the show and its female characters. First notice that many of the shows mentioned above describe their characters as girls -- a term that condescends to the complex, mature characters represented in some of the shows. In a world where people are engrossed in the world of grown-up angsty men in suits, few will opt for a show that advertise a young woman. This, of course, is not to say that young female characters cannot be emotionally complex. However, few adult television watchers would choose the television show that is titled as if it is a Disney channel original movie versus a show that advertises emotionally complex male characters.
To clarify, it is definitely a possibility that many of these titles may have been chosen by women. B ut, the fact that titles that point to the female gender of the show's protagonist points to a cultural trend whereby female-centric shows must be categorized as such. To categorize something, to dismiss it as genre, is a mistake that can often stem a show's popularity or wide appeal (but definitely not its quality -- there is much quality genre work out there.)
It is a culture that extends from several other media. While men's magazines (a fairly new phenomenon in general) have historically been named according to interest -- whether it be biking or hunting or guns -- women's magazines have historically been just all-around women's magazines.
Men have interests, careers, facets; women, they are women, and that is often the most the interested consumer needs to know. Where men get uniqueness and peculiarity, women get oversimplification. Next time you hear a title of a show that is about a simple girl, remember: There is no such thing as a simple girl. While the show may be titled or advertised as such, the quality of writing is out there. You have to make it past the title.
Mathew Rodriguez is a graduate of Fordham University, where he majored in English and Comparative Literature, and minored in Women's Studies and Creative Writing. Mathew is a published essayist, new media journalist, and academic. He plans to pursue a PhD in English with a concentration in gender studies. Mathew is also a social activist who embraces the tenets of feminism and works for LGBT rights. When not writing, he currently works for the LGBT health/ medical services nonprofit APICHA Community Health Center as their Program Assistant. Follow him on Twitter @mathewrodriguez
© Copyright IBTimes 2023. All rights reserved.