Shutdowns, Debt Ceilings Loom: Congress Must Find Negotiators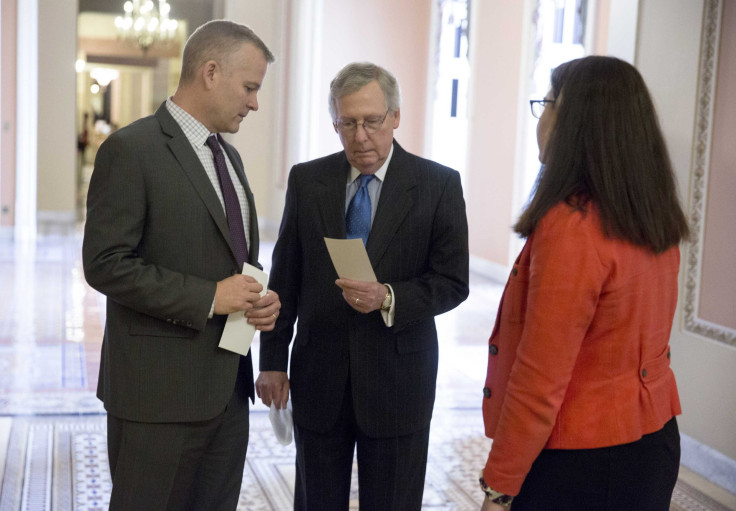 WASHINGTON -- The latest upheaval over funding the U.S. Department of Homeland Security highlights the shortage of lawmakers who are able or willing to settle important funding disputes. If Congress is going to stop bumping into every fiscal deadline during the next two years, it needs to find some negotiators.
Senate Majority Leader Mitch McConnell is stepping forward in an attempt to work out a deal that would avert another shutdown crisis. But it's unclear whether Republicans in the House of Representatives will go along. "At some point, we'll have to be the adult in the room and pass it, with whatever votes we can put together," Rep. Charlie Dent, R-Pa., said of trying to find a way to get the DHS bill passed.
Finding the adults in the room can be trickier than it appears. And the flap over Homeland Security funding is just the beginning. There are a series of impending financial deadlines Congress still has to figure out. A budget will be due this spring. Then a slew of spending bills need to be passed by September. And before the year is out, Congress will likely also have to sign off on another increase in the debt ceiling.
Congress has attempted to find a long-term solution. After a fight over the Affordable Care Act resulted in a 16-day shutdown in October 2013, McConnell and Senate Minority Leader Harry Reid (who at the time held each other's current titles) worked together to reopen the government. Democrat Sen. Patty Murray and Republican Rep. Paul Ryan hammered out an agreement to avoid another series of deadline-driven crises.
The Murray-Ryan deal was heralded by both political parties. They each got a bit of what they wanted -- the so-called sequester was delayed, no new taxes were enacted, and a spending plan was laid out for the next two years.
But the deal expires this year. At the time, Murray and Ryan served as the chairs of the budget committees in their respective chambers, but neither of them remains in a budget role. When the Republicans took control of the Senate, Murray opted to be the top Democrat on the Health, Education, Labor and Pensions Committee. And Ryan moved from the Budget Committee to the appropriating Ways and Means Committee.
Without Ryan and Murray to replicate their 2013 successes, who can step in and negotiate the next big deal? Republicans control both chambers, but can't act alone. President Barack Obama's signature is going to be needed on spending and budget bills for the next two years. And, as long as Senate Republicans don't have 60 seats, they will need Democrats to move any bills forward in their chamber. Solutions are going to have to be bipartisan.
Obama himself can't be the key Democratic negotiator. Congressional aides on both sides of the political aisle agree he's just too toxic, politically. After the fiscal cliff episode, House Speaker John Boehner famously declared he wouldn't negotiate anymore with the president. Too many Republicans reflexively become opponents to anything Obama helps design. His role in congressional discussions makes any resultant deal dead on arrival.
"I have no confidence in the White House being involved in anything," said Sen. Richard Shelby, R-Ala.
Looking to the remaining leadership on the budget committees provides some options. The top Democrat on the House Budget Committee is Rep. Chris Van Hollen of Maryland, who has participated in budget negotiations before and is well-regarded by party leaders.
Republican Rep. Tom Price took over as chairman of the House Budget Committee when Ryan left the seat. Price, who moved into the role with the backing of right-wingers in his chamber, could provide a strong voice, and any deal he strikes may carry considerable weight among conservatives in the House. But the same was said of Ryan, who was unable to get right-wing support for the deal he worked out with Murray.
On the Senate side, the picture becomes more complicated. Murray was replaced by Sen. Bernie Sanders of Vermont, a self-described Socialist who is known more for his fiery floor speeches than bipartisan agreements. He's unlikely to be the one to strike any grand bargains.
Sen. Mike Enzi of Wyoming took over as chair of the Senate Budget Committee. The quiet senator, who frequently reads from his Kindle as he walks around the Capitol instead of interacting with other legislators or the press, doesn't have a long track record of negotiating deals. But Republican Senate staff members say he could play a role in brokering a deal.
So it's likely that, to strike a budget deal, legislators in both parties will have to find negotiators outside the budget committees of their respective chambers.
McConnell can be obstructionist when he wants to be, but he's also a successful negotiator. He worked with Reid to bring the shutdown to an end. The two are working together again to end the DHS crisis. And McConnell and Vice President Joe Biden hammered out the agreement that averted the fiscal cliff in 2012.
Insiders name Democrat Sen. Chuck Schumer of New York as a possible negotiator and point to Republican Sen. Lamar Alexander of Tennessee as another option. Sen. Barbara Mikulski of Maryland, the top Democrat on the Senate Appropriations Committee, negotiated the so-called cromnibus measure for her party that averted a shutdown at the end of last year.
"I would hope that all 100 senators are negotiators trying to find common ground," Mikulski said.
But, as the most recent episode is proving, finding agreement in the House is more important than finding them in the Senate. Boehner is in a difficult position and has previously sent his closest allies to work out deals in his place. Rep. Tom Cole, R-Okla., or Rep. Pete Sessions, R-Texas, could be tapped to fill in as a negotiator.
For the Democrats, House Minority Leader Nancy Pelosi has attempted to be the chief negotiator. During talks in 2013, she pestered Boehner nearly to the point of annoyance trying to find a way to strike a deal and reopen government. But even if she is a relentless negotiator, Boehner's inability to initiate an agreement left her with nobody with whom to negotiate.
If all else fails, congressional leaders could try to recreate the magic from the last big deal: They could call Murray and Ryan back to the table.
© Copyright IBTimes 2023. All rights reserved.