'Signed, Sealed, Delivered: Road Less Traveled' Hallmark Movies Premiere: Cast, Trailer, Synopsis
After a full-day marathon of "Signed, Sealed, Delivered" movies today (Feb. 11), Hallmark Movies and Mysteries will premiere the 11th installment in the franchise, "The Road Less Traveled."
The latest mystery movie will follow what happens after "a seven-year-old boy (Christian Convery) leaves a trail of clues as to his whereabouts as he and his mom (Jamie-Lynn Sigler) travel from place to place in Colorado," the synopsis explains.
During an '80s-themed party, the boy finds a disposable camera, takes photos and drops it into a mailbox. The POstables - Oliver (Eric Mabius), Norman (Geoff Gustafson), Shane (Kristin Booth) and Rita (Crystal Lowe) - at the Dead Letter Office end up finding the camera and developing its photos. The last photo reveals a note that the little boy wrote asking his dad to find him.
"It appears that a child could have been in trouble, and even though the photo is assumed to be nearly 30 years old, the POstables' commitment is unwavering," the synopsis continues.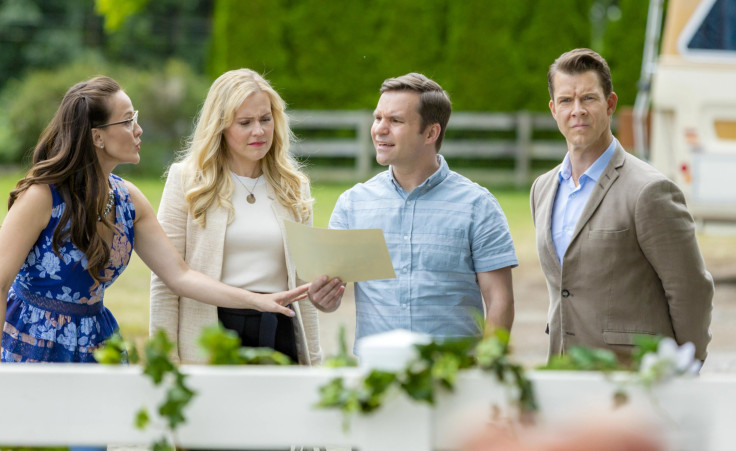 As the team sets out to uncover clues and find out the truth, the POstables bond further with one another. Shane finally reveals a secret to Oliver and Rita and Norman continue planning their upcoming wedding.
"The team soon discovers that while the camera was vintage 1980s, the photos were taken only three weeks prior, which increases their urgency in locating a young boy who may be in danger," the synopsis reveals.
Over the course of both misfortunes and random acts of kindness, the boy and his mother follow along on their journey, just missing the POstables every step of the way, Determined to crack the mystery and figure out what's really going on, Oliver, Shane, Rita and Norman push forward in search of answers.
What was the real meaning of the note the little boy wrote? Where are he and his mother going? Will the POstables end up finding them and helping with whatever is going on?
All will be revealed when the latest movie in the series, "Signed, Sealed, Delivered: The Road Less Traveled," airs on Hallmark Movies and Mysteries at 7 p.m. EST.
© Copyright IBTimes 2023. All rights reserved.