Silverado Fire Grows Explosively: 90,000 Face Evacuation; California Shuts Power To Prevent More Flames
KEY POINTS
Southern California's Silverado wildfire has forced many residents to evacuate
Strong gusts of wind fueled the blaze and severely injured two firefighters
Residents near the affected area are now staying in several community centers in Irvine
Southern California's Silverado fire on Monday nearly quadrupled in size, charring about 7,200 acres as powerful gusts of wind continued to push the flames.
The out-of-control blaze left two firefighters critically injured and forced more than 90,000 residents of Irvine city to evacuate as the state shut off more power to prevent more flames.
The injured firefighters, ages 26 and 31, suffered second- and third-degree burns across 65% and 50% of their bodies while battling the wildfire near Irvine, according to Orange County Fire Authority Chief Brian Fennessy. Both have been intubated, NBC News reported. They were two of about 500 firefighters battling the fire.
"They were not in a position where they could speak with me," Fennessy said. "Our firefighters are some of the bravest in the world. This is a very hazardous job."
The University of California in Irvine has shut down its operations due to the fire's hazardous smoke and ash. However, essential employees, such as people working in housing and dining, are asked to report to campus.
Southern California Edison has announced it will cut off power to more than 100,000 homes and businesses in hopes of preventing the fire from spreading. PG&E has cut power to about 355,000 customers, Los Angeles Magazine reported.
The blaze began as a vegetation fire Monday in the area of Santiago Canyon and Silverado Canyon roads. Wind gusts of 60 to 70 mph fueled the inferno, according to the city of Irvine.
"The fire started in Silverado Canyon, and helicopters and fixed-wing aircraft are on the way," Irvine Mayor Christina Shea had said. "The wind is making it move very quickly." But the gusts prevented aircraft from dropping retardant and water to contain the blaze, leaving firefighters on the ground with no air support.
The evacuated Irvine city residents were taken to six community centers, where the local government has set up services. As of Monday afternoon, three of the evacuation centers -- Rancho Senior Center, University Community Center and Quail Hill Community Center -- were full.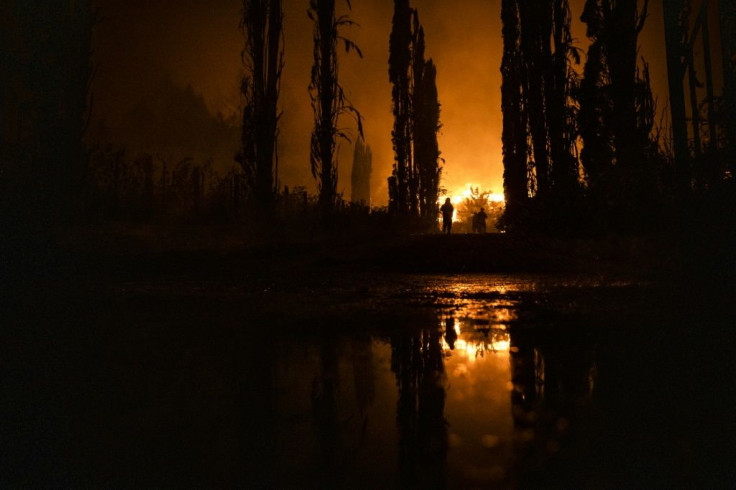 © Copyright IBTimes 2023. All rights reserved.