'The Simpsons' Super Fans Hunker Down For 12-Day FXX Marathon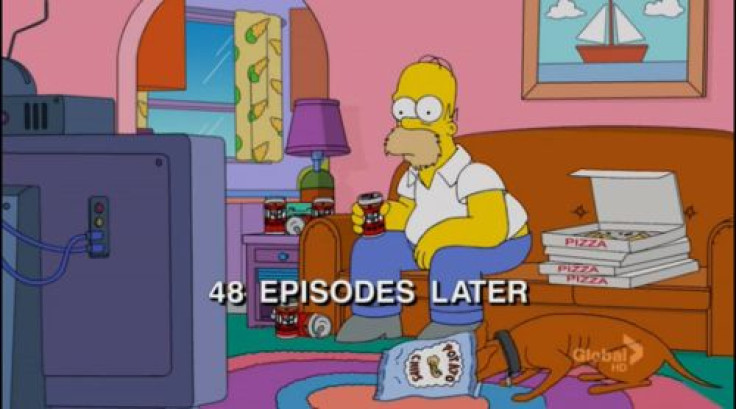 Britt Johnson wil be taking some personal days in the coming week -- on her couch. The 26-year-old consultant is a diehard fan of "The Simpsons," and her favorite show is making TV history: All 552 episodes of the animated comedy will be aired chronologically over a 12-day period on the FXX cable network, beginning Thursday.
The Chicago native has seen the entire series multiple times in her decade-long obsession with the 25-year-old show, and while every episode will be available via the SimpsonsWorld app launching in October, "there is something special about getting to watch these episodes for the first time, in real time," Johnson said.
Johnson is taking a few personal days to block off four days of continuous, uninterrupted viewing, and then she'll watch the rest of the marathon on her DVR.
Binge-watching "The Simpsons" is old sport for Johnson. She admits to watching 5-10 episodes at a time, multiple times each week. And like other diehard Simpsons fans, she regularly quotes from the scripts in her everyday conversations.
"Most of the time people think I'm a babbling savant," Johnson said.
For Robert Davidman, the obsession is so intense that CNN once called him "the world's biggest Simpsons fan." The 44-year-old advertising executive says he plans to watch the marathon from the office, noting he has the blessing of his co-workers. Davidman owns of all manner of Simpsons memorabilia, including "Stoner Simpson" rolling papers, a Homer Simpson Chia pet, and limited-edition cells signed by show creator Matt Groening. With a TV in his office, his Verizon FiOS account linked to his cell phone, and a couch at home, he says he's all set for the marathon -- five days of it, at least. He has a business trip to London on Aug. 25 that will, sadly, thwart his goal of continuous viewing.
"Physically I can't watch all 12 days; however, I'll probably get in the first several days starting Thursday through Monday," he said.
For Brad Lascelle, a Simpsons fan who regularly participates in discussions on the fan forum nohomers.net, marathon viewing isn't an option. He lives in Canada, where FXX is unavailable. But he has engineered a plan for those who want to attempt the 12-day marathon while maintaining their sanity.
"One way that a person could legitimately make a go of it (without dying) would be to watch episodes via DVD/digitally in tandem with the marathon, cut out openings and credits and compress their daily run of 48 episodes from 30 minutes each down to 20 minutes," he said. "That would effectively buy them 8 hours a day to sleep, shower and maintain some semblance of their real-life responsibilities."
This strategy, he said, would buy fans extra time to watch the original shorts from "The Tracey Ullman Show" – where "The Simpsons" started before spinning off into its own series in 1987.
Neil Arsenty, 34, says he can't stay up to watch the entire marathon but plans to get "100 to 150 episodes in."
Arsenty has run a monthly Simpsons trivia night for the past two years, which regularly draws more than 120 superfans; similar events exist in Brooklyn, New York, and Toronto. His local community has been chomping at the bit since the marathon was first announced, and many will be referring to the episode schedule published by the pop-culture site Uproxx to optimize their viewing.
"I'm really glad they released the schedule. It really helps us plan out our lives," Arsenty said. He and friends have been exchanging ideas for themed marathon parties, and he plans to make recipes from the show, like "Nachos Flander's Style" -- a cucumber and cottage cheese concoction that Homer Simpson's devoutly religious neighbor makes.
But binge-watching is not for the faint of heart. Erik Pettersson, a 28-year-old Swedish man, recently broke the Guinness Book of World Record for the longest marathon TV-watching. In May, he spent 90 consecutive hours watching the show "24" during a publicity event for ViaPlay, a Swedish streaming site akin to Netflix.
His advice to Simpsons marathon watchers includes chewing on ice chips to stay awake, standing up every now and then, and avoiding caffeinated beverages like Red Bull, coffee and candy. "They're good for an initial kick, but then you go down," he said.
After four days of continuous viewing, with five-minute breaks for every 60 minutes worth of watching, Pettersson felt hungover for three days after the event. "My vision was blurry and I still can't remember the last three seasons that I watched," Pettersson recalls.
Unsurprisingly, not every Simpsons super fan wants to take advantage of the history-making marathon.
For Denise Du Vernay and Karma Waltonen, college professors who co-authored the book "The Simpsons in the Classroom: Embiggening the Learning Experience with the Wisdom of Springfield," the marathon is just one small part of the show's enduring legacy.
Du Vernay says she became a fan in the mid-1990s after watching the show to soothe her broken heart following a rough breakup in college. To this day she remembers drinking red wine, laughing and crying while watching "Lisa On Ice" and "Bart's Girlfriend."
"The end of "Lisa On Ice" made me cry," Du Vernay said. "It's so touching and sweet without being schmaltzy. I still love it."
Waltonen says the timeless nature of the show has kept her tied to "The Simpsons," and she has remained dedicated to teaching it to her college students for the past 15 years.
"What drew me to the show was that the family was more realistic than other families on TV at the time: They had problems; the parents weren't perfect," Waltonen said. While "The Simpsons" has evolved in the last quarter-century, Waltonen argues it has remained true to the successes drawn from its heyday in the 1990s.
"It ushered in a revolution," Waltonen said, pointing to adult cartoon shows that exist today like "Archer," "Bob's Burgers" and "Family Guy." "The [Simpsons]opened the door for so many other shows to experiment. And we watched those experiments – and we keep expecting more."
© Copyright IBTimes 2023. All rights reserved.