'Sister Wives' Season 6 Spoilers: Browns React To Robyn's Pregnancy Announcement, Kody Learns If He's Having Twins In Episode 6 [RECAP]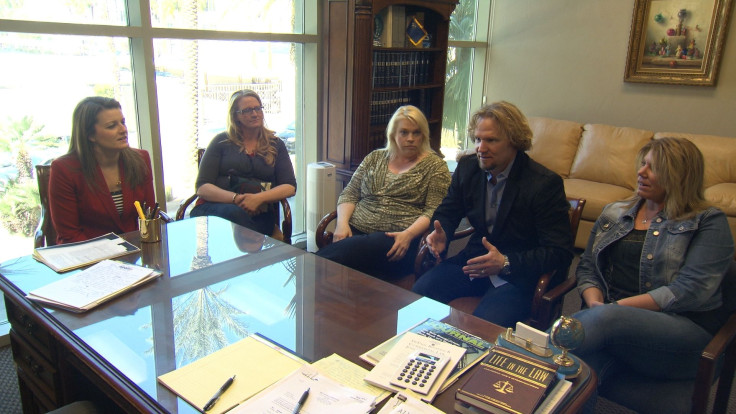 The Brown family has taken another step toward adopting Dayton, Aurora and Breanna -- Robyn's three children from her previous relationship. In episode 6 of "Sister Wives," Kody and his fourth sister wife sign adoption paperwork, which they say is the last hurdle they'll jump before meeting with the judge (the final phase of their long and emotional journey that will ultimately determine if Robyn's kids will legally become Browns).
"There's still a lot of uncertainty," Christine, Kody's third sister wife, says in the episode. "Polygamists generally don't win things like this -- they don't win adoption cases."
And Christine isn't the only one nervous the adoption process could go awry. Robyn reveals in a confessional that although she's excited for the year-long endeavor to end, she's also extremely nervous the judge won't grant Kody permission to become the legal guardian of her children.
"There's no guarantees still," Robyn says, adding if the judge dismisses their plea then it will be "hard" to tell her children that "this isn't going to work."
But Robyn didn't end her one-on-one with her kids on a grim note during episode 6. Instead, she and Kody reveal the exciting news that they're expecting a baby. Aurora and Breanna shriek with joy, anxious to welcome a little one into their large family while Dayton quietly soaks in the announcement, calculating how this baby will affect his life (and rightfully so).
In a confessional, Robyn dishes she wanted to be "selfish" with her fifth pregnancy, explaining the Browns -- specifically the teenagers -- didn't take too kindly to the announcement she was pregnant with Solomon, who was born in October 2011. (Some of the teens believed the family was already large enough.) That's why Robyn opted to tell her immediate family first, so she could bask in happiness.
"I'm nervous," Robyn says. "I sort of been preparing myself for -- that people won't have a good attitude about [the pregnancy]."
Kody' wife adds she's worried the family won't accept this baby, which is why she has Meri, Kody's first wife, announce the news.
"My heart is pounding out of my chest," Robyn recalls in a confessional how she felt before her fellow sister wife unveiled the news. But when Meri finally tells the family "Robyn's pregnant," Robyn receives nothing but a "unified expression of excitement."
"When everyone cheered and was excited and happy -- It was just," Robyn says before sighing in relief.
The episode concludes with Robyn, Kody and her daughters paying April, Robyn's midwife, a visit for a prenatal checkup. It's during the appointment that Robyn learns whether she's going to have twins. In episode 6, Robyn tells Kody she thinks there's a good chance she might been carrying twins, explaining that it's because this pregnancy feels different from her others. Robyn said she started showing more quickly and became nauseous sooner than she did when she was pregnant with her other children.
However, April reveals there's "just one" baby Brown growing in Robyn's belly as the sound of a single heartbeat plays in the background.
"Sister Wives" airs Sunday nights at 9 p.m. EDT on TLC.
© Copyright IBTimes 2023. All rights reserved.