'Sister Wives' Season 6 Spoilers: 'Tell All' Sneak-Peek Video Teases Brown Family's Emotional Reaction To Meri's Catfishing Scandal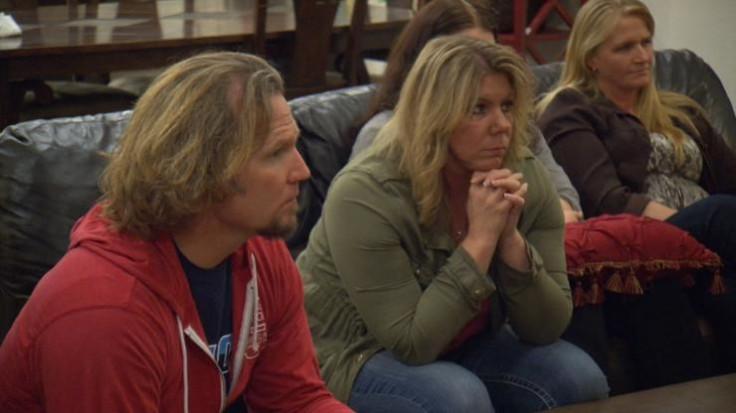 Meri Brown is coming clean. The "Sister Wives" star will open up about her emotional, online affair, which took place earlier this year, during the hit TLC show's forthcoming two-hour special.
Fans were given a glimpse at the anticipated "Tell All," set to air Sunday, Nov. 22, with the release of a sneak-peek video. "I eventually met her in real life. I never did meet him," Meri tells "Today" reporter Tamron Hall, who will be hosting the jaw-dropping installment.
In October, Kody's ex-wife confirmed to People magazine that she was involved in a catfishing scandal. "During an emotional and vulnerable time earlier this year, I began speaking with someone online who turned out to be not who they said they were," Meri explained in a statement. "I never met this person and I regret being drawn into this situation, but I hope because of it I can help others who find themselves in similar circumstances."
Meri then unveiled that her family had "supported and stood by" her throughout the ordeal. However, audiences will get to hear from Kody, the patriarch of the plural family, and Meri's fellow sister wives, Janelle and Robyn, during the "Tell All" as the family speaks out for the first time about Meri's jaw-dropping affair.
"My first reaction was to put on armor and go to war," Janelle, Kody's second sister wife, reveals in a promo video for the upcoming episode.
Audiences will watch as Meri first unveils the news to her family during the Season 6 finale of "Sister Wives," which will air Sunday.
"They don't know what I brought into this family," Meri says between sobs in a confessional, teasing just how eye widening her news is.
Kody will be taken aback by Meri's shocking confession, which will be unveiled while the Brown clan is on their Alaska vacation. "It's weird, some of the words she's saying. It sounds like she's leaving," he says, questioning whether Meri will continue to be a member of the Brown family.
"Sister Wives" will air its Season 6 finale on Sunday, Nov. 15, at 8 p.m. EST and the anticipated two-hour "Tell All" special on Sunday, Nov. 22, at 9 p.m. EST on TLC.
© Copyright IBTimes 2023. All rights reserved.