'Sister Wives' Season 7 Spoilers: Meri And Janelle Go To Therapy In Episode 2 [RECAP]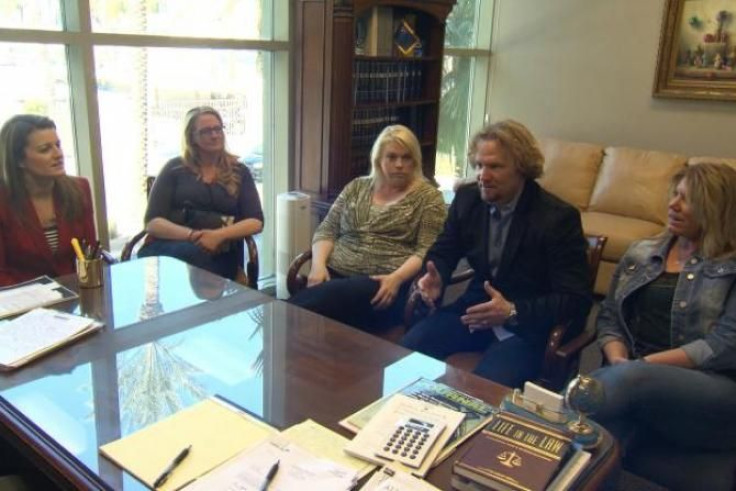 Meri and Janelle are heading to therapy!
In Season 7, episode 2 of "Sister Wives," Kody Brown's first and second wives attend therapy to work on their relationship with one another. According to Janelle, drama between her and Meri began when she joined the plural family in 1993 — nearly three years after Meri and Kody were married.
Janelle, who knew Meri the summer after she had graduated from high school, explains that she and her sister wife couldn't see eye to eye due to their extremely different personalities. While Janelle tends to internalize her feelings, allowing herself to process them before reacting, Meri is quite blunt. This has caused quite a bit of drama for the two throughout the years — that is, until Meri agreed to take Janelle up on her offer to attend therapy.
In Season 6, viewers watched Janelle extend the olive branch to her fellow sister wife, asking Meri to attend counseling with her to sort out their differences. Meri accepted the invitation and, six months later, the two made their way to family therapist Nancy Hunterton's office to discuss how to move forward with their relationship.
"The time has now arrived that Meri and I have our appointment [with Nancy]. I have some butterflies in my stomach for sure," Janelle says nervously.
In a confessional, Kody states that he hopes his wives can come to a mutual understanding but fears "these two mommies may never have it worked out."
Kody's third and fourth wives, Christine and Robyn, also state that they're excited for the two to visit their family counselor. "The less tension the better," Robyn says in explaining why she supports Meri and Janelle attending therapy.
When the duo first arrive at Nancy's office, she has Kody's wives reverse roles as a way to break the ice. But they end up doing more than that. They actually break through some major issues on their very first day thanks to the role swapping.
"It's very painful to watch people imitate you and then to watch their reactions to your imitation of them," Janelle says after playing the part of Meri. During therapy, the two learn that they have different ways of approaching an issue. Janelle explains that she doesn't like how direct Meri is, while Meri finds it frustrating that Janelle shuts down as she processes her feelings.
But their counselor advises them to embrace each other's differences, leaving them feeling as though they accomplished "a lot" during their first session.
"I feel like we made good progress and understanding how we're different," Janelle says, adding that the two have decided to shop for Thanksgiving decorations with each other — a first for them. "Hopefully we can [use] what we learned — it should be interesting. I hope it works out."
But Meri isn't convinced that shopping is the stepping-stone they need.
"I don't think it's wise at all for us to shop together," she says during a confessional. But regardless of her worries, Meri accompanies Janelle on her holiday-themed shopping trip.
Audiences get a glimpse of their décor outing that shows just how opposite the two ladies are. Janelle can't help but take her time trying to decipher her feelings about a wreath before purchasing it, while Meri thinks the thought process is simple: If you like it, buy it.
Fans will get to see the two continue to work on their relationship in Season 7, episode 3 of "Sister Wives." The hit TLC reality series airs Sundays at 8 p.m. EDT.
© Copyright IBTimes 2023. All rights reserved.