'Sister Wives' Season 6 Spoilers: Meri Confronts Janelle, Madison Reveals Why She Was Denied Baptism From LDS Church In Episode 5 [RECAP]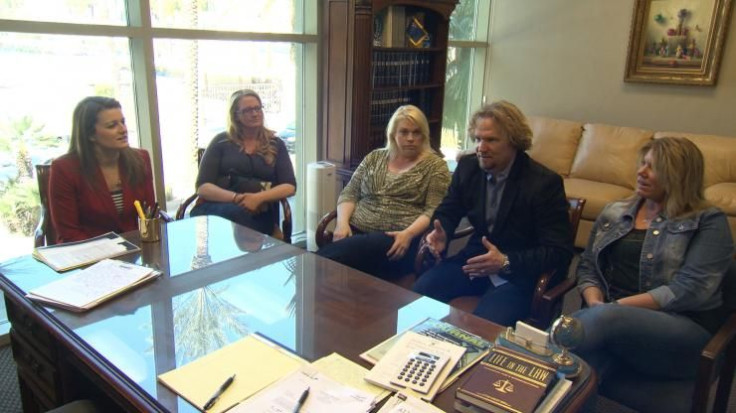 "Sister Wives" fans watched as Kody Brown attempted to bond with his youngest daughters during episode 5 of the hit TLC series. But what was meant to be an emotional experience between the Brown patriarch and his girls turned into a bit of a party -- and one that Robyn, Kody's fourth sister wife, didn't exactly approve.
During the Season 6 installment, titled "More Girls Than Kody Can Handle," Robyn explains in a confessional that even though it sounds like their daughters were having a great time with Kody on their California beach trip, she wishes her husband would have sat down with each of them individually to have a heart-to-heart.
But despite Robyn's hopes that Kody would connect on an emotional level with their daughter's, the girls, who we're celebrating Ysabel's birthday, did ultimately have a great time with their dad.
During episode 3 of "Sister Wives," Kody acknowledged he didn't' have the best relationship with his girls, which is why he was so adamant about hitting the road with his five little ladies. And apparently, the feeling of needing one-on-one time was mutual.
"This will allow us to hang out and bond," Ysabel explains why she wants to spend her big day with her dad and sisters. "I'm excited to go somewhere all alone with dad."
"It'll be nice to have dad all to ourselves," Savannah chimes in.
While Kody spent his weekend hitting the beach and amusement parks with his daughters, Madison was home explaining to Robyn and Meri, Kody's first sister wife, why she wasn't being allowed to get baptized in The Church of Jesus Christ of Latter-day Saints.
"I got a phone call and they're not letting me get baptized," Maddie explains to her moms. "They called me and said it was too contradictory and they hope I reconsider [joining the church] when we're not such a public family."
In a confessional, Maddie elaborates that the LDS church, which banned polygamy more than a century ago, wouldn't accept her because she refused to "publicly disown" her family.

"That's so unfair," Robyn responds.
Maddie reveals she's now struggling with her faith more than ever. She doesn't know if she wants to join the LDS church in the future (after being denied a baptism) and admits she still doesn't feel like she belongs in the Mormon Church.
"My beliefs don't fit a religion other than the Mormon Church. And I don't want to join the Mormon Church," she says.
But that wasn't the only drama to go down in episode 5 of "Sister Wives." Meri finally confronts Janelle about what she thinks of partaking in therapy sessions with her fellow sister wife to rebuild their rocky relationship.
"I think it's time that she deserve to have an answer because it's been so long," Meri says in a confessional before heading over to Janelle's house. In the Season 6 premiere of the reality series, Janelle mustered up the courage to ask Meri if she would be willing to accompany her to therapy to hopefully address their issues and create a strong bond. However, Meri said she would need to think about it -- and four months later, it looks like she finally has an answer.
"I've been really giving it a lot of thought and I put prayer into it," Meri tells Janelle, revealing she's had a "lot of encouragement to move forward" with therapy.
Janelle admits Meri's answer caught her by surprise, which is what caused her to break down in tears. "Shock is one of the emotions that will get me every time," she says in a confessional.
The two agree that they'd like to bring some peace into their relationship and finally discussed the "turbulence" that occurred during the "beginning of the relationship."
"So what was the problem all these years? I don't know," Janelle says, noting she's eager to find out the answer in therapy.
"Sister Wives" airs Sundays at 9 p.m. EDT on TLC.
© Copyright IBTimes 2023. All rights reserved.