Snake Receives '12,000 Volts Shock' After Crawling Into Electrical Box, Found Alive
A snake survived a 12,000 volts shock after it crawled into an electrical box and caused utility lines to blow.
The Central County Fire & Rescue Department in St.Peters, Missouri, on Saturday afternoon dispatched its units after a fire incident was reported.
"On Sunday afternoon, the crew of 9558 and 9554 responded to a report of an uncontrolled outside fire," a statement from the department read.
The officers who responded to the scene found that fuse lines on the nearby utility pole have exploded which resulted in a spark that spread onto the grass around the pole igniting the fire. The officers immediately put down the fire.
"The crew quickly extinguished the fire with the bumper-mounted water monitor," the department said.
While investigating the cause of the fire, the responding officers were shocked to find out that a snake had managed to crawl up inside an electrical box that caused the utility pole to blow. The officers were surprised to find the snake alive even after it was reported to have suffered a "12,000-volt" shock.
"The investigation led to this snake having crawled into an electrical box where it received a 12,000-volt shock," they said. The officers were happy to find the snake alive but little did the reptile know that it had "caused six major fuse lines on the utility pole to blow, sending sparks to the ground, igniting the grass around the pole."
The officers posted a picture of the snake on the department's Facebook page. The reptile is seen slithering away but seemed to have suffered some injuries to its eyes. It is unclear if the electrocution had caused the injury.
The scorching heat may be one of the reasons that the reptile took shelter in the electric box. Also, the coronavirus lockdown has been a boon and has given the animals a chance for a free-roam as humans are rarely seen stepping outside their homes adhering to the "stay at home order."
This snake too was clearly adhering to the "stay at home orders" but unfortunately chose the wrong home.
"Remarkably, the snake lived to tell about it," the post read.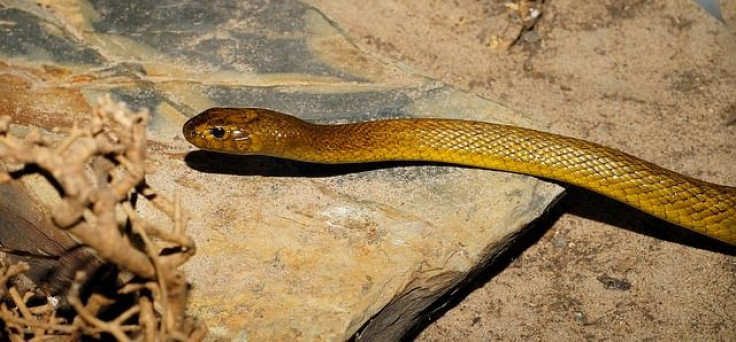 © Copyright IBTimes 2023. All rights reserved.