Snapchat Celebrities: 'Story Star' App Helps You Find, Share Artists' Snaps And Usernames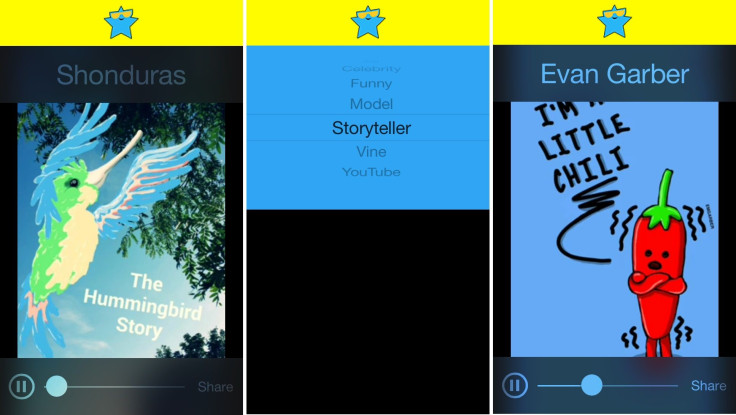 For a few hours each week, Sallia Goldstein will take photos and then place her finger on her smartphone screen and draw, superimposing her own creativity on the images. Each design takes extreme focus. Accidentally press Undo, and it's time to start over. After the hand-drawing is complete, she considers annotating with text or emoji and then she'll send the finished masterpiece along to her followers. Then, in a matter of seconds, it's gone.
This is Snapchat. The company was most recently valued at about $16 billion, with Evan Spiegel, 25, the world's youngest billionaire, at the helm. Just like YouTube, Vine, Instagram and Tumblr have created (or enabled) "stars" that gain a following, Snapchat celebrities also exist. Some artists, such as French entrepreneur Jerome Jarre, also 25, and 24-year-old mechanical engineer Evan Garber, have made Snapchat creations their full-time career. Others, like Goldstein, use it as a creative outlet and also have gigs that can earn between $350 and $5,000 a contract.
Yet since Snapchat was born as a one-to-one messaging service, one big problem facing Snapchat talent is how to be discovered. So, Jacob Catalano, a 21-year-old college dropout and alum of leading venture capitalist Timothy Draper's entrepreneur bootcamp "Draper University," launched "Story Star" -- a site and recently released Apple iOS app dedicated to a new generation of creators.
"There are people out there who are professionally making content. Even celebrities like Justin Bieber, you might not know they're on Snapchat or when they post. But it's clearly something that people want to be watching," Catalano said.
Catalano has worked to recruit and communicate with these Snapchat creators. He first reached out to Goldstein via Twitter, who quickly responded to his request to be included in his project after she noticed that only two out of 20 people highlighted on the site were women. Goldstein first joined Snapchat in the summer of 2014.
"At the time I thought Snapchat is so stupid. It's a new fad. It's going to fade," she said. But after seeing her sister draw on the app, Goldstein thought she could easily one-up her sibling's creations and quickly took a liking to the activity. Within months, she was discovered by Rosewood, a boutique social media agency located in Snapchat's homebase in the Venice neighborhood of Los Angeles.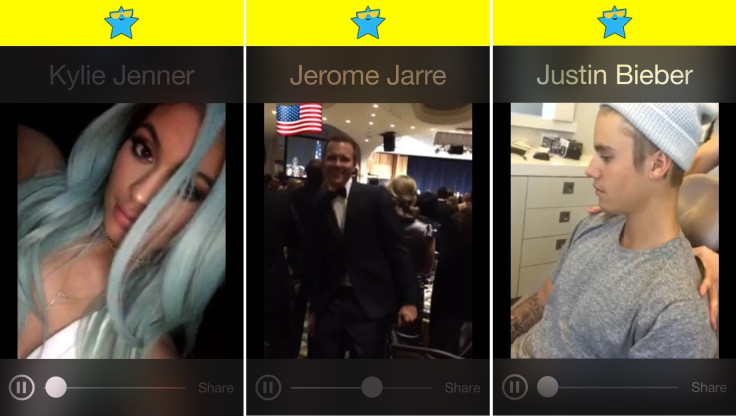 Story Star, formerly called Capturedme.com, collects the photos and videos that creators share via screen-capture software and uploads them to a separate app. Currently, there are about 70 people on the site and three videos per creator. The app has five sections: Celebrity, Funny, Model, Storyteller (aka Snapchat-born star), Vine and YouTube.
Catalano has tried to communicate with everyone whose content he uploads. He notes that what he's doing isn't illegal because the content he sees is public. So far, two Snapchat users have asked Catalano to take down their images and he has complied. Catalano has tried repeatedly to speak with Snapchat, including penning an open letter to Spiegel on Medium, but he has yet to hear back.
"Snapchat has proven that vertical video from a first-person perspective can be a really good medium. My whole theory is that it's good but not good enough," Catalano said. "I think it's pretty clear that they could easily make a product like this but they haven't because they have a very clear mission."
Founded in 2011, Snapchat has quickly built a loyal following of more than 100 million daily active users, with 86 percent of monthly U.S.-based users under 34 years old, Snapchat reports, and an estimated 2 billion video views each day. Its popularity has captured the attention of big-name advertisers, brands and media companies, all while inspiring creative passion from everyday users and artists alike.
While Spiegel emphasizes free and open communication with deletion by default, that's not the core of what Catalano is doing. Rather, he's providing a destination page for creative content. There's certain images that are meant to disappear via Snapchat. Indeed, Snapchat gained notoriety as an app for sending nude photos. But along with those disappearing messages, there's art.
Goldstein has worked with several creative agencies and organizations, including nonprofit Unicef and producers of the movie "Ice Age." She shares some of her Snapchat creations on her Instagram account (salliasnap) and her Twitter (@salliasnap). For Goldstein, it's a side gig while she maintains her job as a mechanical engineer for an oil and gas company.
"There's proof that someone can go from one career, but I like engineering. If I can somehow incorporate my love of science, math and engineering into Snapchat, I'd love that," Goldstein said.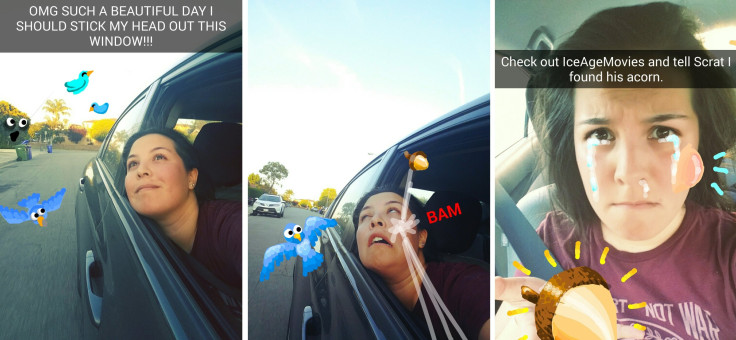 In the future, Catalano wants to make Snapchat-esque drawings available on his app and also provide artists with as much data as he can, a critique that Snapchat has received from advertisers. Snapchat currently shows creators only the number of views and screengrabs. Catalano said he plans to offer shares, information on whether viewers watched a video in full or not and some demographic data behind viewers by integrating social login via Facebook or Twitter.
Catalano dropped out of college in 2014 to grow his company. He moved to California and studied at venture capitalist Draper's entrepreneurial school for two months and worked there for another three. He's living in Toronto, and for now, not generating his own income. "I've got a great mom," Catalano said. "You can live pretty inexpensively when you can get your food and housing provided for."
Catalano, who is in talks with venture capitalists, said he hopes to raise at least $750,000 and move his company to Los Angeles -- a growing area for startups including Snapchat and Tinder.
Story Star has the verbal support, at least, of Draper University's founder. "Jacob is a brilliant and creative guy," Draper wrote in an email. "He has a lot of potential and with some real focus and continued improved leadership skills. He can make this company a success."
FOR FREE to continue reading
✔️ Unlock the full content of International Business Times UK for free
offer available for a limited time only
✔️ Easily manage your Newsletters subscriptions and save your favourite articles
✔️ No payment method required
Already have an account?
Log in
© Copyright IBTimes 2023. All rights reserved.