Snapchat Update For Discover Adds Mashable, IGN, Tastemade For Daily Content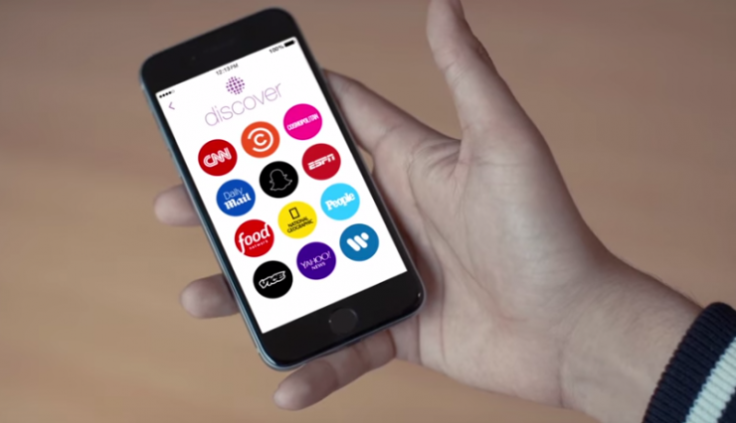 There's more to discover on Snapchat. The company added three media outlets to its Discover network that are pushing new daily photo and video content to the disappearing-messaging app.
That update brings the total number of media partners to 14 in the U.S.-British version of Snapchat. Sports network Bleacher Report and Univision/ABC's Fusion are also partners, but available only in the non-U.S.-British version.
Unlike previous changes to Discover, no partner fell off the network in Thursday's update. In July, Yahoo and Warner Music Group left the app and were replaced by BuzzFeed and iHeartMedia. Now, viral tech site Mashable, video game network IGN Entertainment and food-travel site Tastemade are live on the app.
"We believe [Discover] is a unique storytelling format that puts the narrative first and allows for an exciting mix of videos, shareable interactives, animations, illustrations and articles like nothing else in digital storytelling," Stacy Martinet, Mashable's chief marketing officer, told International Business Times, via email.
Media companies have been hiring specifically to support their new channels. For example, Mashable tapped Sam Sheffer, previously the social media manager at tech site the Verge, as the outlet's new creative producer. As his Twitter bio notes, Sheffer will be focused on "making @mashable's Snapchat Discover channel happen." He will also be collaborating with Mashable's Deputy Tech Editor Samantha Murphy Kelly and the rest of the editorial team.
Finding Money In Mixed Media
Snapchat Discover isn't just about creative expression and brand awareness for Mashable, and others on the Discover network. Mashable's debut on Discover included advertising from mobile tech company Qualcomm. Coca-Cola is sponsoring the Tastemade channel and Universal Pictures (the first advertiser on Snapchat) is advertising on IGN's channel, with clips from its upcoming horror film "The Visit." Neo@Ogilvy, a global media agency, led that marketing for Mashable, the company said.
"Snapchat Discover is a platform that provides the space to tell compelling stories through mixed media, which offers an amazing opportunity for brands to reach the Mashable audience on the devices and platforms they use the most," Seth Rogin, Mashable's chief revenue officer, said in a statement.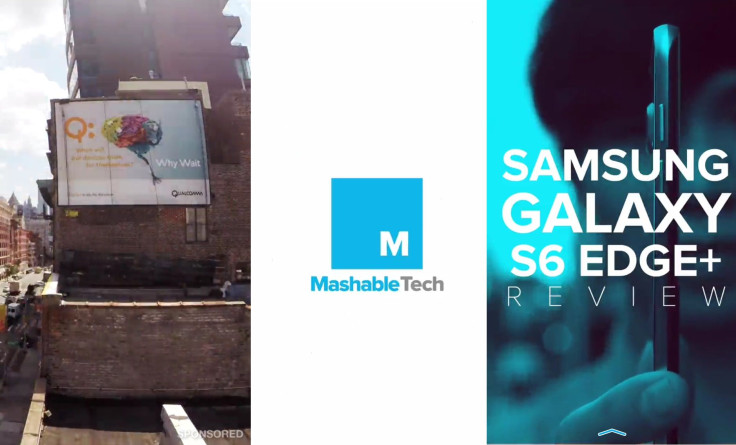 Snapchat boasts more than 100 million daily active users and is reportedly used by more than 60 percent of 13- to 34-year-olds in the United States. In July, Snapchat reported the app had reached more than 3 billion video views per day, approaching Facebook's 4 billion views.
While some outlets were initially intimidated by the demands of the app [filming vertical video], the lack of broad analytics [most notably on users' demographic information] and the advertising pricing, Snapchat has managed to woo several large media companies with its user numbers and engagement statistics.
'Below The Fold'
In July, Snapchat redesigned the app to give Discover more of a prominent position. Once hidden three swipes away from the user's main page, the content is now listed at the top of the Stories page, reportedly Snapchat's most popular feature.
The original Discover page is still available, and with Thursday's update, Discover content will be pushed "below the fold," as Re/code noted. The order of the content is dependent on a Snapchat user's personal engagement with Discover. Over time, channels that a user visited the most in the previous seven days will appear first. That push could change if Snapchat chooses to shrink the size of the buttons or eliminate the page altogether.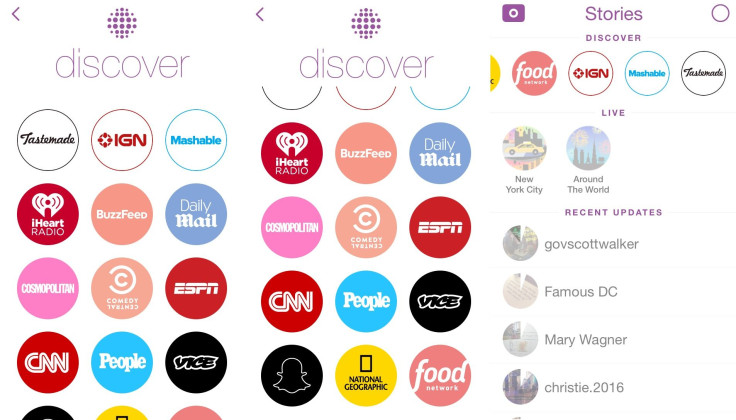 Discover's growth is not over. More networks are expected to join in the coming months. Re/code reported that its sister site Vox.com will be added by the end of the year. Last week, Snapchat hired James Veraldi, formerly the senior vice president of strategy and business development at the agency Fullscreen, to serve as Snapchat's head of strategy and partnerships, Variety reported. Nick Bell, previously of News Corporation, oversees all partnerships for Snapchat.
Other media companies have elected to promote their own accounts, and not just Discover, yet. These daily content streams are viewable if a Snapchat user chooses to follow them. In the last month, several networks -- including the Huffington Post and Mashable -- have changed their Twitter profile images to advertise their accounts.
For some creators, these accounts can serve as a trial run for content that could later be on Discover. As Chris Williams, iHeartRadio's chief product officer, told IBTimes in July, "You don't have the pressure of the channel. It's kind of like the minor leagues."
© Copyright IBTimes 2023. All rights reserved.