Is 'SNL' Live Tonight? Find Out Who Will Host The Season Finale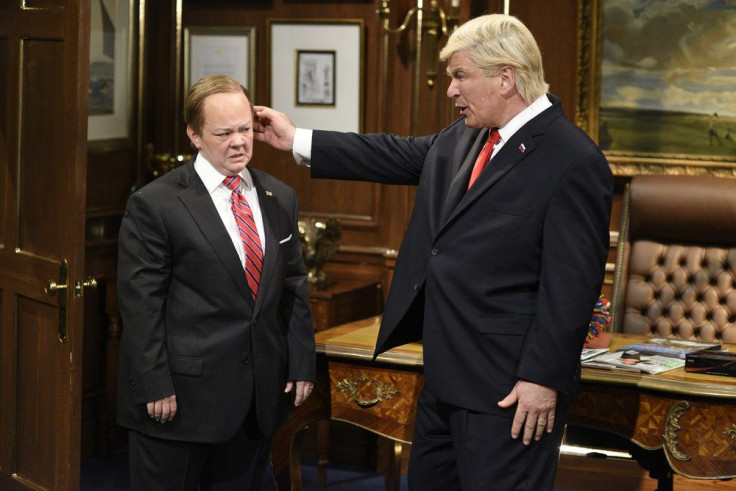 After a successful May 13 episode hosted by Melissa McCarthy, "Saturday Night Live" will return on May 21 for one last episode this season. Hosted by Dwayne "The Rock" Johnson, musical guest Katy Perry will join the "Fast and Furious" star in the "SNL" Season 42 finale which will air live on Saturday night.
"Dwayne Johnson will host for the fifth time on the May 20 season finale. Johnson is starring in the film adaptation of 'Baywatch,' premiering May 25. Global superstar Katy Perry will be returning to the 'SNL' stage as a musical guest for the third time," read a statement from NBC.
Like the previous three episodes, the "Saturday Night Live" season finale will air live coast-to-coast. The format, which began with the April 15 Jimmy Fallon-hosted episode, has proven to be successful for the series.
"The April 15 telecast of 'Saturday Night Live,' with host Jimmy Fallon and musical guest Harry Styles, has averaged 7.880 million viewers overall and a 2.27 rating in adults 18-49 in 'fast official' 'live plus same day' results from Nielsen Media Research," read a statement from the network.
With a star-studded season finale, NBC hopes it can match the success of last week's episode which was the most-watched "SNL" May telecast in seven years. According to NBC, the episode averaged 10.337 million viewers overall, making it the second most-watched episode of Season 42.
Following the end of Season 42, "SNL" veteran Bobby Moynihan will be leaving the show. The actor made the announcement on Friday, revealing he was heading to CBS for a new sitcom called "Me, Myself and I." On Instagram, Moynihan posted a photo of the "SNL" cast, writing, "Last pitch of the season! #SNL42."
When "Saturday Night Live" returns for Season 43, the series may also be without Alec Baldwin. While the actor wasn't an official cast member, he signed a one-year deal with the show to play President Donald Trump in various sketches.
In a feature piece in The Hollywood Reporter, Baldwin said he would love to keep appearing on "SNL" but has other things going on. "Look, I'd love to keep doing this per my availability, but I have other things I'm going to do, so I guess we'll figure it out," he told THR.
The actor, who will be starring in a film with Antonio Banderas, did throw out the idea of recording his sketches away from New York. "If I'm doing a film in Rome in the fall, you can bet I'm going to be on a satellite from Rome doing Trump."
As for how the remote sketches will get done, Baldwin thinks "SNL" executive producer Lorne Michaels will figure out a way. "I have a lot of things I'm supposed to do," the actor said. "I'm sure Lorne will find ways to kill them. He'll call the producer: 'You know he can't kiss his wife in the scene because of that disease he has.'"
The "Saturday Night Live" Season 42 finale will air live at 11:30 p.m. EDT, 10:30 p.m. CDT, 9:30 p.m. MDT and 8:30 p.m. PDT on NBC.
© Copyright IBTimes 2023. All rights reserved.