Snoop Dogg Reveals BTS Reached Out To Him For A Collab
KEY POINTS
Snoop Dogg guested on the "Mogul Talk" on Clubhouse
He is yet to decide regarding the collaboration request from BTS
"The K-pop market is huge," a guest on the "Mogul Talk" told Snoop Dogg
Snoop Dogg recently revealed in the social audio app Clubhouse that BTS reached out to him for a collaboration.
The rapper guested on "Mogul Talk" with Druski on Clubhouse on Saturday where he was asked about the number of feature requests he receives on a weekly basis. The rapper replied that he gets calls from quite a few artists in the industry eah week, and revealed that he was also contemplating on whether he would find time for a collaboration with BTS.
The 50-year-old added that he learned about the hugely successful K-pop group only through his nephew who showed him videos of the Korean supergroup.
"I got a group named BTS that's waiting on me to do a song with them right now and I'm trying to figure out if I got time to do this…," he said.
The audio app show's host urged the rapper to proceed with the collaboration and so did another guest from the show, Crystal Mais who said, "That would be fire. BTS is dope." She continued, "The K-pop market is huge, Snoop. Do it."
The "California Girls" rapper said he was impressed with the videos of the BTS whom he called, the "Asian New Edition" referring to the American R&B group New Edition who recorded the song "Candy Girl" in the 80s.
Clubhouse tweeted a portion of the interview and wrote, "@SnoopDogg x @bts_bighit? we need it, IMMEDIATELY."
Suga previously hinted that the next BTS album would have more hip-hop tracks compared to their previous releases.
"I'm sure we'll have more hip hop tracks in future albums… So if you'd like to hear more of them, you shouldn't have to wait too long. They might be released one day," he told BBC Radio 1 in July 2021.
Fans revealed their excitement on Twitter for the future collaboration between BTS and Snoop Dogg.
"OMG reminds me j-hope said he loved snoop's 'doggystyle' bc he danced the music when he was young (he's currently a rapper in BTS and was a street dancer before) + BTS mentioned it in their song Hiphop Phile too, a collab would be so cool for rapline," a fan tweeted.
Another fan tweeted a snippet of BTS dancing while New Edition is performing during last year's American Music Awards where the septet won Artist of the Year.
"Snoop Dogg calling BTS the Asian New Edition...we better get that collab. Look at my boys vibing to them at the AMAs ," @TheQuicheNiche said.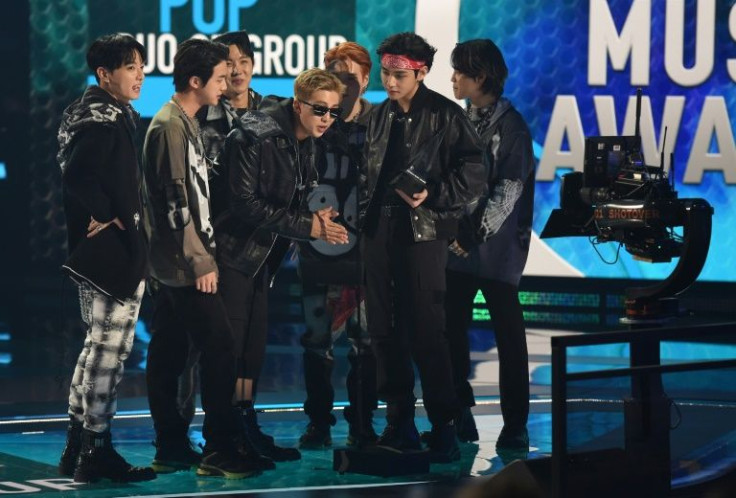 © Copyright IBTimes 2023. All rights reserved.