'Sons Of Anarchy' Series Finale Guide: 8 Twitter Accounts To Follow During Episode 13, 'Papa's Goods'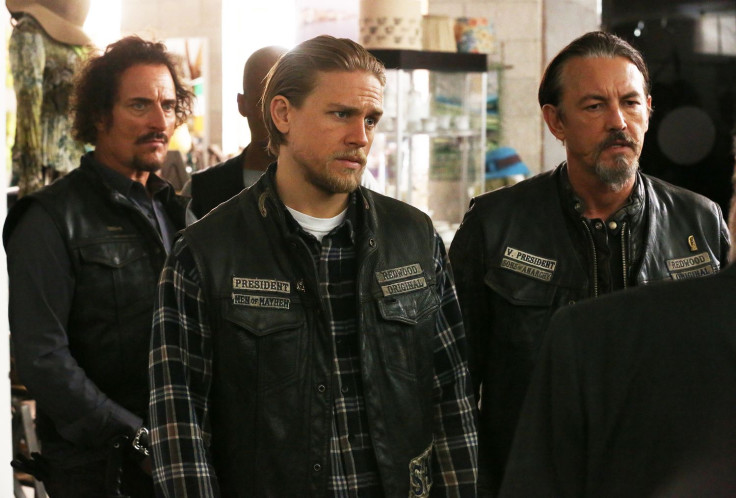 You better buckle up because the boys of SAMCRO will be going on their final ride Tuesday when "Sons of Anarchy" airs its wild series finale. And what better way to watch the last installment of the FX drama than by tuning in to episode 13, "Papa's Goods," with the cast and crew of the Kurt Sutter-created series?
"Sons of Anarchy" fans can honor the end of a chapter in TV history by watching the last episode with the FX team via Twitter. Below are the eight best accounts to follow while episode 13 airs:
1. Drea de Matteo (@dreadematteo) -- If you're looking for a raw reaction from a cast member, then de Matteo's live tweets are for you. The actress admitted that she doesn't read the script, which means she's just as shocked as you when something jaw-dropping goes down in Charming.
"I don't know if Kurt gets mad at me, but I don't always go to the table reads. I'm a fan of the show. I don't even want to know what's happening," she said of her hatred for spoilers during an interview with Entertainment Weekly last month. "And even at the table reads, I'm like, La la la la la la la la la la. I don't want to hear."
2. Paris Barclay (@Harparbar) -- The "Sons of Anarchy" director is a superb tweeter, which is why he has followers galore. Barclay constantly posts behind-the-scenes photos and interesting tidbits about the series, which is why you should check out his account during the finale.
3. Katey Sagal (@KateySagal) -- Sagal doesn't just play a matriarch on TV. Her Twitter account is also warm and comforting -- something you'll need after "Sons" airs its last episode.
4. Tommy Flanagan (@TommyFlanagan) -- The fan favorite has more than 91,000 followers for a reason. Make sure to check his tweets during the episode.
5. Kurt Sutter (@sutterink) -- Sutter is a sassy as he is talented and you can see his wit shine through in his tweets. The mastermind behind the motorcycle drama is known for his outrageous behavior, which is why his Twitter account is a prime destination for many.
6. Kim Coates (KimFCoates) -- If you're looking for a glimpse of the cast on set, Coates has you covered! He posts pictures daily to his account of the cast and crew.
7. Theo Rossi (@Theorossi) -- From behind-the-scenes photos to his teasing tweets, Rossi is one of our favorite "Sons of Anarchy" actors to follow on social media. We're looking forward to hearing his input on tonight's episode.
8. "Sons of Anarchy" (@SonsOfAnarchy) -- The official Twitter account for the show will keep you up to date with all your SAMCRO news, from the latest cast interviews to exclusive messages from your favorite characters.
The "Sons of Anarchy" series finale, "Papa's Goods," airs Tuesday, at 10 p.m. EST on FX. What is your favorite Twitter account to follow along during the airing of "Sons of Anarchy" episodes? Tell us your thoughts in the comments section below!
© Copyright IBTimes 2023. All rights reserved.