Sony to set plans for Whitney Houston catalog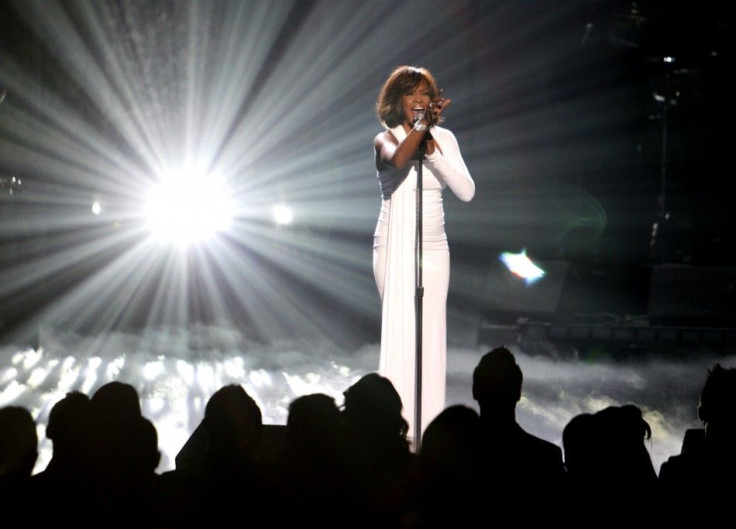 Sony Music executives will meet this week in New York to determine a strategy for marketing the nine albums, soundtracks and compilations that feature Whitney Houston, the pop singer who died on Saturday at age 48, according to two people familiar with the plans.
Executives will also discuss stepping up marketing efforts for the upcoming film Sparkle, a low-budget movie starring Houston that will be released in August, and for the accompanying soundtrack on which she sings two songs, added one of the people with knowledge of the conversations.
Houston's death is the second in three years for a top-tier Sony Music artist. In 2009, following Michael Jackson's death, the New York-based company aggressively marketed Jackson's prior albums, selling more than 8.2 million in the U.S. and more than 35 million worldwide, according to Billboard.
Sony executives are expected to wait until after the results of an autopsy are known before re-releasing albums or otherwise openly marketing the late singer, according to one of the people familiar with the conversations. A tribute concert featuring other Sony artists and those with whom Houston had worked in the past is also being contemplated, this person said.
Michael Jackson's passing was the perfect storm for Sony because he was getting ready for a world tour that was already getting a lot of publicity, said Lance Grode, a former head of worldwide business affairs for MCA Records, now Universal Music. You don't want to look too eager but you also want to capitalize on the attention the star is getting right now.
In 2010, Sony released a re-mastered 25-year anniversary edition of Houston's debut 1985 album Whitney Houston, and the company will likely boost marketing of that record, said one of the people with knowledge of Sony.
Houston's Christmas album, One Wish: The Holiday Album, currently listed on Amazon.com for $7.53, will almost certainly be re-issued this fall, said the person.
On Sunday, fans had already driven Whitney Houston - The Greatest Hits to the top of the charts on Amazon.com, and her signature hit single I Will Always Love You, was the top download on iTunes.
NO LARGE REVENUE SHARE
Unlike Michael Jackson, who controlled much of his music, Houston did not enjoy a very large share of the revenues from her work. Sony's Legacy Records owns the catalog of her albums, and pays Houston, or her estate, royalties for her singing. Houston did not write her hit songs, and doesn't share in the revenues for publishing rights.
Clive Davis, Sony's chief creative officer and former CEO of Arista, stands to collect a share of the royalties as well for the three Houston albums on which he is credited as producer or executive producer. For those albums, he could get as much as 10 percent - or points - of the royalties, an accepted industry practice, according to one of the industry executives.
A Davis spokesman did not return calls. Sony would not comment beyond a statement in which the company said Whitney Houston was an icon and a once-in-lifetime talent who influenced a generation of singers and brought joy to millions of fans around the world. She will be greatly missed.
Universal Music Group, a unit of Vivendi, will also share in the anticipated increase in Whitney Houston sales. In 2007, the company purchased the music publishing rights to songs such as The Greatest Love of All, Didn't We Have it All and Saving All My Love for You from songwriter Michael Masser.
Singer Dolly Parton controls the publishing rights, which enables her to license music, to I Will Always Love You. Parton wrote and recorded the song in 1973.
When Whitney did it, I got all the money for the publishing and for the writing, and I bought a lot of cheap wigs, Parton told CNN's Anderson Cooper in an interview in January.
Warner Brothers, a unit of Time Warner, controls the rights for the 1992 film The Bodyguard, which stars Houston as a singer and actress and Kevin Costner as her bodyguard and lover. The movie earned $121 million in U.S. theater ticket sales and $410 million worldwide, according to the Internet site Box Office Mojo.
Sony controls the rights to the soundtrack, which has sold more than 44 million copies worldwide, and it will almost certainly be re-released soon, said one of the people with knowledge of Sony's plans. Nielsen Soundscan says it is the best-selling soundtrack of the last 20 years and the sixth best-selling album since Soundscan began measuring sales in 1991.
When a star first dies, fans are desperate for one last performance, said Mark Young, a University of Southern California business professor and author of the book The Mirror Effect: How Celebrity Narcissism is Seducing America.
© Copyright Thomson Reuters 2023. All rights reserved.