Southwest Airlines Pilot's 'Let's Go Brandon' Comment To Insult Biden Leads To Investigation
Southwest Airlines has launched an investigation after a pilot reportedly said, "Let's go Brandon," a phrase used to insult President Joe Biden.
The incident took place on Friday during a flight from Houston to Albuquerque. The pilot used the plane's public-address system to say the phrase.
Associated Press reporter Colleen Long, who was on the flight, revealed the pilot used the phrase as his sign-off greeting. The comment resulted in audible gasps from passengers.
On Sunday, Southwest Airlines released a statement addressing the incident. "The Southwest Team takes pride in providing a welcoming, comfortable, safe, and respectful environment for the millions of customers who fly with us each year," the airline said.
"Southwest does not condone employees sharing their personal political opinions while on the job serving our customers, and one employe's individual perspective should not be interpreted as the viewpoint of Southwest and its collective 54,000 Employees."
The airline revealed it also launched an investigation into the matter. "Southwest is conducting an internal investigation into the recently reported event and will address the situation directly with any employee involved while continuing to remind all employees that public expression of personal opinions while on duty is unacceptable," the company stated.
"Southwest does not tolerate any behavior that encourages divisiveness, as it does not reflect the Southwest Hospitality and inclusiveness for which we are known and strive to provide each day on every flight."
The phrase began circulating in early October, when an NBC Sports reporter interviewed NASCAR driver Brandon Brown at the Alabama Talladega Superspeedway. During the interview, the crowd was heard shouting, "[Expletive] Joe Biden."
However, the reporter thought the audience was showing their support for the driver. "You can hear the chants from the crowd, 'Let's go, Brandon!'" the reporter said at the time.
Since then, the phrase has been used by people to insult Biden without using the expletive.
The pilot's comment comes amid Biden's COVID-19 vaccine mandate for federal workers and contractors, which include airline employees.
Last week, a federal judge denied the Southwest Airlines pilots union's request to block the airline's vaccine mandate.
Southwest employees must be fully vaccinated against COVID-19 by Dec. 8 or receive a medical or religious exemption.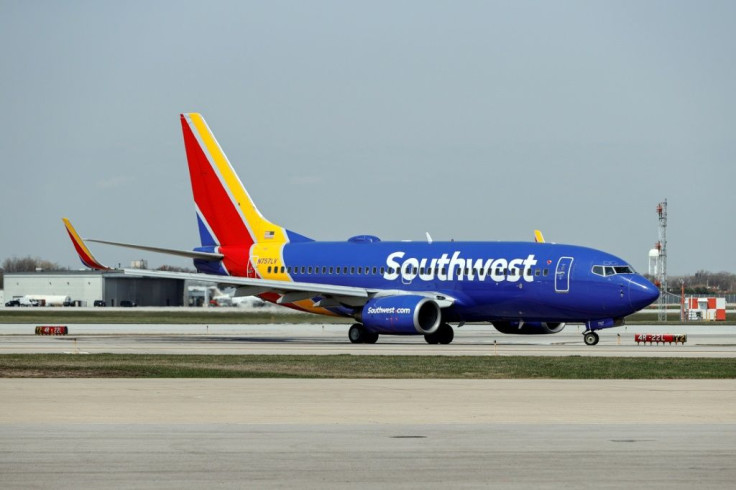 © Copyright IBTimes 2022. All rights reserved.
FOLLOW MORE IBT NEWS ON THE BELOW CHANNELS