Spiciest Burger Ever? Two Reporters Sent To Hospital After Eating One Bite Of The 'XXX Hot Chilli Burger'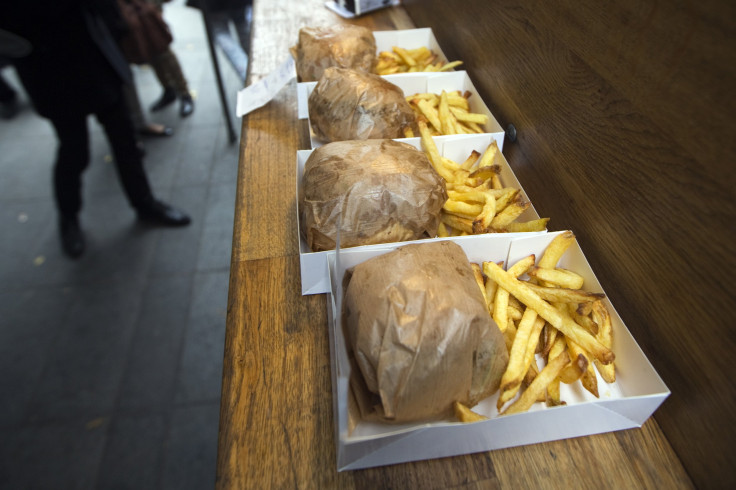 Two British reporters were hospitalized after biting into what could be the hottest hamburger in the world.
Assistant news editor Arron Hendy and trainee reporter Ruari Barratt of The Argus apparently wanted to put their stomachs to the test by ordering a "XXX Hot Chilli Burger" from Burger Off in Hove in southern England, a top-rated restaurant on Trip Advisor.
One review reads: "If you're lucky, you will see some poor sod, who thought the XXX Hot Chilli Burger would enhance his Macho status, to some very unfortunate end. Rolling in pain on the pavement, is not what you want your mates to remember and tease..."
Barratt was the first to go down. Within minutes of taking just one bite of the XXX Hot Chilli Burger, "He lost the feeling in his hands, his legs were shaking and his eyes rolled back in his head," according to The Argus.
"It was hard to walk," Barrat told his own paper. "I needed to drink milk to neutralize [sic] the burning, which was hard because I was hyperventilating so much my hands had seized up."
Hendy too took only one bite but made it nearly two hours before succumbing to the XXX Hot Chilli Burger. Both were taken by ambulance to the Royal Sussex County Hospital.
Naturally, Burger Off makes anyone who orders the XXX Hot Chilli Burger sign a waiver before digging in, but that warning still doesn't deter people, even though many have been hospitalized. The burger, which is not sold to anyone under 18, contains a sauce made from piri piri chilies.
According to Burger Off owner Nick Gambardella, the sauce measures between seven and nine million on the Scoville scale, which measures spiciness. That's hotter than police grade pepper spray. Much hotter (pepper spray can be between 500,000 to 5 million).
Here's a group of Marines eating The Source Hot Sauce, which measures in the seven million range on the Scoville scale [Graphic Language]:
"We do try and take a certain level of responsibility," Gambardella reportedly said. "We don't sell the burger to anyone under 18, and if someone's been drinking we don't let them have it. I spend about as much time convincing people not to try one as I do selling them. I tell people it will ruin their weekend."
© Copyright IBTimes 2023. All rights reserved.