Spike TV Guys Choice Awards 2015: Salma Hayek Honored For 'Decade Of Hotness'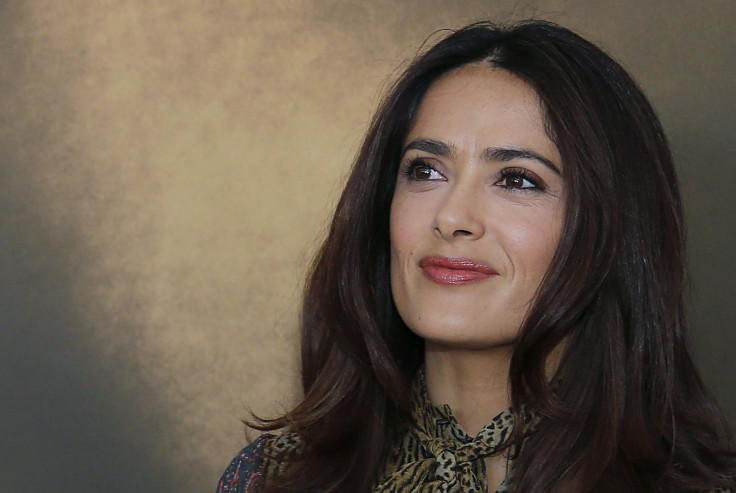 Salma Hayek received a "Decade of Hotness" award at Spike TV's Guys Choice Awards 2015, held at Sony Pictures Studios in Los Angeles on Saturday. The Mexican beauty looked smoking hot when she came up to collect her gong -- made up of golden antlers -- from Liam Neeson. The 48-year-old star sported a little black dress for the event.
The "Frida" actress' dress fell above her knee and featured a plunging neckline. She accessorized her look with chunky jewelry that consisted of hoop earrings, a long neckpiece and a bracelet. Hayek contrasted her dress with bold red lips and a red manicure. Her makeup consisted of black thick eyeliner, eyeshadow and some blush.
Speaking to reporters, the brunette beauty credited her "hotness" to her billionaire businessman husband Francois-Henri Pinault. The actress married Pinault in 2009 and they have a daughter together. She added that "Love motivates."
Hayek said that after someone turns 40, being "hot" definitely feels great. She said that she didn't mind being honored for something so superficial. "When you start, you're like, 'No, I want them to see me for my talent, and know me as an actress.' Now? They want to give me a 'Decade of Hotness' -- I'm like, 'Bring it on!' " she said, according to People.
Hayek recalled her first time being called a bombshell after "Desperado" was released in 1995. She said that at that time her English was much worse than now and she read reviews that termed her a "bombshell" and thought it meant she was terrible and had bombed. But when people told her it meant she was sexy, the actress was a tad disappointed as she thought that people didn't like her acting.
Meanwhile, Charlotte McKinney, who appears in ads for Carl's Jr hamburger restaurants, attended the function, turning heads in a sparkling silver dress with matching heels. The 21-year-old "Dancing With the Stars" Season 20 contestant showed off her entire back and a bit of her derriere, while posing for photographs on the red carpet. The blonde beauty's mini dress featured a plunging back and long sleeves.
© Copyright IBTimes 2023. All rights reserved.