Spotify Vs. Google Play Music All Access: Which Is The Better Music Streaming Service?
Analysis
Spotify is safe for now; while Google's newly released "All Access" music streaming service for Google Play is beautiful, the app is not quite ready for prime time. But that doesn't mean it could not easily best Spotify with a few minor tweaks.
First announced at an otherwise uneventful 2013 Google I/O keynote address, the All Access streaming music service from Google has many features borrowed from the Spotify experience, and then some. Google Play Music All Access has a sexy graphical user interface, but Google clearly needs to work out some of the kinks. Unfortunately, the app's name was one of Google's worst mistakes, and "Google Play Music All Access" is certainly a contender for "worst app name ever." The long nomenclature comes because All Access is purely an aspect of the Google Play Music app, which comes preloaded on Android devices. Herein lies the one of the few strengths of All Access: it is already preinstalled on Android devices, of which there are more than 900 million activations so far.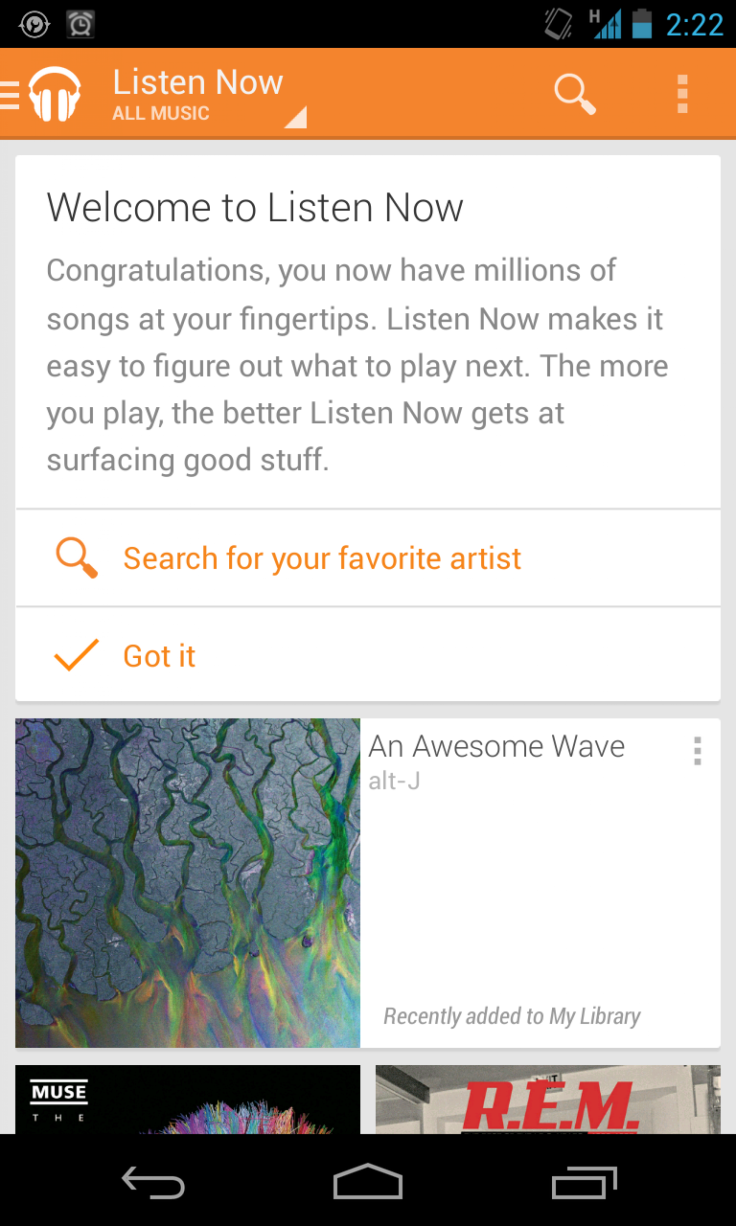 That said, Spotify is still a fan favorite for music streaming services, as it was the first true on-demand streaming music app for mobile devices when it hit the U.S. in July 2011, and it was extremely well-received overseas even before that. Offering an iTunes-like catalog of music and the ability to stream unlimited music, Spotify has no free option for mobile. Its $9.99 per month fee is the cost of streaming commercial-free music from a mobile device. Subscribers can also download music for their offline listening pleasure.
Google will charge the same $9.99 price for All Access, but with one exception: Users who download Google Play Music All Access before June 30 will pay only $7.99 per month. Both services can stream up to 320kbps on mobile devices.
The following review comparison of the Spotify and Google Play Music All Access streaming services is based on usage conducted on a Nexus 4 smartphone on the T-Mobile network.
The Good
Spotify started as a desktop client, and then released a browser-based streaming player (to counter Rdio), as well as a Radio option to create Pandora-like playlists based on a selected artist, album or track. Google Play Music All Access does this too, but Google allows a look ahead at all of upcoming songs in the playlist. You can swipe away songs you don't like, and even reorder the playlist to suit your tastes.
This All Access feature is nothing short of fantastic, especially for more compulsive playlist curators. Rather than reach for your phone every time you do not like a song, you can spend a minute or two preemptively swiping away the songs you do not want to hear, and then listen uninterrupted. OK, Google – congratulations on a clever innovation.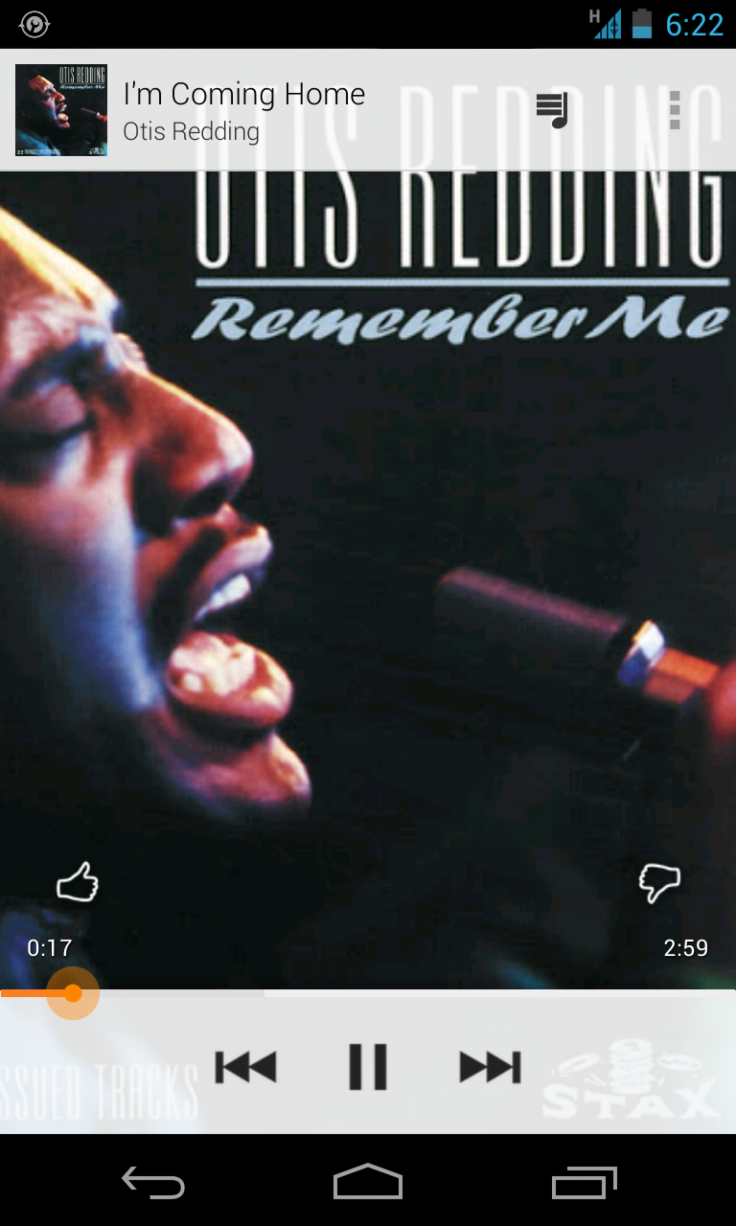 Looking ahead at a playlist also shows how many songs are currently cached, or temporarily stored on the device. This is nice for travelers on a car or train who want to stream music but may run into a dead zone or two; if your service drops, the music keeps playing, at least for a little while.
At its I/O conference this month, Google also touted expert-curated playlists on All Access in addition to those customized and created by users. There are currently only 11 available so far on the service, which is underwhelming.
The Google Play Music All Access app has a very simple and clean interface, where album covers are displayed prominently and slowly pan through view during playback. All Access definitely has the edge on Spotify in regards to visuals.
Google Play Music also gives users access to a personal collection of 20,000 songs stored and streamed for free via Drive, Google's cloud-based storage service. Artists not available on streaming (such as the Beatles or Led Zeppelin) can be uploaded as MP3 to the All Access library and then streamed or even incorporated into All Access playlists. This is how Google Play bridges the gap between artists and albums not available to stream, allowing users to listen to all of their music in one place without eating up a lot of storage in the process.
Surprisingly, the catalog of psychedelic space rockers Pink Floyd is available on All Access. The group has been absent from streaming services since 2008.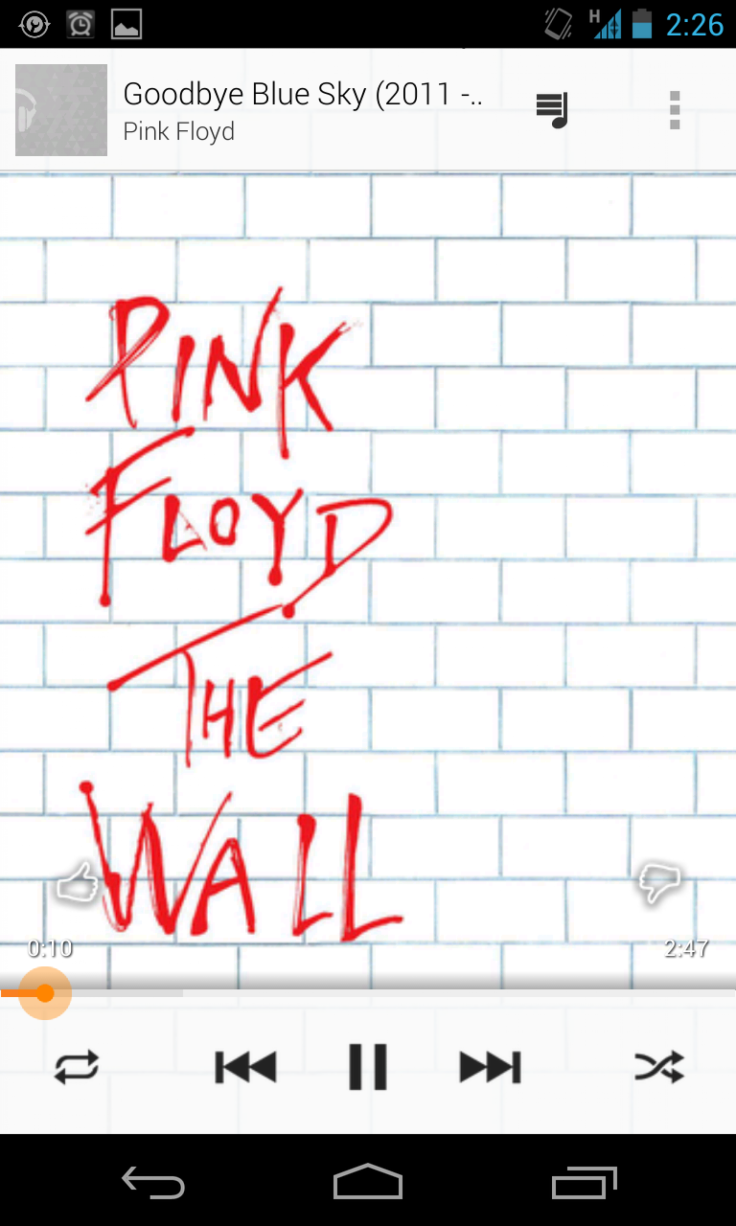 The Bad
Google Play Music All Access is not available for iOS, and Google has not announced a version for iPhone is even in the works. Also, Google is not offering a native desktop client for All Access, instead only making a browser-based version available. This can be a problem if you often keep a lot of browser tabs open at the same time, as All Access via the Chrome browser seems to take up a lot more virtual memory or RAM than Spotify's desktop application. I found this in both Windows 7 and Mac OS X.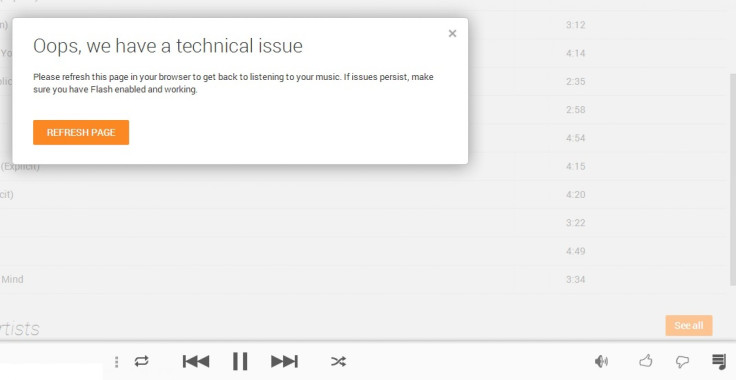 Using All Access in its current form also means running into a lot of error messages, on both the browser-based and mobile versions. The app seems to have a lot of trouble creating playlists from music outside of the mainstream, such as British indie rockers Alt-J. While Spotify had no trouble with the band, trying to make a playlist based on Alt-J caused the error message pictured below.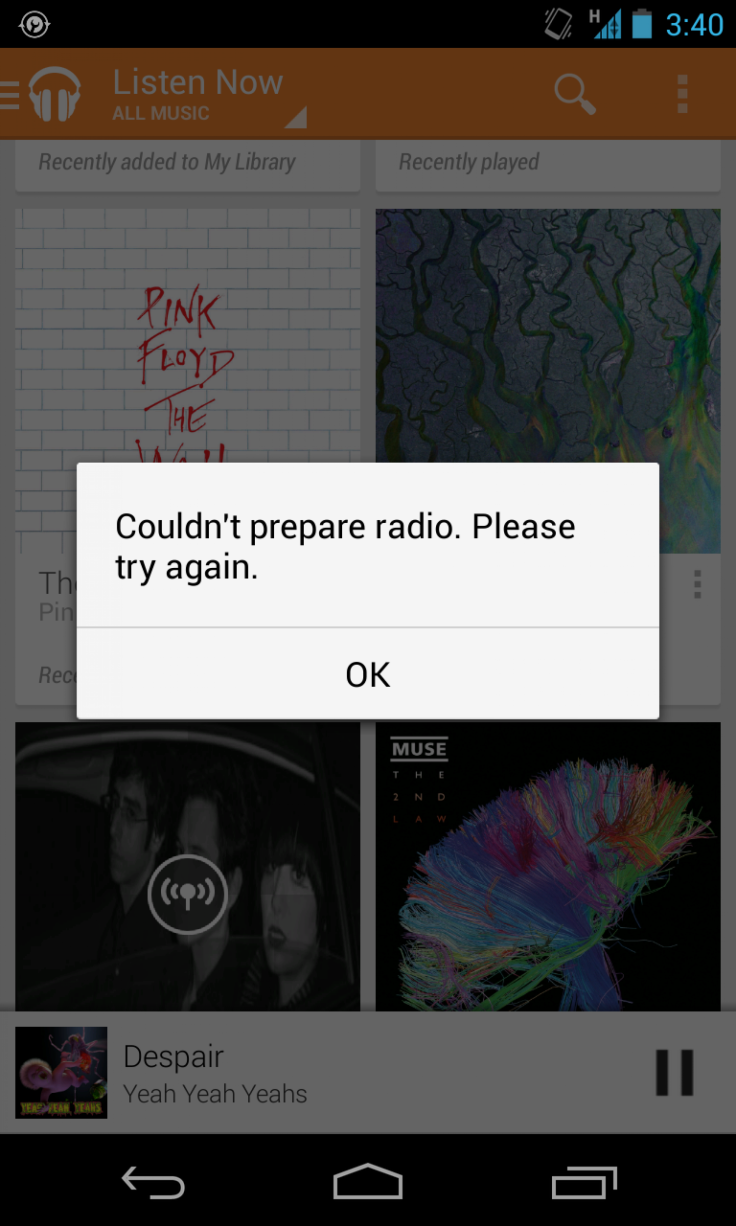 Google Play Music All Access seemed to take up more battery to stream music than Spotify in my experience, especially if you are curating the playlist and using the screen. It seems the fluid visual environment is taxing on the phone's processor.
The Bottom Line
Spotify users who have spent a lot of time with Spotify may have a hard time making the switch and leaving behind their playlists. Spotify also seems to use less battery power for streaming, which is important to any user on the go.
Google makes All Access very tempting, however. Google offers a better-looking mobile music service that, for a limited time, is less expensive than Spotify. Innovative features like the ability to skip songs in an upcoming playlist, and coordination with Drive to stream music collections from the cloud set All Access apart from the pack.
Until Google makes All Access less of a battery hog, offers expert-curated playlists worth listening to, and works out the rest of the kinks, Spotify is the better of the two. Spotify will need to step up and offer comparable features if they do not want to lose members of their U.S. customer base, which is growing too slowly as it is.
FOR FREE to continue reading
✔️ Unlock the full content of International Business Times UK for free
offer available for a limited time only
✔️ Easily manage your Newsletters subscriptions and save your favourite articles
✔️ No payment method required
Already have an account? Log in
© Copyright IBTimes 2023. All rights reserved.