St. Patrick's Day 2012 NYC: Ultimate Parade, Pub Crawl Tips and Tricks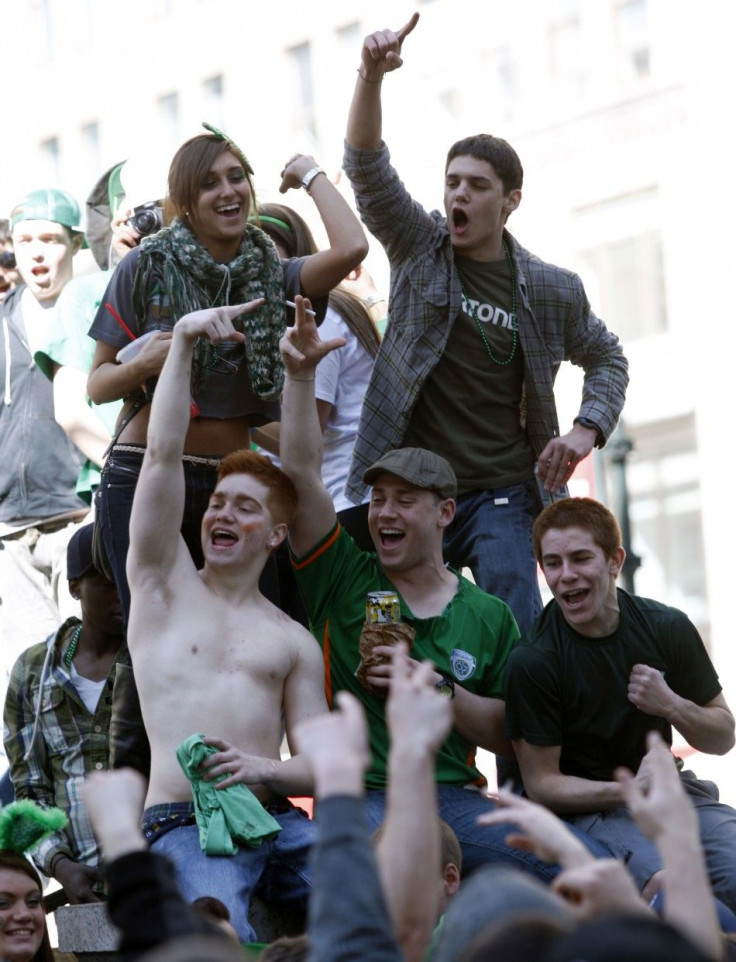 St. Patrick's Day 2012 falls on Saturday this year, but the party starts on Friday with pub crawls and beer pong tournaments kicking off the holiday of the Irish patron saint.
What Time Do Celebrations Start?
Festivities start in New York City with the Saint Paddy's Pub Crawl happy hour. The event starts at 5 p.m. and registration takes place at one of three venues:
TG Whitneys: 244 E 53rd St, NY, 10035
Little Town Restaurant Row: 366 W. 46th St, NY, 10036
Katwalk: 2 W. 35th St, NY, 10036
Planning
New York is going to look like the Emerald City on Saturday, with green-clad people bustling through the streets and bars; it's therefore a good idea to pre-plan your route.
The trick is to get to bars early. Most of the Irish pubs and bars will open at 9 a.m. before the parade, which start at 11.am.
Parade
The parade starts at 44th street on Saturday morning, and will venture up Fifth Avenue past St. Patrick Cathedral through to the American Irish Historical Society at 83rd where it will finish at 4.30-5.00 p.m.
Best Viewing Spots
The best places to view the parade and avoid the crowds are north of 66th street and Fifth Avenue, according to the parade's website. The upper steps of the Metropolitan Museum of Art provide a great view. You can get a close-up view of the marchers at 86th Street where the Parade route ends and the marchers disband and embark to go home or to celebrate.
Popular Bars
Second Avenue is the unofficial hub of St Patrick's Day festivities, but every Irish pub across the city will be celebrating in some form or another. Most pubs will have live music:
Porterhouse at Fraunces Tavern (The oldest tavern in NYC) will kick of the holiday with a live performance from The Cunningham Brothers.
Ulysses, on Stone Street, will feature The Canny Brothers at 6 p.m. on Saturday.
Joe's Pub, on Layette Street, will have its own Irish Rock n' Roll show, which will feature some of the top Irish musicians.
Pub Crawls
The infamous NYC St Paddy's Day Pub Crawl will resume at 10am on Saturday from Webster Hall. For a full list of exclusive registration venues visit www.pubcrawls.com. The bar hopping tour will go across some of the most popular bars in New York, expecting to attract some 12,000 people. Pub crawl pass holders will be entitled to $1 domestic drafts, $2 domestic bottles, $3 well drinks and $4 orders of Jameson.
The Shamrock Shuffle also has a pub crawl that starts at 11 a.m. on Saturday and ventures up bars on the east side. Tickets are $20.
Rugby
Another St. Patrick's Day highlight is the Ireland vs. England rugby game on Saturday. For those who want to get in on the action most bars across the city will be showing the game, but as a part of the New York City Pub Crawl, ticket holders will be able to watch the game at Nevada Smiths in Webster Hall.
With St. Patrick's Day falling on Saturday, 54 percent of all Americans will be celebrating the holiday, according to a National Retail Federation survey, a record percentage in nine years.
Around 82 percent of participants in the holiday will be wearing green, and consumers are expected to spend $35 each, for a total of $4.6 billion. Around 19 percent said they'd attend a private party and 24 percent will spend money on decorations, the survey found.
For many consumers, St. Patrick's Day is the officially kickoff to spring -- typically a time when many people start stocking up on warm weather apparel, patio and garden merchandise and even home accents like candles, throw pillows and new bed sets, the National Retail Federation said in a statement.
© Copyright IBTimes 2023. All rights reserved.