'Star Wars 7' Spoilers: Costume Designer Reveals Inspiration Behind New Stormtrooper Design In 'The Force Awakens'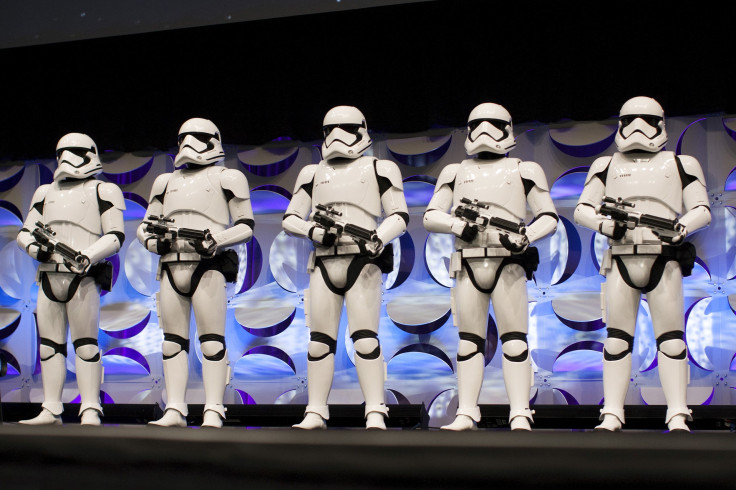 Hold onto your stormtrooper helmet. The new "Star Wars: Force Awakens" will debut a new design for the iconic villainous troops, but where did costume designers draw their inspirations from? The answer was close to home on both accounts.
In a newly released interview with Vanity Fair as part of their "Star Wars 7" coverage, costume designer Michael Kaplan revealed the sleek new outfits share something in common with the Pixar movie "Wall-E" in that the two both drew inspiration from its Disney subsidiary company, Apple.
"'What would Apple do?'" Kaplan asked himself. Justifying a change in the iconic uniform was important, since the events of "Star Wars: The Force Awakens" take place realistically about 30 years after the original trilogy. He said both he and Abrams wanted to get audiences excited about the new changes to the series.
The second source of inspiration came from a historical precedent George Lucas himself used: the Nazis. Their streamlined, Spartan fashion sense laid the groundwork for the stormtrooper uniform back in 1977. "Well the Nazi thing was always there with the Empire," Kaplan said.
The redesign is not just a need to upgrade stormtrooper's wardrobe. In addition to the need of heightening details for modern audiences, Cinemablend notes that the Empire as it left off in "Star Wars: Return of the Jedi" will likely change. Renamed as The First Order, its revitalized presence signalizes the return of the Dark Side and the threat that our heroes, young and old, will have to face.
Photos from the "Star Wars" Celebration revealed a heavier jawline on the iconic stormtrooper helmet, as well as more beveled detail and a built-in holster for an extra blaster. Kaplan said in the interview he worked closely with director J.J. Abrams to preserve the iconic stormtrooper look. No word yet on whether or not James Bond actor Daniel Craig will wear one of the redesigned new helmets in the upcoming "Star Wars 7" movie.
Fans are eagerly awaiting more details to be unveiled until the next trailer hits. A recent press conference in Japan revealed details about Daisy Ridley's character, Rey, and her fighting tactics based on the Bojutsu style, or using a staff as a weapon. Oscar Isaac discussed a little more about his own personal background with the "Star Wars" series and hinted that he and his character, Poe, share something in common.
"Star Wars: The Force Awakens" hits theaters December 18.
© Copyright IBTimes 2022. All rights reserved.
FOLLOW MORE IBT NEWS ON THE BELOW CHANNELS