'Star Wars: The Force Awakens' Spoilers: Leaked Photo Shows Poe Dameron's Costume; Plus: Rey's Fighting Style Discussed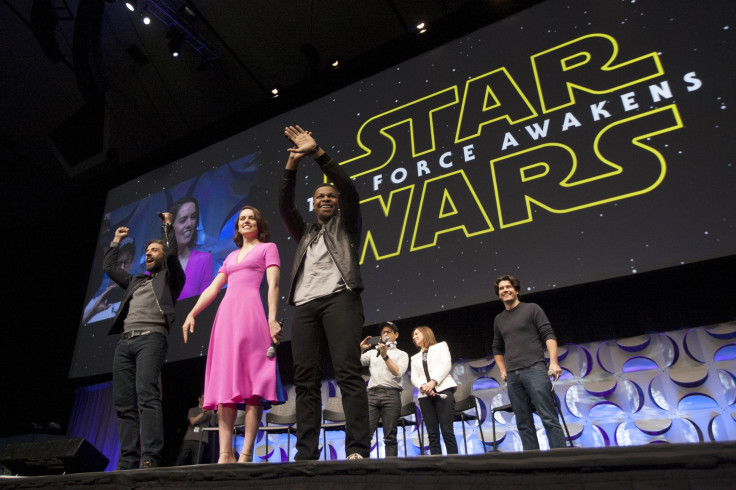 A new photo of Resistance pilot Poe Dameron has leaked online and the photo shows the character's costume for the forthcoming movie "Star Wars: The Force Awakens." Meanwhile, Rey's fighting style in the movie was revealed in a news conference that Lucasfilm executive Kathleen Kennedy and actress Daisy Ridley (who plays Rey) held in Japan. [Spoiler alert]
The second trailer of the upcoming movie showed Oscar Isaac as Poe Dameron piloting his X-Wing fighter plane. This photo shared by a fan shows the actor from the production set wearing his orange pilot suit. The fan who shared the photo calls herself Daenerys Targaryen, a character from the popular "Game of Thrones" TV series, and she commented on how good the actor's hair looked in the picture.
Poe Dameron will be joined by Rey in the movie to take on the remnant forces of the Evil Empire. In Japan, Ridley and Kennedy spoke about the movie at a news conference on May 8. More details about their comments have surfaced online; a translation has been posted on Star Wars Underworld.
Ridley apparently had to do a lot of physical training for her role as Rey. Kennedy revealed that the actress trained with the swordfight choreographer who has worked on some of the action sequences on "Game of Thrones."
Fans who hope to see Rey wield a lightsaber in the upcoming movie may be a little disappointed to learn that the actress will mostly be using her staff for the action sequences in the movie. Ridley is said to have trained in the Bojutsu style of fighting, which is a Japanese style of fighting that mostly involves a staff as a weapon.
Fans of the franchise who have seen the second trailer will remember Rey carrying a long staff in one of the scenes. Kennedy revealed at the news conference that the story of "Star Wars: The Force Awakens" will be revealed slowly over the next few months.
For questions/comments regarding the article, you may email the writer at s.trivedi@ibtimes.com.au.
Source – YouTube/ Star Wars
© Copyright IBTimes 2023. All rights reserved.
FOLLOW MORE IBT NEWS ON THE BELOW CHANNELS