'Star Wars' Actor John Boyega Sets Eyes On Redefining Cinema
While "Episode 9" may spell the end to the "Star Wars" Skywalker saga, 27-year-old star John Boyega will set out to manifest creativity well into the future as if using the Force. In a recent sit down with Hypebeast, the London-born actor, who signed on to 2015's "Star Wars: The Force Awakens" at 22, has plans on evolving movies à la Jordan Peele and Ryan Coogler.
"It's not only race to me," Boyega clarified to the outlet. "It's aesthetic of people. Why do leads always have to be muscular and ripped?" He added, "It's about reframing the way in which we are fed a false narrative of perfection."
After his breakout performance in "Star Wars: Episode VII," Boyega's filmography would include "The Circle" and "Detroit." Yet, it wasn't until after 2017's "The Last Jedi" when the star dipped his toes into producing with "Pacific Rim: Uprising." Though poorly received, the co-produced sequel was the first foray into the world of production for Boyega's UpperRoom Productions, which he founded in 2016.
Now, three years later, Boyega vies to implement himself into the production scene in a variety of ways, while still maintaining leading roles. It's clear his time spent as the stormtrooper-turned-good-guy in "Star Wars" has motivated him to push the bounds of creativity.
"I've just been trying to gather up stories that I know that would be significant of solid interest. But also support directors who are developing original stories. What is the next 'Star Wars?' What is the next franchise?" Boyega asked, more to himself than anyone else.
Boyega's upcoming movies include "a lawyer who decides to go on a $75 million heist" in Chase Palmer's "Naked Singularity," followed by two Netflix original features, a sci-fi mystery coined by Variety as "'Friday'-meets-'Get Out'" called "They Cloned Tyrone" and Jeremy Saulnier's thriller "Rebel Ridge."
Still, the "Star Wars" actor longs to look well beyond the fold.
"The reason why you're not getting original ideas is because we've had over 100 years of the same culture," he explained. "Now it's about exploring different cultures and different stories and then implementing that in with nonfiction as well as fiction and going into stories of factual history that are surprising to us."
With a recently signed, as he puts it, "multiple picture deal" for which he will be "developing some content for" going into the future, it's obvious that Boyega intends on reaching well beyond the stars, even after traversing them in full one last time via "Star Wars: The Rise of Skywalker."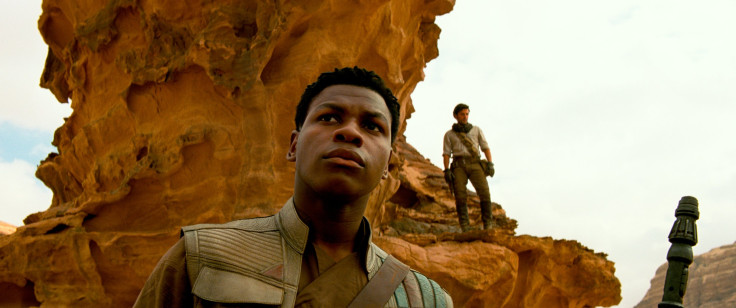 © Copyright IBTimes 2023. All rights reserved.