'Star Wars: The Force Awakens': Costume Designer Michael Kaplan Talks About Inspiration From The Original Trilogy And The Changes Made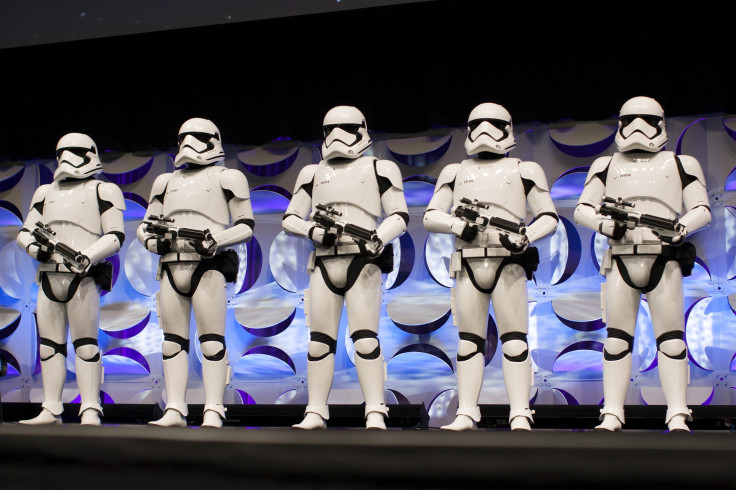 "Star Wars: The Force Awakens" will feature new costumes for not only the Stormtroopers but also major characters like Han Solo, Luke Skywalker and Princess Leia. In a recent interview, veteran Hollywood costume designer Michael Kaplan talked about some of the changes fans will see when "Episode VII" in the "Star Wars" franchise is released in December.
The J.J. Abrams movie will be set about 30 years after the events of 1983's "Episode VI -- Return of the Jedi." Speaking to VanityFair, Kaplan explained that the costumes will reflect the new time period. But, unlike some of the other contenders for the job who submitted very futuristic "space-suit sketches," Kaplan's approach of "an old Sam Spade" got him the job.
The costume designer revealed that he visited "Star Wars" creator George Lucas' archives and went through sketches of the old costumes to understand the "tone of the movie" and get some inspiration. His research paid off as he came up with designs that won the approval of "The Force Awakens" producers.
Noting how today's movie audiences are much more "sophisticated" than before and won't let producers "get away" with any mistakes, Kaplan created Stormtrooper costumes that are "much heavier" and built for some "heavy-duty" sequences. The costumes, though changed, keep their "iconic look," Kaplan said. The changes were made because in 30 years, "fashion changes and requirements change."
Abrams is also said to have suggested how he wanted the new costumes to look. The director wanted the audience to easily recognize the Stormtroopers "at a glance" but at the same time the redesigned costume had to be "different enough to kind of wow people and get them excited," Kaplan said.
There will be a clear distinction between the costumes of the Empire and the Resistance forces. The colors of the costumes for the Empire faction are "very cold": black, gray, metallic, teal. Members of the Resistance will wear "warmer colors" like khaki, olive and orange.
Han, Luke and Leia, the three veteran characters in "Star Wars: Episode VII -- The Force Awakens," will also be getting new costumes. Kaplan had to look at the requirements of the story while designing their outfits but also needed to understand each character's individual style. The costume designer did not give any hints about what the changes to their costumes will be in the movie.
Source – YouTube/ Star Wars
© Copyright IBTimes 2022. All rights reserved.
FOLLOW MORE IBT NEWS ON THE BELOW CHANNELS