'Star Wars: The Force Awakens': Official History Of Stormtroopers Of The First Order; Production Returning To Skellig Michael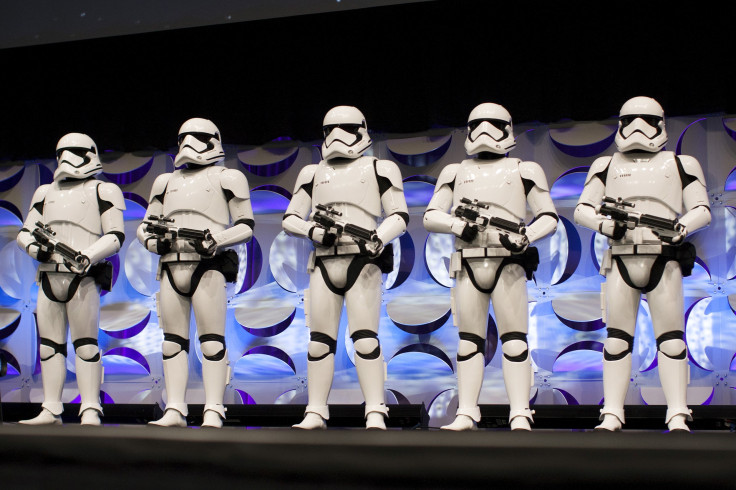 Details about the history of the Stormtroopers of the First Order in "Star Wars: The Force Awakens" are reportedly included in the packaging of Black Series action figures. And in related news, a report says the producers will be returning to Skellig Michael to film scenes for the next movie in the saga. [Spoiler alert]
A promo poster of the action figures of the Stormtroopers has been posted on the MakingStarWars website. According to this report by MakingStarWars, the packaging of the action figures chronicles the introduction and evolution of the armed forces of the galaxy that were later called Stormtroopers.
According to the report, the background history says that the Shock Troopers of the Republic were first introduced during the Clone Wars and the Clone Troopers' white armor stood for "peace and stability" in the Galaxy and the armor became iconic "almost immediately."
When the Galactic Empire replaced the Galactic Republic, the army was renamed the Stormtroopers. The soldiers of the army "mercilessly crushed resistance across the galaxy" and their white armor became symbols of "oppression and the indomitable power of the Emperor's will."
Despite the Empire's efforts, there was a rebellion in the galaxy and the ensuing war led to the death of the Emperor. The Stormtroopers reportedly scattered across the galaxy after the death of the Emperor.
The rise of the First Order, which replaced in Empire in "Star Wars: The Force Awakens," is said to usher in the "next chapter in the Stormtroopers' legacy." A "new era" of brutality by these forces is said to begin with the First Order. The report notes that the brutality may be the reason why a "good person" like Finn (John Boyega) ends up defecting and joining the Resistance forces.
One of the filming locations in "Star Wars: The Force Awakens" was Skellig Michael, an island off Ireland. According to a report by MakingStarWars, the production crew is expected to return to this location to film scenes for the next movie in the same series in October. The report notes that the location is used to film scenes of Luke Skywalker (Mark Hamill), who is said to be staying here and "out of action in the galaxy" during the events in the movie.
© Copyright IBTimes 2022. All rights reserved.
FOLLOW MORE IBT NEWS ON THE BELOW CHANNELS