'Star Wars' Parties, Screenings Become Latest Must-Have Perk In Silicon Valley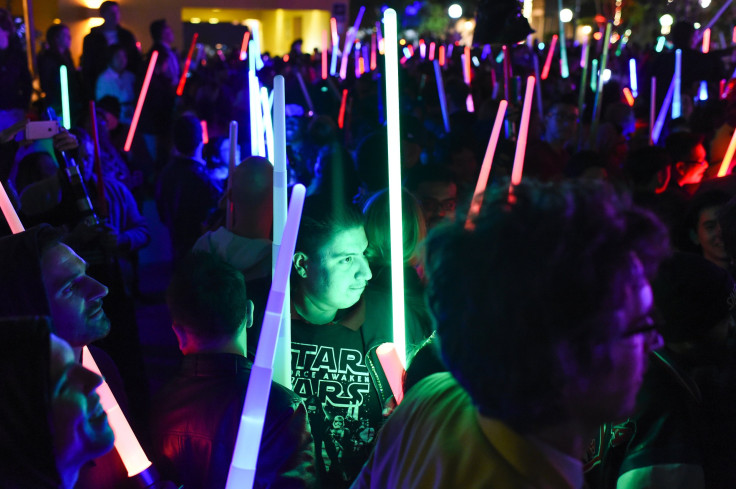 SAN FRANCISCO — Running into a client dressed as an Ewok Thursday wasn't a surprise for Kim McReynolds, a senior director of marketing at ad-tech company AdParlor. She herself was dressed as a Jedi and her colleagues were Siths. They were all just eager to watch "Star Wars: The Force Awakens," a day before its release at their private company screening.
"It was chaotic. It was madness. You could feel the excitement of people looking forward to seeing that movie," McReynolds said of her company's private screening in Manhattan, which attracted more than 200 guests — many of whom dressed as characters from the blockbuster movies. The company held a third corporate screening of the film Monday night in Toronto. "It was a great opportunity and we were very fortunate to be able to give it to clients and employees."
Team outings, themed parties and private screenings of "Star Wars: The Force Awakens" have become the hottest must-have perks for companies across Silicon Valley and the rest of the tech industry this year. Companies are throwing hundreds of these parties at a cost of tens of thousands of dollars to satisfy their employees, clients and users' thirst for the latest film in "Star Wars," one of the most beloved franchises among geeks, nerds and techies from all walks of life.
As Silicon Valley perks go, the dollar amounts pale next to the millions companies often spend on lavish parties with expensive decor and high-priced artists. For Silicon Valley, the private "Star Wars" screening is this year's cheapest yet most effective way of rewarding good work.
The film has gotten off to a great start, receiving countless positive reviews and shattering opening weekend box office records. The demand is especially high among techies, who look to the film as inspiration for what to build next. That's why event planners at tech companies this year have decided that throwing "Star Wars" parties and renting out theaters for private screenings is the best thing they can do for their employees.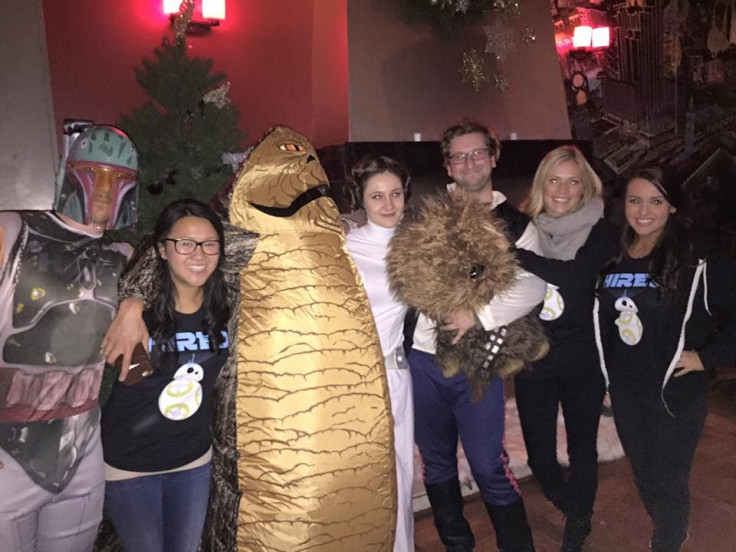 "Star Wars is fun because it connects different types of people. It connects different generations," said Kai Fortney, director of marketing at Hired, a popular recruitment startup in San Francisco. Hired threw a huge party for about 600 people, hosting two screenings the night before the film's official release. The party included gift bags for guests, a happy hour prior and several attendees dressed as popular characters, ranging from Han Solo and Princess Leia to Jabba the Hutt and Boba Fett.
"It's just one of those things where a whole group of people can get excited," Fortney said.
What techies love about "Star Wars" is that the franchise has always shown where technology can go next, serving as inspiration for companies working in the tech industry, said Ben Hindman, co-founder and CEO of Splash, an event marketing service used by several tech companies to promote their screenings. "We've yet to achieve interstellar space travel, so I think that there's something really powerful about our role in the evolution of technology to that end," he said.
$20,000 "Star Wars" Parties
LinkedIn, for example, also hosted a private screening the night before the release for its employees. "We had food and drinks, onsite gifts such as lightsabers and a raffle for a Sphero BB-8," a spokeswoman for the social network said. "Early birds to the screening also received Stormtrooper 3D glasses."
Tickets for the film went on sale months in advance and sold out early at several theaters. That made orchestrating this kind of event a lengthy process for tech companies, with many saying they began planning months in advance.
At information technology engineering firm Red Sky Solutions, for example, the planning for its screenings started almost a year ago. The Utah-based firm reached out to the theater it normally works with for screenings in January, but Red Sky Solutions did not receive confirmations for its screenings until mid-October.
"With other movies it's not as difficult, but with this one you really had to plan ahead because of all of the hype," said Jennifer Reid, marketing manager at Red Sky Solutions. "Basically the event planner was diligent and would follow up every couple of weeks."
The careful planning paid off. Ultimately, Red Sky Solutions held six screenings for its employees, their loved ones and the company's clients. The smallest screening happened Thursday in Las Vegas for about 100 people. The next day the company held another four screenings, including two in Draper, Utah, where the company is based. There, the company threw two huge parties for about 500 people each, complete with T-shirts and photo booths.
For tech companies, throwing events like this is critical to keeping employees happy, considering how often companies poach from each others' workforces, Reid said.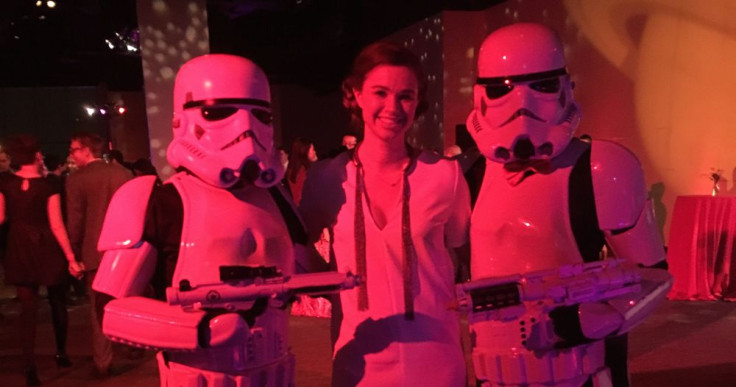 "It's so competitive. There are so many just really good, smart genius people out there, and we just want to make sure that they feel appreciated. What better way to do it than with 'Star Wars'"? said Reid, adding that the company spent about $3,500 for its Las Vegas screening and about $20,000 total for the parties in Utah.
"'Star Wars' is just this thing for tech people especially," she said. "We're all geeks. We're all techies. 'Star Wars' was the perfect gift to give."
While $20,000 may seem like a lot to spend for a company perk, it pales in comparison to what tech companies regularly pay for other, more lavish affairs, said Johnny Won, founder of Hyperstop, a consultancy firm. Yahoo, for example, reportedly spent $7 million for a Great Gatsby holiday party earlier this month.
"If you look at morale, camaraderie and cultural touchstone moments, there isn't an equivalent to this," said Won, a big "Star Wars" fan in his own right. "You don't often get to see Mark Zuckerberg dress up his new child in a cute "Star Wars" outfits. There's no other equivalent that lets people go to this kind of length."
Ride-hailing startup Lyft, meanwhile, made the theme of its holiday party all about "Star Wars," letting employees take pictures with Stormtroopers. Paul Thompson, Lyft's senior operations manager, went above and beyond, paying out of pocket for Friday tickets to the film for his team of six as an end-of-year gift. Though some of his team members were too young to appreciate the original "Star Wars" trilogy, everyone was excited for the opportunity to see the new film, Thompson said.
"Selfishly, I'd always been a fan, and I'd heard really good things about this film," said Thompson, adding that one woman on his team had seen none of the "Star Wars" films but came out of the screening a new fan. "It was a cool thing to do as a team … it was absolutely worth it."
© Copyright IBTimes 2022. All rights reserved.
FOLLOW MORE IBT NEWS ON THE BELOW CHANNELS