Stephenie Meyer, Kristen Stewart Bringing New 'Twilight' Movies To Facebook; Will Robert Pattinson, Taylor Lautner Return?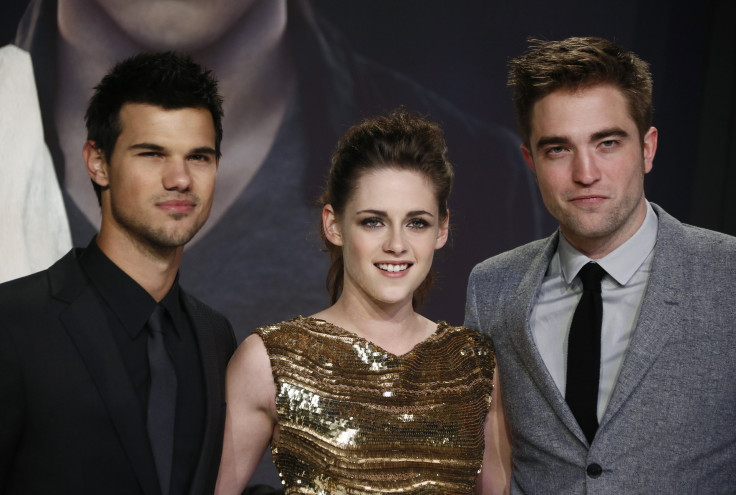 The cast of "The Twilight Saga" took their final bows with "Breaking Dawn -- Part 2" in 2012, but, thankfully for fans of the vampire/werewolf love story, there is still more to come. The Lions Gate Entertainment Corp. announced Tuesday the Stephenie Meyer tale will be featured in a minimovie series set to premiere on Facebook next year. While "Twilight" star Kristen Stewart will not reprise her role of human-turned-vampire, Bella Swan, she will be involved in the filmmaking process, the New York Times reported.
The short films, titled "The Storytellers -- New Creative Voices of The Twilight Saga," will reportedly focus on unidentified "Twilight" characters. Meyer and the studio, with the help of celebrity panelists, will select five aspiring female directors to make the films. Stewart, "Modern Family" actress Julie Bowen, "Twilight" director Catherine Hardwicke, Oscar-winning actors Kate Winslet and Octavia Spencer, "Frozen" co-director Jennifer Lee, and film producer Cathy Schulman, will each serve as panelists. Details of the contest will be released at Tongal.com at a later date.
"We think Facebook is a great way to introduce the world of 'Twilight' to a whole new audience while re-energizing existing fans," Lions Gate Vice Chairman Michael Burns said of the decision to bring back the franchise. "This is just the beginning, a template if you will," he said, later refusing to comment on future "Twilight" projects, divulging only: "You can probably guess what might be coming next ... We love Stephenie Meyer."
Bad news, Team Edward and Team Jacobs fans. Despite Stewart's involvement in the new films, the blockbuster franchise's other two main actors, Robert Pattinson and Taylor Lautner, will most likely not star. The New York Times reported none of the "Twilight" film's original cast members will return.
So who will be featured in the "Twilight" minimovies? While there is no official confirmation, Meyer has previously admitted her love for two secondary characters, Emmett Cullen (played by Kellan Lutz) and werewolf/shapeshifter Seth Clearwater (Booboo Stewart). "Who's my favorite character? And then after that, I can tell you who my favorite child is? I can't, that's not one that I can answer because I love everybody in different ways and at different times," Meyer told fans during a question-and-answer session in 2007, later revealing, "But I do have a soft place in my heart for Emmett and then, even characters like Seth Clearwater. Seth is so adorable."
The announcement about Facebook comes just one year after Meyer told Variety she was "so over" the "Twilight" franchise. "For me, it's not a happy place to be," she said. "I get further away every day." Despite sharing her distaste for the best-selling love story, Meyer said she wasn't ready to completely close the book on Bella's and Edward's tale. "I think I need a break from vampires, but I'm not ready to leave my vampires behind," she said.
© Copyright IBTimes 2022. All rights reserved.
FOLLOW MORE IBT NEWS ON THE BELOW CHANNELS