Steve Bannon, Chinese Businessman At Center Of Sprawling QAnon Disinformation Network
Researchers have uncovered a diverse disinformation network of agents and organizations centered around Chinese businessman Guo Wengui, a former billionaire real estate developer with ties to Steve Bannon, a former strategist for Donald Trump. While the shared opinions of participants seem to be authentic, their coordinated effort has spread conspiracy theories and even led to real-world violence.
The research was published Monday by New York-based network analysis company Graphika and provided to the Washington Post.
Describing the disinformation network is difficult due to its structure. Guo doesn't seem to hold formal authority, with Graphika researchers describing him as the "lynchpin" and "the leading personality [who] appears to define goals and messaging, and is positioned as a wise leader who should be admired and followed."
Distributing Guo's message is an alliance of companies, media platforms, local action groups, and thousands of coordinated social media accounts.
These forces work together to propagate online attacks on Joe Biden, the Chinese Communist Party (CCP) and anti-CCP dissidents in the West, the Post noted. The groups also distribute conspiracy theories that both COVID-19 and its vaccine are bioweapons created by the CCP. Unfounded claims that the 2020 election was stolen through voter fraud were prevalent on their platform.
In one incident, Guo told his followers to "eliminate" around 20 "traitors," mostly Chinese dissidents who had been critical of him.
His supporters harassed them outside their homes, attacked and fractured the face of a friend of one person, sent them death threats and even sent a bomb threat credible enough to evacuate the home of one Christian minister.
Bannon, an alt-right provocateur and organizer, is also implicated. He was slated to lead the Rule of Law Society, one of two organizations established in 2018 with donations from Guo. Guo Media paid Bannon $1 million annually in consulting fees as of that year.
Bannon goes to trial on May 24 on charges that he cheated donors to a group seeking to fund a U.S.-Mexico border wall. He was arrested aboard one of Guo's yachts in 2020.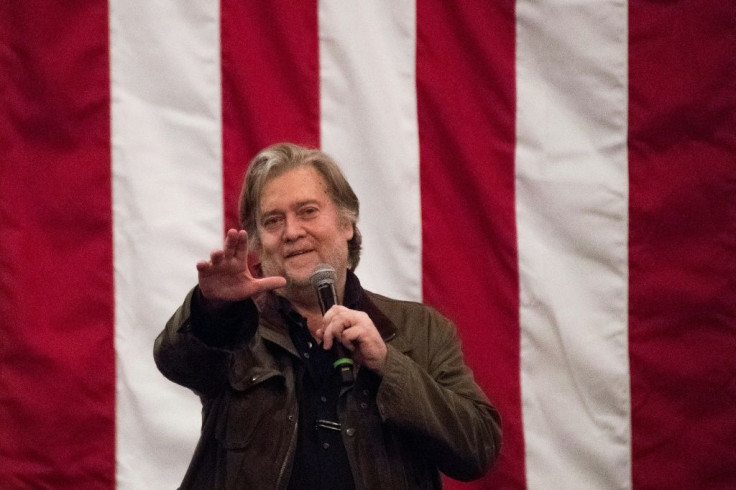 Guo denies having any undue influence or leadership position over his followers. In a statement to the Post, Guo spokesperson Daniel Podhaskie said, "Mr. Guo posts his own videos on GTV and does not control or coordinate what subscribers or other GTV bloggers do with them."
"They are not platforms whose content is managed or directed by Mr. Guo or any single individual or company," Podhaskie said. "GTV is an online video sharing platform with posts mainly in Chinese Mandarin. Similar to Twitter and Facebook, the GTV video hosting platform allows users to create, upload, view, like/dislike, comment, and share videos … implying that Mr. Guo is responsible for everything that is posted on this platform is ludicrous."
© Copyright IBTimes 2023. All rights reserved.