Steve Bannon And 'Seinfeld': Rob Reiner 'Sick' Over Deal With Donald Trump's Adviser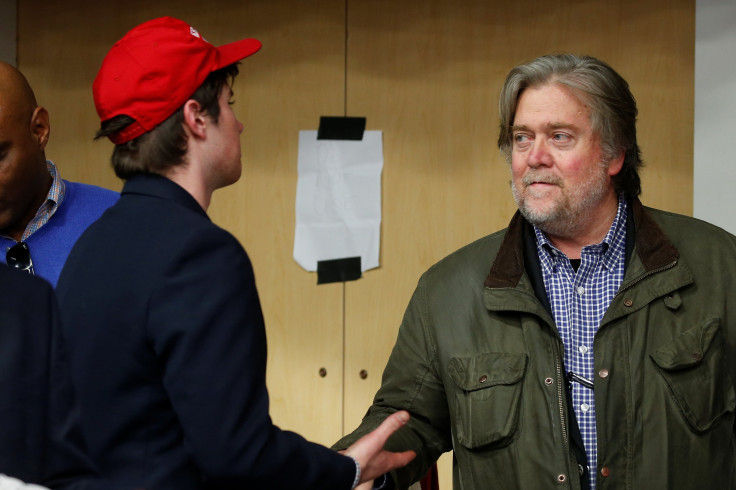 Director Rob Reiner is sick over a deal his production company made that allowed Steve Bannon to become a very rich man, the Daily Beast reported Thursday. Bannon, who president-elect Donald Trump named as his chief White House strategist, was involved in a deal to own a part of the show "Seinfeld." Bannon has raked in money over the years as the show went into syndication.
Bannon was the executive chairman of Breitbart News, a website that serves as a platform for the so-called alt-right. It's a major source of controversial news for American Nazis and the Ku Klux Klan, both of whom openly celebrated Trump and Bannon landing in the White House. The Southern Poverty Law Center said Bannon "was the main driver behind Breitbart becoming a white ethno-nationalist propaganda mill," while Council on American-Islamic Relations said his appointment "sends the disturbing message that anti-Muslim conspiracy theories and White nationalist ideology will be welcome in the White House."
Reiner described how Bannon came to own a part of Seinfeld in the '90s, when the show was in its third season and not yet a hit program. Bannon, who had worked for Goldman Sachs, was consulting on a deal that involved the company Westinghouse, which owned a stake in Reiner's production company, Castle Rock.
"At the time we had eight pilots, and one of them was Seinfeld," Reiner said, via the Daily Beast. "We didn't know if it was going to be successful or not. But as payment, Bannon advised them to stay in and hold on to their profit participation in the series, and Westinghouse said, 'Well, if you think it's so good, why don't you take a piece of this instead of us giving you a fee?' And apparently that's what Bannon did, and he wound up with a small piece of Seinfeld that he's had forever."
Reiner said he never met Bannon but he feels horrible over a deal that helped enrich a man described as the "most dangerous political operative" in the country.
"It's crazy," Reiner said. "When I first heard about it, it made me sick. It makes me sick. Because I had no idea. I didn't know who he was, or that he was representing Westinghouse. So there you have it. I think The Huffington Post had the headline right: 'Trump Hires a White Supremacist.'"
Since Trump won the presidency, his advisers have floated hard-line policies, including a registry for Muslims and mass deportations of undocumented immigrants. Democratic members of Congress have railed against Bannon's appointment, but Trump is under no obligation to listen.
"By placing a champion of white supremacists a step away from the Oval Office, what message does Trump send to the young girl who woke up Wednesday in Rhode Island afraid to be a woman of color in America?" Senate Minority Leader Harry Reid said on the Senate floor this week. "It's not a message of healing."
© Copyright IBTimes 2023. All rights reserved.
FOLLOW MORE IBT NEWS ON THE BELOW CHANNELS