Who Is Stephen Bannon? Donald Trump's Pick For Chief Strategist Draws Ire For Controversial Past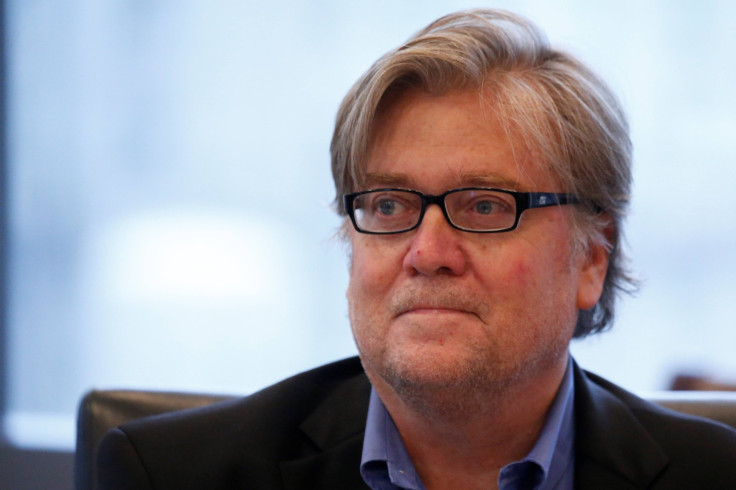 President-elect Donald Trump announced Breitbart News' executive chairman Stephen Bannon as his pick for the position of chief strategist and senior counselor in the White House, drawing sharp criticism against the appointment of the figure associated with the white nationalists' "alt-right" movement.
"I want to thank President-elect Trump for the opportunity to work with Reince in driving the agenda of the Trump administration," Bannon said in a statement released by the campaign Sunday, referring to Reince Priebus, former Republican National Committee chair, who will take over as the White House Chief of Staff for Trump's administration. "We had a very successful partnership on the campaign, one that led to victory. We will have that same partnership in working to help President-elect Trump achieve his agenda."
During his time at the helm of Brietbart News, the 62-year-old Bannon used the platform to vehemently criticize moderate Republicans, left-wing politicians, Muslims, Jews, women, the LGBT community and other minorities.
Alabama legal advocacy group Southern Poverty Law Center (SPLC) accused Breitbart of explicitly embracing ethno-nationalism under Bannon's leadership.
"Stephen Bannon was the main driver behind Breitbart becoming a white ethno-nationalist propaganda mill," SPLC wrote in a statement on Twitter following Bannon's appointment. "Trump should rescind this hire. In his victory speech, Trump said he intended to be president for 'all Americans.' Bannon should go."
Council on American-Islamic Relations (CAIR) also released a statement decrying the appointment of the "Islamaphobe."
"The appointment of Stephen Bannon as a top Trump administration strategist sends the disturbing message that anti-Muslim conspiracy theories and White nationalist ideology will be welcome in the White House," said CAIR National Executive Director Nihad Awad in the statement. "We urge President-elect Trump to reconsider this ill-advised appointment if he truly seeks to unite Americans."
In August, Trump announced Bannon would join as the chief executive of his campaign, replacing former lobbyist Paul Manafort who left following revelations of his reported ties to pro-Russia Ukrainian politicians. Bannon will occupy the same position as longtime strategist John Podesta under President Obama. He will work alongside long-time GOP member Priebus, whose appointment has been looked at favorably by Republicans. Both men will operate as "equal partners" in his administration, Trump announced.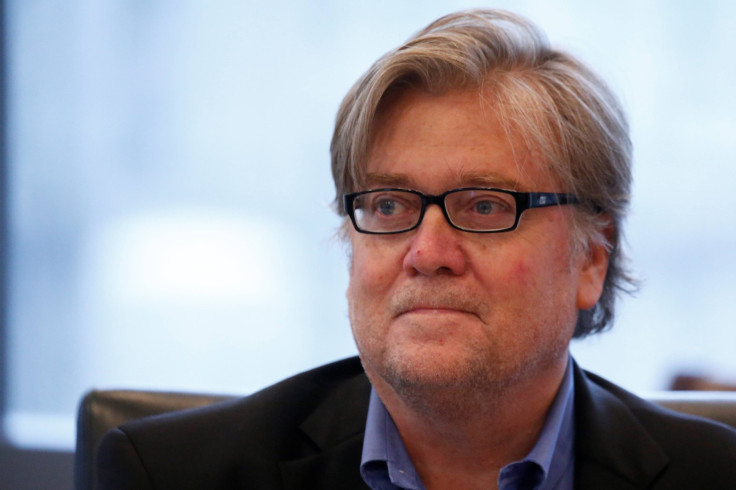 The former Goldman Sachs banker has also had a controversial personal history. Court documents show his ex-wife, Mary Louise Piccard, accused Bannon of domestic violence and using anti-Semitic language in 2007.
"The biggest problem he had with Archer [an elite school for girls in Los Angeles] is the number of Jews that attend," Piccard said in a statement to the court, the Washington Post reported. "He said that he doesn't like the way they raise their kids to be 'whiny brats' and that he didn't want the girls going to school with Jews."
In February 1996, he was charged with domestic violence, battery and trying to dissuade a victim from reporting a crime, but the charges were dropped after Piccard did not show up in court. According to records, his wife claimed Bannon instructed her to leave town to avoid testifying.
Bannon, however, has denied all such accusations.
© Copyright IBTimes 2023. All rights reserved.
FOLLOW MORE IBT NEWS ON THE BELOW CHANNELS