Steve Bannon Suggests Violence Against Fauci, Wray; Gets Kicked Off Twitter
KEY POINTS
Steve Bannon suggested the beheading of Dr. Anthony Fauci and Christopher Wray in an episode of his show
Twitter account belonging to Steve Bannon's show was permanently suspended for glorifying violence
Facebook and YouTube removed the episode of Bannon's show
Twitter permanently suspended former Trump aide Steve Bannon's account after he suggested the beheading of National Institute of Allergy and Infectious Diseases director Dr. Anthony Fauci and FBI director Christopher Wray. YouTube and Facebook also removed the offensive episode of his show.
The former White House chief strategist made the horrific comment while live-streaming his online show, "War Room: Pandemic." The video, which was posted on Bannon's Facebook, Twitter and YouTube channels, falsely claimed President Donald Trump has won this year's elections even though ballot counting was ongoing in many key states.
Discussing Trump's "second term" with co-host Jack Maxey, Bannon said Trump should fire Fauci and Wray, CNN reported.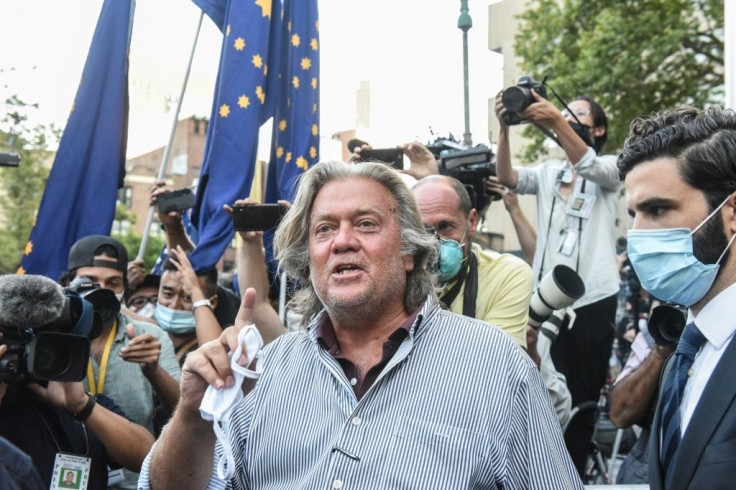 "I'd actually like to go back to the old times of Tudor England, I'd put the heads on pikes, right, I'd put them at the two corners of the White House as a warning to federal bureaucrats," Tech Crunch reported Bannon as saying.
Maxey then mentioned the hanging of two Tories in Philadelphia during the American revolution, CNBC reported.
"These were Quaker businessmen who had cohabitated, if you will, with the British while they were occupying Philadelphia. These people were hung. This is what we used to do to traitors," Maxey said.
Bannon responded, "That's how you won the revolution. No one wants to talk about it. The (American) revolution wasn't some sort of garden party, right? It was a civil war. It was a civil war."
The video went live on Bannon's Facebook page Thursday and was available for 10 hours. It was viewed almost 200,000 times before the social media giant decided to remove it, citing "violence and incitement policies." YouTube also deleted the episode from the "Steve Bannon's War Room" channel.
"We've removed this video for violating our policy against inciting violence. We will continue to be vigilant as we enforce our policies in the post-election period," a YouTube representative told Tech Crunch.
Twitter suspended Bannon's account for glorifying violence. A spokesperson for the social media platform said, "The @WarRoomPandemic account has been permanently suspended for violating the Twitter Rules, specifically our policy on the glorification of violence," CNBC reported.
However, a spokeswoman for Bannon told CNBC in an emailed statement that he was not suggesting Fauci and Wray should "actually be beheaded" and that he "never called for violence of any kind."
"Mr. Bannon's commentary was clearly meant metaphorically. He previously played a clip of St. Thomas More's trial and was making an allusion to this historical event in Tudor England for rhetorical purposes," the representative added.
Bannon's comments come amid remarks by Trump's allies supporting the president's unsubstantiated claims of fraud during vote counting.
Donald Trump Jr. tweeted Thursday, urging his father "to go to total war over this election."
"It's time to clean up this mess & stop looking like a banana republic!" he posted.
Georgia state Rep. Vernon Jones said during a rally that "we're starting now to see the white in their eyes and we're getting ready to start shooting," the Washington Post reported. The Democrat had endorsed Trump in the elections.
FOLLOW MORE IBT NEWS ON THE BELOW CHANNELS