Steve Jobs' Daughter Lisa Brennan-Jobs, the Girl Who Was Denied Paternity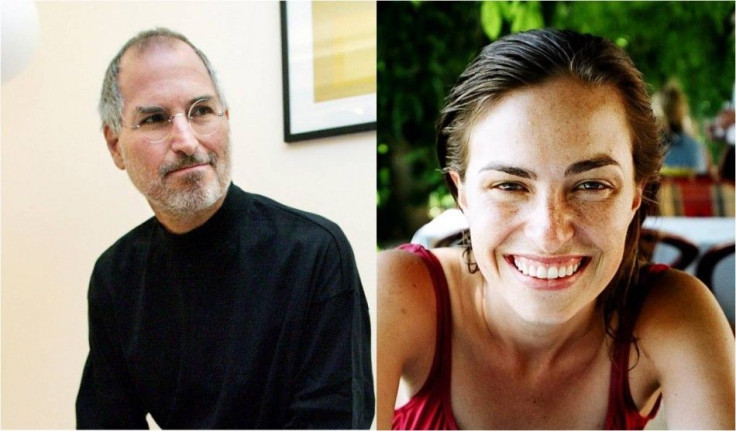 He was ambitious, demanding, an extraordinary speaker, a technical genius. What else do we know about Steve Jobs? Outside his corporate world, Jobs was an intensely private man.
Some of the private pages from his early life history have been revealed so far, but some are still untouched. Jobs' confidential phone list from the mid-1980s at Apple Computer revealed some unknown facts about the Apple wizard while he was in his 20s. There were private listings for two of his onetime romantic interests, Joan Baez and Diane Keaton; Kobun Chino Otogowa, the Zen Buddhist monk who was his spiritual guru; Clara and Paul Jobs, the working-class California couple who had adopted and raised him; Joanne Schieble, his biological mother, and his first serious girlfriend, Bay Area painter Chris-Ann Brennan, the mother of Lisa, his out-of-wedlock daughter.
Just months after Jobs' birth, his biological parents Abdulfattah John Jandali and Schieble gave him up for adoption, and got married nine months later. But four years after the birth of a girl, who became the writer Mona Simpson, Jandali abandoned his wife.
Jandali and Jobs shared an unwanted similarity here. Jobs himself was estranged from a child he fathered early in his life. On May 17, 1978, when Jobs was 23, his­­ high school girlfriend Brennan gave birth to a daughter, Lisa. Like his biological father Jandali, Jobs too struggled with his responsibilities and denied he was her father for two years. He even swore in court documents that he could not be Lisa's father because he was sterile and infertile, and as a result thereof, did not have the physical capacity to procreate a child.
Somewhat interestingly, Jobs gave Lisa's name to an Apple computer at the same time. The Apple Lisa computer was invented the year she was born. But Jobs and Apple claimed that the name was an acronym for Local Integrated Software Architecture.
But eventually, Jobs acknowledged paternity of Lisa Brennan-Jobs. Lisa was raised by her mother on welfare when Jobs denied paternity. But growing up was not easy for her as her mother was moving constantly.
It was in 1986 that Lisa finally met her father. Although it was awkward initially, the relationship improved over time. Lisa started going on vacations with her father, and in 1991 or 1992, she moved in with Jobs and lived with him for a time as a teenager.
In California, my mother had raised me mostly alone. We didn't have many things, but she is warm and we were happy. We moved a lot. We rented. My father was rich and renowned and later, as I got to know him, went on vacations with him, and then lived with him for a few years, I saw another, more glamorous world. The two sides didn't mix, and I missed one when I had the other, Lisa wrote in her story Tuscan Holiday in Vogue Magazine.
Today, Lisa Nicole Brennan-Jobs is an American journalist and magazine writer. She graduated from Harvard's school of journalism in 2000 and then moved to Europe. Her writings have been published in The Southwest Review, The Massachusetts Review, Harvard Crimson, The Harvard Advocate, Spiked, Vogue and O, The Oprah Magazine.
Must Read: Mona Simpson Shares Steve Jobs' Final Words: 'Oh Wow, Oh Wow, Oh Wow'
© Copyright IBTimes 2023. All rights reserved.