Stock Rotation To Continue As Fed Seen Open To 2016 Hike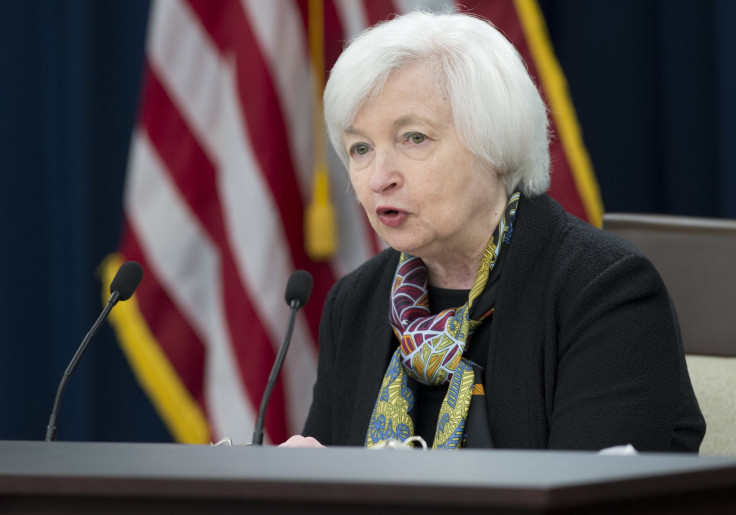 The rotation to cyclical sectors of the S&P 500 and away from defensive stocks could continue next week if Federal Reserve chair Janet Yellen strikes a tone more welcoming to an interest rate increase later this year.
Fed speakers this week, including the influential New York Fed President William Dudley, seemed to blaze the trail for Yellen and her upcoming Friday speech in Jackson Hole, Wyoming as part of a global meeting of central bankers.
Dudley said Tuesday the Fed could raise rates as soon as next month, in comments that sent the S&P 500 down, led by sharp drops in telecoms and utilities, both defensive sectors.
Those two sectors, still up more than 15 percent year to date, have risen partly due to investor appetite for their high dividend yields amid historically low returns in fixed income. They are seen as the most vulnerable to sell-offs if rates start to rise.
Judging by the rotation that already started taking place in stocks, the market seems poised for higher rates.
The utilities sector of the S&P 500 closed Friday with its fourth consecutive week of losses and is down almost 6 percent from a record high hit early in July.
On the other hand, industrials, up three weeks in a row, closed just 0.2 percent below their record high set a month ago and are up more than 2 percent from this month's low hit Aug. 1.
The recent decline in utilities and telecoms is "the most constructive thing we've seen recently in the market," according to Art Hogan, chief market strategist at Wunderlich securities in New York.
He said the Fed is preparing markets for a rate hike this year. "Economic data have improved since the last time Yellen had a public speech," said Hogan.
"The body language from Fed speakers over the last week or two lends itself for 'get ready for liftoff.' Dudley was choreographing a more hawkish Fed."
A sector rotation in stocks won't necessarily mean the S&P 500 will gain much over current levels, while the heightened probability of a U.S. rate hike won't be a death blow to the market's rally, according to Jim Paulsen, chief investment strategist at Wells Capital Management in Minneapolis.
"It would extinguish a potential bubble in defensive stocks, without taking the whole market down," he said.
He expects Yellen to sound at least marginally hawkish next week which, in turn, he said, will favor commodity stocks and other stocks linked to growth.
"The Fed is almost being forced to react to better economic momentum," Paulsen said. "The market is turning more cyclical and away from defensive orientation."
© Copyright Thomson Reuters 2023. All rights reserved.