Stocks rise on deals, China's support for EU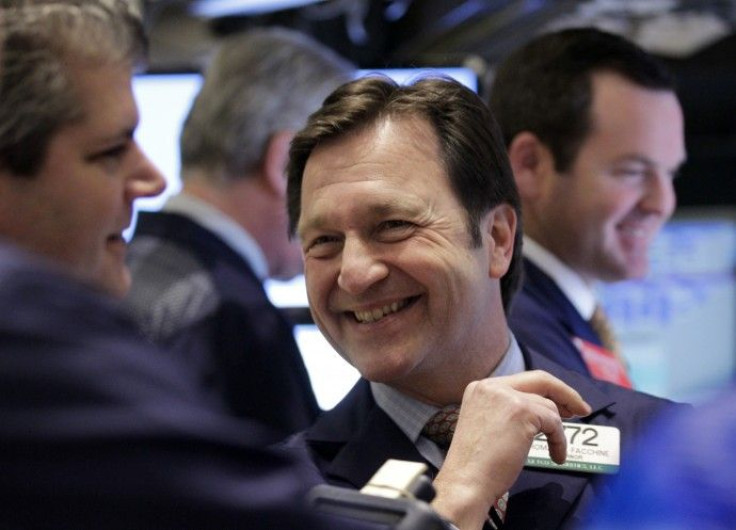 The stock market has rallied modestly on U.S. mergers and acquisitions (M&A) activity and China's continued support for European Union's (EU) sovereign debt market.
The Dow Jones Industrial Average rose 45.64 points, or 0.40 percent, to trade at 11,523.77 at 2:29 p.m. EDT. The S&P 500 climbed 6.82 points, or 0.55 percent, to trade at 1,253.90. The Nasdaq Composite rose 0.65 percent.
Financials were boosted by Toronto-Dominion Bank's (NYSE:TD) acquisition of Chrysler Financial for $6.7 billion. U.S.-traded Toronto-Dominion shares rose 2.82 percent.
Other big banks are trading up as Wells Fargo (NYSE:WFC) rallied 2.09 percent, American International Group (NYSE:AIG) jumped 3.14 percent, JPMorgan (NYSE:JPM) rose 2.60 percent, and U.S.-traded shares of Royal Bank of Scotland (NYSE:RBS) surged 4.18 percent.
Financials may also be boosted by China's continued confidence in Europe's sovereign debt situation after Chinese Vice-Premier Wang Qishan made pro-EU comments at the EU-China High Level Economic and Trade Dialogue.
A few months ago, China said EU sovereign debt will continue to be a part of its foreign exchange reserve portfolio. This comment, combined with its continued buying of EU debt, prevented the euro from collapsing, according to billionaire investor George Soros.
© Copyright IBTimes 2023. All rights reserved.