'The Strain' Premiere: Creators And Cast Preview FX's New Vampire Horror Series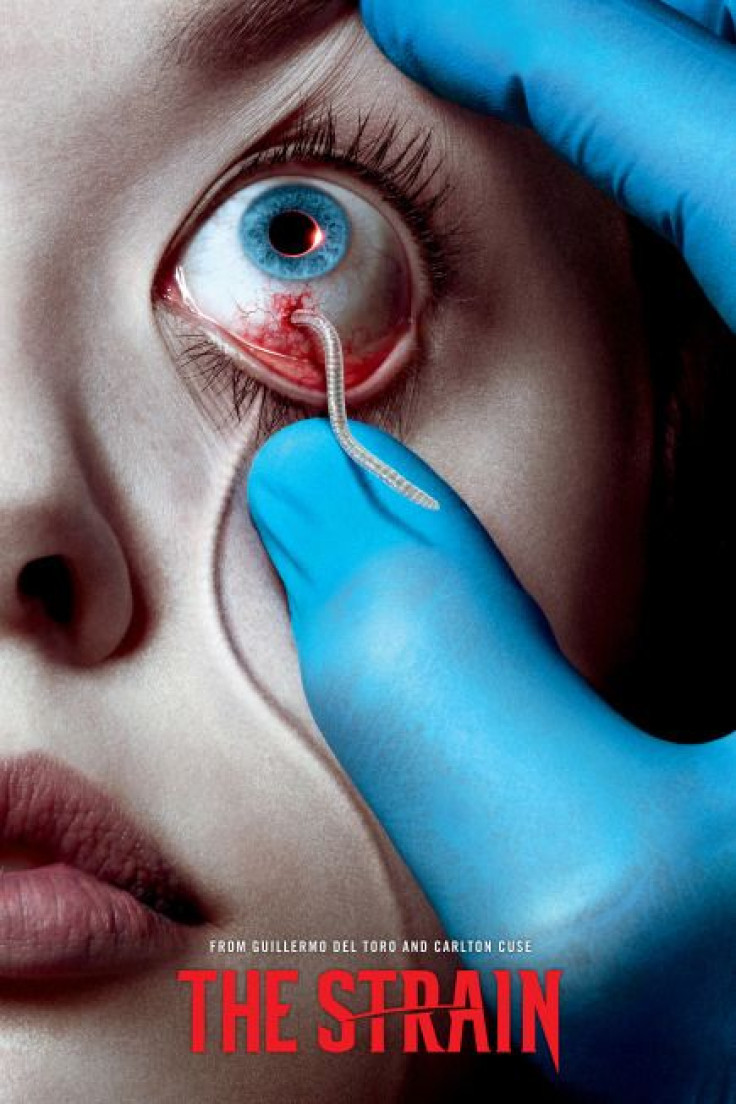 Don't bother looking for fangs on FX's new series, "The Strain." A whole new breed of vampires is making its way to the network on Sunday, July 13. From the horrifying yet brilliant mind of legendary director, screenwriter, producer and novelist Guillermo del Toro, "The Strain" is set to introduce viewers to a chilling and fresh take on the vampire lore.
The drama premieres on FX at 10 p.m. on Sunday, but International Business Times had the opportunity to attend an advanced screening at the ATX Television Festival in Austin, Texas, and speak with the creators and cast about what sets their tale apart from other supernatural dramas.
The one thing they could all agree on? "The Strain" isn't your average horror story … It's its "own animal."
FX's new series is a thriller that tells the story of Dr. Ephraim "Eph" Goodweather (Corey Stoll), the head of the Center for Disease Control's Canary Team in New York City. Along with his talented team consisting of biochemist Dr. Nora Martinez (Mía Maestro) and "logistics guy" Jim Kent (Sean Astin), Eph is the first man on the scene to investigate outbreaks … like the one that mysteriously killed 300 passengers on a flight at JFK airport. But this isn't the usual Ebola or bird flu outbreak that the Canary Team is used to. It's a strain that's ancient and evil ... and ready to consume New York City.
There is no denying that this is a show about vampires, however as the creators and stars explained, it's not a series that viewers of vampire shows are used to.
"These creatures are scary as s***," executive producer Carlton Cuse told IBTimes of the "romantic, brooding and sparkly" vampires that some viewers might be used to. "They're evil, pernicious, acidic … there's no romance with these vampires. You see one, you run."
"We're not trying to make a romantic figure of the vampire," Guillermo del Toro confirmed. "The history and mythology of them is completely new. The way they feed is very brutal."
While a majority of the cast actually revealed that they're not huge horror fans, they all seemed to have one thing in common – their love and respect for Guillermo del Toro's ability to tell a story.
"I remember in the first meeting with Guillermo and Carlton I said, 'You know I'm not a big horror fan,'" Stoll dished about jumping onboard the series. "Guilllermo was like, 'That's perfect! That's exactly what we're looking for.'"
"Guillermo and [executive producer Chuck Hogan] have a really unique vision of this world," Astin echoed while on the red carpet. "It's a vampire trilogy. Ok, well there are a million vampire trilogies. This is a vampire trilogy like you have not seen. They don't have fangs. It's not that romantic … I'm going to bite you and all that sexuality. These guys hunt you down in the middle of the street and shoot a six foot stinger at you and take you down."
The description may sound terrifying, but it's not exactly a show based around horror.
"Can we say it's a horror show? No it's Guillermo's show," Maestro joked on the red carpet. "It's its own animal; it's its own thing."
According to Maestro, she and Stoll's character didn't encounter a vampire while filming until around episode 4.
"It was like 'Oh my god, I totally forgot we were doing a vampire show,'" she explained when they script finally introduced a vampire to their characters. "I thought we were doing this very scientific show from a biochemist, doctor point of view. So I think it's nice that even though it's a vampire show, there's science fiction to it. I think the merge between all these genres is going to make quite a unique product and TV show."
Astin had similar thoughts, comparing "The Strain" to a show like "CSI" that takes viewers into autopsies and forensics. "To treat this mythology with that level of scientific and medical scrutiny is hard to do," the actor told IBTimes. "You have to know your s***. You have to be able to talk about anything from scalpels to valves and all this kind of stuff; and then to try and find a way to make it credible with the world of the vampires."
"I think it's really a brand new take on the genre," explained Cuse. "It's very different; I don't think it feels like anything else. Guillermo's an incredible visionary when it comes to a monster creation and I feel like with the combination of our talents we made something that's pretty cool and special that's worth checking out."
"The Strain" will premiere on FX on Sunday, July 13, at 10 p.m. EDT. Will you be tuning in? Are you ready for a new kind of vampire? Tweet your thoughts to @AmandaTVScoop.
© Copyright IBTimes 2023. All rights reserved.